PORT ST. LUCIE, Fla. -- Scouts said Matt Harvey looked like a middle-of-the-rotation starter while pitching in Triple-A last season. Heck, even Buffalo manager Wally Backman told Terry Collins for a month that Harvey was not ready.
So how do you explain the difference between Harvey's showing in the International League and in the majors, when Harvey posted a 2.73 ERA and struck out 70 in 59 1/3 innings during what was considered his rookie season?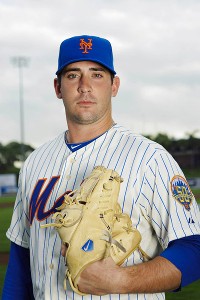 Steve Mitchell/USA Today Sports
Matt Harvey.
Boredom in the minors, Collins believes.
And Harvey does not disagree.
"I read all the minor league reports," Collins said. "I read about Matt Harvey and talked to Wally once a week and heard, 'Hey, look, he's got to get better at this. He's got to get better at that.' And this guy came up and what I got in my reports and what I saw were two different animals. And I told Matt, 'You might have been here a month ago had the reports been what we're seeing.'
"Wally, when he came up in September, said, 'I never saw this.'"
Said Harvey: "I've always wanted to be in the big leagues. Getting drafted out of high school, it was big leagues, big leagues, big leagues, big leagues. And then the minor leagues was kind of like that. 'What do I got to do to get there? What do I got to do to get there?' Once I was there, it was, 'All right, let's go. Let's get the guys out. Let's pound the zone.' I don't have to worry about anything but getting that guy out. It just seemed like everything took off.
"I think it was just the mental side -- not wondering what I had to do to get to the big leagues. All of a sudden it was, 'What do I have to do to get that guy out? I don't care about anything else. I don't care if I'm throwing a changeup or if I'm throwing my curveball for a strike.' No matter what I do, if I get that guy out, I'm doing my job. That was the different mindset, which I wish I had in Triple-A. If there was any advice I would give, especially to Zack [Wheeler], it's: 'Don't worry about what's up here. Worry about getting that guy out. That's your job.'"
As for his 2012 introduction to the majors, Harvey added: "I look at the win and loss record and 3-5 is not ideal for me, but getting up there and giving the team a chance to win is also my job. I feel like I did that quite a bit, and that's what I want to keep doing. We'll see what happens, but I'm going to try to go nine innings every time I take the ball. If I don't then I don't feel like it's very successful for me. I strive to be one of the best. I strive to be the best. I'm not going to settle for anything other than that."
Read the full set of 20 questions here.