Mariano Rivera is mortal. And the Mets are unbeaten in the Subway Series.
Rivera, who entered his final regular-season game at Citi Field with a one-run lead in the ninth, surrendered a leadoff double to Daniel Murphy, followed by a game-tying single to David Wright, sparing Matt Harvey the cruelest of losses.
Wright advanced to second on an error by Brett Gardner and scored the winning run when Lucas Duda followed with a game-winning single.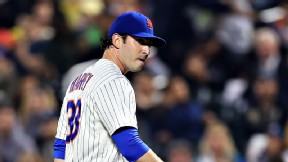 Elsa/Getty Images
Matt Harvey received a tough-luck no-decision Tuesday in his first Subway Series game.
Mets 2, Yankees 1.
Rivera had been 18 for 18 in save conversions, the second-longest streak of his career to begin a season.
The Mets matched a season high with their third straight win.
The paid crowd was announced at 31,877 -- beating the previous night for the new record low for a Mets-Yankees matchup.
Harvey day: Harvey rose to the occasion, just as he did in a hyped matchup against Stephen Strasburg in mid-April. At least he got a no-decision with the comeback.
It has been an unfair turn through the rotation for Mets starting pitchers. Jeremy Hefner, Shaun Marcum and Jonathon Niese all received no-decisions despite combining to allow five runs in 20 innings. Now, Harvey received a no-decision with a stellar line, too (8 IP, 6 H, 1 R, 1 ER, 0 BB, 10 K). He threw 113 pitches.
Three times this season a Mets pitcher has struck out 10 or more, walked none, pitched seven innings and limited the opponent to two runs or fewer and failed to get a win (also Harvey on May 7 and Marcum on Sunday).
By getting spared the defeat, Harvey tied Armando Reynoso's franchise record for most consecutive starts without a loss to begin a season (11 in 1997), according to ESPN Stats & Information.
After a 91-minute rain delay at the start, then Rivera throwing out the ceremonial first pitch to John Franco, Harvey took a scoreless effort into the sixth inning as he matched zeroes with Hiroki Kuroda.
Harvey, who grew up a Yankees fan in Connecticut, allowed a leadoff single to Gardner in that inning. Marlon Byrd, in the lineup because he was 3-for-6 in his career against Kuroda, muffed picking up the grounder in right field, and Gardner advanced to second base on the error.


With two outs, Lyle Overbay's single up the middle allowed Gardner to score from third base on what was ruled an earned run as the Yankees took the 1-0 lead.
(Like when Harvey was charged with an earned run in Chicago, the official scorer had the option to make the run unearned and chose otherwise. This time, the scorer ruled -- absent Byrd's error -- that Gardner would have advanced to second on Robinson Cano's subsequent groundout to first base and scored from second on Overbay's two-out single.)
The disparate fielding competencies of the two teams continued to be on display the following half-inning. With Ruben Tejada on first base in the bottom of the sixth after the Yankees had taken the 1-0 lead, Gardner took away a sure extra-base hit from Murphy at the wall in center. Gardner had robbed Murphy of a homer by reaching over the wall a night earlier.
Outta here: Tejada was eventually picked off second base to end the sixth. Manager Terry Collins was then ejected for the second time this season after an animated argument with second-base umpire Adrian Johnson that likely scored the manager points among the fan base for passion. Johnson originally made a safe motion before properly calling Tejada out.
Ike watch: Ike Davis might have delayed a demotion with Sunday's tiebreaking single, but he has since reverted to his rut and is clearly in imminent danger. Davis struck out twice and was hitless in three at-bats Tuesday. He is 0-for-6 with five strikeouts in two games against the Yankees.
What's next: The Mets attempt to snap a pair of streaks Wednesday when the Subway Series shifts to the Bronx. The Mets are 0-10 the game following a Harvey start and 0-9 when Hefner starts this season, even though that hasn't exactly been Hefner's fault of late. Hefner (0-5, 4.76 ERA) opposes right-hander David Phelps (3-2, 3.96 ERA) at 7:05 p.m. at Yankee Stadium.
If the Mets lose, Hefner would share a franchise record for the most consecutive losses in one starting pitcher's games to begin a season. The Mets lost Anthony Young's first 10 starts in 1993.