Marlins closer Heath Bell walked four batters in the ninth inning, including Justin Turner to cap a 13-pitch plate appearance that forced in the tying run, and Kirk Nieuwenhuis followed by producing a walk-off RBI as the Mets rallied to sweep Miami with a 3-2 victory in Thursday afternoon's series finale. The Mets used an all-homegrown starting lineup for only the third time in franchise history, with the other two instances occurring in September 1971.
Jose Reyes went just 1-for-12 in the series, in his return to Flushing as a visitor. He misfired on a double-play turn in the series' middle game that prolonged an inning. That allowed for David Wright's game-changing two-run homer off Mark Buehrle (and career RBIs Nos. 734 and 735, which moved Wright ahead of Darryl Strawberry for sole possession of first place on the franchise's all-time list).
Bell suffered a 47-pitch meltdown Thursday -- the most pitches thrown in a ninth-inning blown save in the majors since Danys Baez with the Cleveland Indians on Sept. 8, 2002 against Jerry Manuel's Chicago White Sox, according to ESPN.com's Jayson Stark. It marked the second time in the series the Marlins had walked four batters in an inning to force in a critical run. The Mets had been 0-for-17 with the bases loaded until Nieuwenhuis' walk-off hit against Bell -- the worst start to a season in franchise history, according to ESPN Stats & Information.
The Mets, who swept a division opponent at home for the second time in April, improved to 11-8 overall and 10-5 against NL East opponents. They also bounced back from a disappointing series against San Francisco that saw the Amazin's drop to .500 for the only time this season.
The Mets now open a six-game trip in Denver on Friday, with Chris Schwinden set to make his season debut for the Mets, opposite Rockies left-hander Drew Pomeranz -- the centerpiece of the trade that sent Ubaldo Jimenez to the Indians at last year's trading deadline. Schwinden, who is taking Mike Pelfrey's spot in the rotation, was 2-2 with a 2.05 ERA at Triple-A Buffalo.
Coors Field is the site of the collision between Ike Davis and Wright last May 10 that resulted in Davis' season-ending left ankle injury.
Nieuwenhuis, who could shift to left field Monday, when Andres Torres is due to rejoin the Mets in Houston following a rehab assignment for a strained left calf, grew up in Denver. He once rushed for 267 yards in the snow in a Class 2A high school championship game for Denver Christian as a junior. Nieuwenhuis was recruited to play college football by Colorado, Colorado State and Air Force, but went on a recruiting trip to Boulder and was intimidated by the size of the first Buffs football player he saw working out -- which turned out to be the kicker, future Green Bay Packer Mason Crosby. So Nieuwenhuis instead went to Azusa Pacific, then an NAIA program, in California to play college baseball. He became a third-round pick of the Mets in 2008.
Meanwhile, please join me for a noon ET Mets chat on Friday here.
Friday's news reports: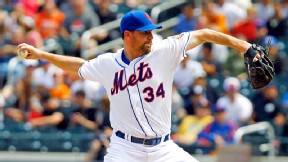 Debby Wong/US Presswire
Mike Pelfrey's Mets career may be over.• Pelfrey's Mets career may be over. After experiencing a grabbing sensation in his pitching elbow as he began each inning during Saturday's stellar start against the Giants, Pelfrey underwent an MRI at the Hospital for Special Surgery that revealed a partial tear of the ulnar collateral ligament. After consulting with Dr. James Andrews, Pelfrey is prepared to travel to Birmingham, Ala., to have Andrews perform Tommy John surgery.
Pelfrey indicated he is 99 percent sure the procedure will be performed during the visit. The right-hander said there was an option presented to inject platelet-rich plasma -- obtained via the blood-spinning process -- into the elbow area to try to enhance healing, but the success rate would be as little as 10 percent. And pitching with a defective elbow could lead to an unintentionally altered delivery that could lead to other problems, such as shoulder woes.
Pelfrey is not eligible for free agency until after the 2013 season, but the Mets would need to tender him a contract in December in order to retain his services -- and that seems unlikely. Pelfrey is earning $5.6875 million this season. He must earn at least 80 percent of that amount in 2013 if the Mets tender him a contract. and an arbitrator could award him the same salary as this season, so there's no guarantee he'd even get the 20 percent pay cut. Given Tommy John surgery generally has a 12-month recovery time, it's unlikely the Mets would commit that type of dollars to a pitcher likely to spend at least the first month of next season on the disabled list.
Once Pelfrey is non-tendered, the Mets have the right to re-sign him for any salary. But Pelfrey and agent Scott Boras also can shop his services to all 30 teams at that point. Pelfrey likely would get a contract with a relatively modest base salary and serious incentives that could set up a bigger contract the following offseason.
Assuming Pelfrey departs, Johan Santana will become second in seniority on the Mets behind Wright. Daniel Murphy would rank third, followed by Jon Niese and then Bobby Parnell.
Read more regarding Pelfrey in the Star-Ledger, Post, Times, Daily News, Journal, Record and Newsday.
• Niese limited the Marlins to two runs on four hits and no walks in a duel with Ricky Nolasco. Also Thursday, Jordany Valdespin started his first professional game in left field and Davis snapped an 0-for-11 skid with an infield single in the 3-2 win against Miami. Niese, who was pulled at 97 pitches, has a 2.81 ERA in the first season of a deal that guarantees him $25.5 million over five seasons. Read game recaps in the Times, Daily News, Post, Record, Star-Ledger, Journal and Newsday.
• Terry Collins speculated the boos directed at Reyes might have been attributable to -- or at least more intense because -- the shortstop departed last season's finale after a first-inning bunt single that all but locked up the NL batting title. "Jose Reyes is a human being, and one of the nicest people I've ever been around," the manager added. "If [the boos] didn't bother him I'd be shocked, because he gave his heart and soul to the people here.''
Reyes, who is batting .205 with a .262 on-base percentage, concluded regarding his Flushing return to the Post: "I didn't do anything here. ... After the first game everything was fine for me. I came here to play my game. Things just didn't go the way you want to. It's going to happen sometimes.We just need to turn it around. It's all about winning."
• After the series finale, left-handed reliever Robert Carson was returned to Double-A Binghamton to clear roster room for the activation of Schwinden for Friday's start against the Rockies. Carson did not appear in a game during his three-day major league cameo. If Schwinden does not succeed in the rotation, the Mets can always bring back Jeremy Hefner, who tossed three scoreless innings against the Giants in relief on Monday. Longer term, and barring a setback, Chris Young should be ready by mid-May to return from May 16, 2011 surgery to repair a torn anterior capsule in his right shoulder. And there are always prospects Matt Harvey (4.85 ERA) and Jeurys Familia (5.30 ERA) sitting in Triple-A.
• ESPN New York 1050 is moving to your FM radio dial. Beginning this Sunday at 12:01 a.m., you can now also listen to the signal on 98.7 FM. In September, 1050 AM will become ESPN Deportes and deliver 24-hour Spanish-language sports news/talk. Armed with the new FM signal, Newsday reported, ESPN is expected to make a run at Yankees radio rights for the 2013 season.
• Columnist Bill Madden in the Daily News suggests the Mets should be rejoicing for fielding an all-homegrown lineup. (Of course, austerity and injuries can lead any team to that being the case.) Writes Madden:
No doubt, the Wilpons should be feeling proud, if not totally exonerated, considering the beating they took all winter as they reduced the Mets' payroll by nearly $50 million -- at the same time Marlins owner Jeffrey Loria was increasing his by more than $60 million with the free- agent signings of Reyes, lefty starter Mark Buehrle and closer Heath Bell. No doubt, too, Loria is beginning to wonder what he got for his money while slowly learning the painful baseball lesson of so many other disillusioned owners before him -- you can't buy pennants.
• According to George Willis in the Post, Turner said of his 13-pitch faceoff with Bell that resulted in a game-tying walk in the ninth: "When you get two strikes on you, it's a fight. You just battle, and try to put the ball in play somewhere."
• Collins said the Mets have missed too many hit-and-run signs. The manager has now simplified things.
• Outfielder Adam Loewen, who had been wearing a boot, was diagnosed with a stress fracture of the second metatarsal in his right foot and landed on Triple-A Buffalo's disabled list. UCLA product Erik Goeddel tossed five scoreless innings for St. Lucie on Thursday. Read the full minor league recap here.
• Cheap Trick, which is touring with Aerosmith, had to bail on a July 20 postgame appearance at Citi Field after Aerosmith decided to add that date to its performance calendar. The Mets are replacing Cheap Trick with Daughtry for a performance following that Friday night game against the LA. Dodgers. The other planned postgame concerts: REO Speedwagon on June 15 (Cincinnati Reds) and Christian artists MercyMe on Aug. 10 (Atlanta Braves).
• The children of victims of 9/11 visited Citi Field on Thursday as part of a "Take Our Daughters and Sons to Work Day," sponsored by Tuesday's Children. Read more in Newsday.
TRIVIA: Rockies pitching coach Bob Apodaca pitched for the Mets from 1973-77. Including coaching, he spent 30 seasons in the Mets organization. His last duty was pitching coach for the 2002 Class A St. Lucie Mets. Which current Met played for that Florida State League team?
Thursday's answer: Jarrod Washburn surrendered the first homer of Reyes' career, a grand slam on June 15, 2003 at Anaheim.