PORT ST. LUCIE, Fla.
FIRST PITCH: Sandy Alderson and Terry Collins did not question David Wright's judgment for trying to play through discomfort in the World Baseball Classic. Collins noted Wright's toughness, including playing through a broken back for a month in 2011 before finally seeking a diagnosis of the precise injury.
But did Wright do the right thing when he put country first?
Columnist John Harper in the Daily News asserts Wright was wrong for trying to play through the injury in the WBC. Writes Harper: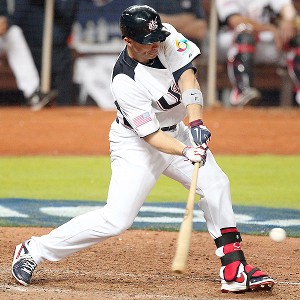 David Santiago/El Nuevo Herald/MCT/Getty Images
David Wright has a strained intercostal muscle on his left side.
David Wright is a gamer, we all know that by now, and that's at least partly why Mets fans have come to love him over the years. So you know his heart was in the right place when he continued to play for Team USA after feeling discomfort in his rib-cage area, hoping it wouldn't amount to anything.
And let's be honest, in the same situation Derek Jeter would still be playing, having said nothing to anyone about it. Even so, Wright should have known better. After all, while downplaying the idea that he felt any real pain, he admitted that it was enough to wake him up at night for a period of a week or so.
During a visit to the Hospital for Special Surgery in Manhattan on Friday, Wright was diagnosed with a strained intercostal muscle on his left side, Alderson said. The GM added that Wright, who is due in Port St. Lucie today, will be idle for three to five days.
Given Daniel Murphy has taken a month to get back from an intercostal muscle strain on his right side, and given Wright and Jason Bay took that long last spring training for rib-cage muscle injuries, Collins figures it is logical that Wright may open the season on the disabled list.
On Friday, Wright withdrew from the World Baseball Classic. He was poised to be replaced by San Diego Padres third baseman Chase Headley for the final round, but that is now moot since ex-Met Nelson Figueroa and Puerto Rico eliminated Team USA on Friday night in Miami with a 4-3 victory.
Collins indicated he will now get Justin Turner serious work at third base, since he knows Turner is a major league hitter. Zach Lutz, Brandon Hicks and Brian Bixler also will be considerations to plug the third-base void, according to Collins.
Shaun Marcum starts today at 1:10 p.m. as the Mets host the Miami Marlins at Tradition Field.
Right-hander Henderson Alvarez starts for Miami. Also scheduled to pitch for the Mets: Greg Burke, Brandon Lyon, Jeurys Familia and Pedro Feliciano.
Saturday's news reports:
• Read more on Wright in the Star-Ledger, Record, Journal, Post, Daily News, Times, Newsday and MLB.com.
• Infielders Wilmer Flores and Josh Satin and right-hander Carlos Torres were dispatched to the minor league side of the complex Friday, leaving 42 remaining in major league camp. Read more in the Star-Ledger.
• Andrew Brown had a tiebreaking RBI single in the eighth as the Mets beat the Braves, 5-2, Friday at ESPN Wide World of Sports. Jeremy Hefner allowed a pair of solo homers but struck out the final six batters he faced in five innings. Left-hander Aaron Laffey, the next fallback for a rotation spot with Hefner plugging in for Johan Santana, tossed 2 1/3 no-hit innings. Lucas Duda homered. Read more in the Record, Post and MLB.com.
• Collins said Jenrry Mejia has forearm tendinitis, but there is no damage and the right-hander is not in danger of needing another Tommy John surgery.
• Murphy played five innings at second base and ran the bases, but did not bat, in a minor league game.
• Hitting coach Dave Hudgens will return to managing Caracas in the Venezuelan winter league next offseason.
• Anthony Rieber in Newsday interviews Dr. Ajay Nangia, an associate professor of urology and male infertility specialist at the University of Kansas Medical Center, about why failing to wear a cup is no laughing matter and how Jordany Valdespin is fortunate to escape unscathed.
• From the bloggers … Faith and Fear in Flushing finds that when a Mets cap leads to small talk, the news can sometimes be pretty big. … Metsmerized Online examines the Alderson Plan and growing the Mets fresh from the vine. … Dan Twohig at Mets Police thinks it's still possible to enjoy the WBC even without Wright.
BIRTHDAYS: Longtime Pittsburgh Pirates infielder Abraham Nunez, whose career ended with two games for the Mets in 2008, turns 37.
TWEET OF THE DAY:
#USA loses after David Wright gets hurt and doesn't play coincidence? #Ithinknot #Mets ☝

— Dominic Buccino (@buccino66) March 16, 2013
YOU'RE UP: Do you believe David Wright will be at third base on Opening Day?