R.A. Dickey became the sixth pitcher in franchise history to produce a 20-win season as the Mets completed their home schedule with a 6-5 win against the Pittsburgh Pirates on Thursday afternoon. David Wright hit a tiebreaking three-run homer and the Mets survived Jon Rauch surrendering a two-run homer to Alex Presley in the ninth.
Jon Niese now begins the final turn through the rotation. Niese (12-9, 3.49 ERA) makes his final 2012 start tonight at Turner Field, opposite Tim Hudson (16-6, 3.61) The Braves will honor Chipper Jones in a pregame ceremony, as the third baseman's final home regular-season series at Turner Field begins.
Friday's news reports:
• Dickey became the first knuckleballer to win 20 games since Joe Niekro with the Houston Astros in 1980, according to STATS LLC. He will make one more start this season, in Miami. "The road to where he is today, a lot of people dream it. Few achieve it," Terry Collins said. In the Cy Young race, Gio Gonzalez improved to 21-8 with a 2.89 ERA after allowing three runs in six innings in Washington's 7-3 win at Philly on Thursday night.
DICKEY VS. GIO
A statistical comparison of NL Cy Young candidates R.A. Dickey and Gio Gonzalez.
According to the Elias Sports Bureau:
Dickey became the third-oldest pitcher to record the first 20-win season of his major-league career when he beat the Pirates at Citi Field. Dickey (age 37 years, 334 days as of Thursday), trails only Mike Mussina (who was 39 years old when he won his 20th game for the 2008 Yankees) and Jamie Moyer (age 38 with the 2001 Mariners) on that list.
Dickey is 20-6 this year for a Mets team that has a 72-84 record. He will be the first pitcher to win 20 or more games in one season for a team that finished with a losing record since 1997, when Roger Clemens was 21-7 for the Blue Jays (76-86) and Brad Radke posted a 20-10 mark for a poor Twins team (68-94).
Writes columnist Ian O'Connor at ESPNNewYork.com:
[Wife] Anne got nervous as she listened to the radio and watched on her iPad in the ninth, just like all of New York got nervous. But soon enough her husband was at the end of a receiving line on the field, chewing on his bubble gum and basking in the moment. "It wasn't long ago when we were just hoping to get to the big leagues and keep the house," Anne said. "My hopes never got beyond job security, and now we have this incredible storybook ending." She was driving the kids to Atlanta as she spoke, driving to meet up with a journeyman who had arrived as an athlete and human being the only way he knew how: The hard way.
Writes columnist Filip Bondy in the Daily News: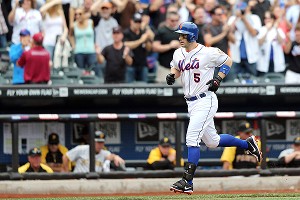 Anthony Gruppuso/US Presswire
David Wright delivered a tiebreaking three-run homer Thursday afternoon against Kevin Correia.
Aside from a costly no-hitter by Johan Santana, another relative geezer, the likable Dickey has been the warmest, most surprising story this whole season in Flushing. When the Wilpons fervently told fans last March, "Stick with us," they probably didn't visualize Dickey as their best Velcro argument. Then again, they didn't expect their team to be 23 games behind the Washington Nationals in September. The fans came anyway, 31,506 of them, not because they trust or support ownership but because this guy Dickey is a truly fun phenomenon. Dickey is somehow both the first of his kind and the last of a dying breed.
Frank Viola, the Mets' last 20-game winner, who served as pitching coach with low-A Savannah this season, told Brian Lewis in the Post about Dickey: "I texted him and told him I'm happy. It's a real year of firsts, Johan gets the no-hitter, R.A. wins 20 games. So there's real hope for the future of this organization. You know there's something there, that bright silver lining at the end; R.A. is definitely one of them this year.'' Viola's son, Frank Jr., is trying to revive a professional baseball career with the knuckleball and has received lessons from Dickey.
Read more on Dickey's performance in the Times, Newsday, Post, Star-Ledger, Daily News and Journal.
• The Mets finished their home schedule 36-45. Overall, they're now 158-166 in four seasons at Citi Field. The Mets' 287 runs at home this season were their fewest since 1994, when they scored 235 runs at Shea. The Mets did benefit from the new dimensions to produce 67 homers this season at Citi Field -- their highest total in four years at the ballpark -- although opponents had five more new homers than the Mets that only would have been out with the new configuration.
"I don't expect them to change again," Collins said about the dimensions. "I just think they made a difference. Certainly we've seen the effects. And I don't have all the documentation about who hit what home runs, and how many last year would have been doubles. But I think it's fair park now. It's still a pitchers' park for me. It's still a big park. There's a lot of room in that outfield. But I think the change of the dimensions certainly lifted the confidence of a lot of guys in our lineup."
• Keith Hernandez's mustache is outta here. With a sizable gathering as witnesses just before noon on Thursday outside the Jackie Robinson Rotunda, Hernandez had his "iconic" mustache shaved. Schick Hydro donated $5,000 to the Brooklyn center where Hernandez's mother Jacquelyn was assisted while dealing with Alzheimer's. Read more in Newsday and the Times.
CHIP SHOTS
A look at the teams against which Chipper Jones has done the most damage by stat. He's not just a Mets-killer.
• Chipper, the all-time Mets killer, faces them one last time this weekend. The pregame ceremony tonight will include Hank Aaron, Dale Murphy and Bobby Cox. Writes Jayson Stark at ESPN.com about the Atlanta third baseman:
All of a sudden, it's here. The End. The finish line. Not just of an unforgettable season, but of a unique and historic baseball career. And now that he's arrived, at last, at the final week of his surreal journey -- at least the regular-season portion -- Chipper Jones finds himself looking backward, looking forward, looking everywhere at once. It's a crazy time. And a beautiful time. He has accepted all the lovely parting gifts.
He has gotten "a little misty" over the ovations he's received, not just in ballparks where they've spent 18 years booing him but from the opposing players who play in those parks. He has clicked on the aerial photos of the giant No. 10 that has been carved in a sprawling Georgia corn field. "My first-ever corn field," he said with a chuckle.
Read more at MLB.com.
• Adam Greenberg, who was hit with a pitch in the head in his lone major league plate appearance back in 2005, will sign a one-day contract and get one at-bat for the Miami Marlins against the Mets on Tuesday. Read more in the Palm Beach Post and Times.
• Former Mets coach Manny Acta was fired as Indians manager. Bench coach Sandy Alomar Jr., the Mets' former bullpen coach, will complete the season in Acta's role and is a "primary candidate" to succeed Acta in 2013.
TRIVIA: What did the Phillies present Chipper during his final visit to Citizens Bank Park?
Thursday's answer: Seaver became the Mets' first 20-game winner back in 1969.