KISSIMMEE, Fla. -- Dillon Gee struggled for a second straight outing, but the Mets rallied for a 7-5 win against the Houston Astros on Wednesday night at Osceola County Stadium.
Zach Lutz had a game-tying RBI single and Matt den Dekker followed with a two-run triple that chased left-handed reliever Kevin Chapman in a four-run seventh. Chapman is den Dekker's cousin. They were high school and college teammates.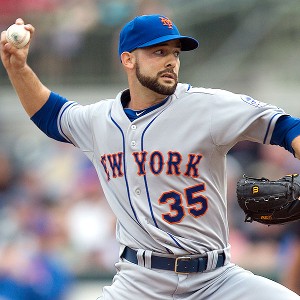 Evan Vucci/Associated Press
Dillon Gee rallied after allowing five runs in his first two innings Wednesday.
Den Dekker actually ended up at the University of Florida because the SEC school's recruiter had come to watch Chapman in a high school game and became alerted to the future Mets prospect, too. Chapman ended up being selected in the fourth round in 2010, a round before den Dekker.
"He was going to Florida, and the recruiting coordinator came to the game and saw me play and I had a pretty good game," den Dekker once recalled. "We grew up together. Pretty much our whole lives we lived around each other. It was cool us being drafted so close together. It was a big day for our families. Our families are real close. We all live down in South Florida. It was really exciting for everybody in our family."
As for Gee, he surrendered a two-run homer to Carlos Pena in the first inning and ultimately was charged with five earned runs on seven hits, a walk and a hit batter in four innings. Gee struck out four during a 77-pitch effort that included 47 strikes.
The outing comes on the heels of Gee allowing six runs on three hits, four walks, two hit batters and three wild pitches against the Detroit Tigers last Thursday.
His Grapefruit League ERA stands at 8.31.
Gee missed the second half of last season after undergoing emergency surgery at the All-Star break to address a blood clot in his pitching shoulder.
"I'm going to exclude this camp, because this is not the camp that Dillon Gee normally has," Terry Collins said. "He's a control pitcher. He throws all of his pitches for strikes. He has not done that this spring. But we know he's capable of doing that. That's what makes him one of the underrated pitchers. He's not an overpowering guy, but he can get you out. When you get in the batter's box, if you 'hunt' a fastball, you may never get one. And the next thing you know you're behind 0-2, because he's throwing a slider for a strike, a curveball for a strike or a changeup for a strike. ... Right now we need to get his release point down."
Gee, however, was heartened by his final inning -- a scoreless frame.
"All I need to look for was that last inning. That was me," Gee said. "I was aggressive. The tempo was way better. The ball was coming out great. Something clicked that last inning and I felt like my old self. I didn't really know until that last inning hit me what I should feel like. The first couple of innings I was timid, like feeling for things. And that's just not me. I'm not getting caught up in all this. I know I just have to keep working. That last inning was definitely something to build off of. I felt normal again."
Game tidbits:
LAFFEY MATTER: Aaron Laffey, the expected replacement for Shaun Marcum should the shoulder issue persist, tossed a scoreless inning. Laffey is due to start a split-squad game Sunday. He has tossed nine scoreless Grapefruit League innings.
MORE COWGILL: Collin Cowgill belted a two-run homer in the third inning against starter Alex White, who will serve as Houston's fifth starter or long reliever. Brian Bixler contributed an RBI triple in the fifth that pulled the Mets within 5-3 and chased White.
O-NO: Ruben Tejada snapped an 0-for-18 skid with leadoff double in the third.
ZEROES: Submariner Greg Burke, the frontrunner to claim the final bullpen spot, tossed 1 2/3 scoreless innings.