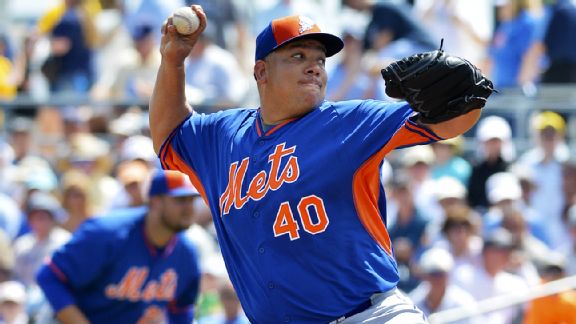 Tommy Gilligan/USA TODAY Sports
Bartolo Colon allowed five runs in two innings against the Rays on Sunday.PORT CHARLOTTE, Fla. -- Bartolo Colon's spring-training ERA now stands at 10.29.
Colon allowed five runs on seven hits and a walk in two innings of an 8-4 loss to the Tampa Bay Rays on Sunday at Charlotte Sports Park. He threw 61 pitches (40 strikes). The damage included a two-run double by John Jaso in the second inning, which gave the Rays a 5-0 lead.
#40 SP
New York Mets
2014 STATS
GM

31

W15

L13

BB30

K151

ERA

4.09
"I'm not worried about spring-training results," Colon said through a team spokesman. "My arm feels good. That's all I care about. I was working on all my pitches today. I was trying to get inside with my fastball and I didn't do that as much as I wanted to."
Terry Collins said Colon's velocity was normal during the subpar outing, with the right-hander touching 91 mph on occasion.
"It's tough to judge him," Collins said. "It's all about command of his fastball. He's going to go out there and throw all the fastballs because he's got to work on location, location. You saw today he tried to come inside on some guys and he just didn't have his command. It was one of those days."
The Mets (6-7) had scored 37 runs over their previous three games. This time they received a run-scoring groundout by Alex Castellanos and RBI single by Matt den Dekker, both in the fourth inning. Kirk Nieuwenhuis capped a 2-for-3 day that also included a walk with an RBI single in the eighth. Johnny Monell had a solo homer in the ninth.
Nieuwenhuis is batting .464 in Grapefruit League play. He was thrown out at the plate trying to tag up and score from second base on a deep flyout in the second inning.
"He's had a tremendous spring," Collins said.
Travis d'Arnaud departed the game in the fifth inning because of dizziness, which he blamed on dehydration.
Prospect Matt Bowman allowed consecutive homers to Allan Dykstra and Juan Francisco to open the seventh inning. Bowman and Dykstra were teammates last season with Triple-A Las Vegas. Dykstra signed with the Rays as a minor-league free agent.
What's next: The Mets stay overnight on the west coast of Florida and face the Boston Red Sox on Monday at 1:05 p.m. (WOR 710 AM). Matt Harvey makes his third Grapefruit League start, opposite right-hander Joe Kelly. Harvey allowed two runs on six hits and a walk in 2 2/3 innings and his fastball sat at 93 to 95 mph after the opening frame on Wednesday against the Miami Marlins. He is slated for 60 pitches and four innings against Boston.