NEW YORK
FIRST PITCH: Second-place Mets?
It could be true soon, although that would be a commentary on the state of the Philadelphia Phillies and Washington Nationals as much as about the Mets.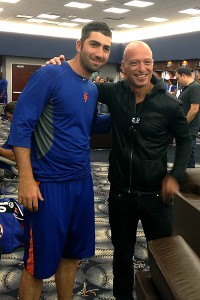 Courtesy of New York Mets
Howie Mandel visited family friend Josh Satin in the clubhouse after Thursday's win.
With those two former NL East titans struggling, the Mets actually enter the weekend even with both clubs in the loss column at 53 apiece.
The Mets (45-53) have played four fewer games than those 49-53 clubs.
It is a split doubleheader today for the Amazin's. Jenrry Mejia makes his first 2013 major league appearance in the 1:35 p.m. matinee at Nationals Park, opposite right-hander Jordan Zimmermann. In the 7:05 prime-time affair, Matt Harvey opposes spot-starting right-hander Ross Ohlendorf.
Mejia will be the 26th man for the Mets, which is now permitted under a rule for doubleheaders scheduled more than 48 hours in advance.
Read the Mets-Nats series preview here.
Friday's news reports:
• Zack Wheeler picked up his first home win despite allowing four runs (three earned) in six innings as the Mets split a four-game series against the Atlanta Braves with a 7-4 win Thursday afternoon at Citi Field.
Read game recaps in the Post, Daily News, Times, Newsday, Star-Ledger, Record and MLB.com.
• Eric Young Jr. left Thursday's game with right-knee pain, which began during his contact with Tim Hudson on Wednesday night. Read more in the Post, Star-Ledger and Newsday.
• Columnist Filip Bondy in the Daily News suggests the Mets are blissful … for not having drama like the Yankees. Writes Bondy:
It's amazing how adults can behave when they put their minds and ligaments to it. Eric Young Jr. strained his knee on Wednesday, had it X-rayed on Thursday, started the game, then told Terry Collins his joint ached a bit after running the bases. Young was pulled in the fourth inning and hopes to play one of the doubleheader games on Friday.
End of story. No second doctor's opinion. No controversy.
• John Buck is hitting .349 (15-for-43) with 13 RBIs in his past 11 games. He drove in three runs Thursday. "An adjustment that I had to make to just shorten up and take the single with a couple of RBI rather than the big blast," Buck suggested was the reason for the production upswing. Read more in the Daily News and Post.
• Darin Gorski tossed a complete game, but Binghamton was one-hit in a 2-0 loss against Trenton. Persio Reyes also tossed a complete game, and Kingsport beat Elizabethton, 3-1. Read the full minor league recap here.
• In their second games since returning from injury, Travis d'Arnaud and Lucas Duda each played seven innings in the field for the Gulf Coast League Mets. D'Arnaud had a two-run double, although the play originally was scored an error. He also had a high pickoff throw to first base, which was charged as an error to him. "It feels great -- normal," d'Arnaud told Walter Villa in Newsday about the foot he fractured April 17.
• The Mets made a minor trade Thursday, getting $360,500 in extra international cap space from the Los Angeles Angels for minor leaguers Julio Concepcion and Andres Perez.
• Howie Mandel visited family friend Josh Satin in the clubhouse Thursday afternoon.
• Danny Knobler at CBSSports.com speaks with a scout about Double-A slugger Cesar Puello, who has been implicated by ESPN's "Outside the Lines" in the Biogenesis scandal.
• Jeff Pearlman at jeffpearlman.com suspects Marlon Byrd's production may be impure and chastises beat writers for not investigating. Writes Pearlman:
Last year, Byrd's season was interrupted when he was suspended 50 games for testing positive for Tamoxifen, a medicine that blocks the effects of the estrogen hormone in the body. Byrd's statement was predictable nonsense -- "Several years ago, I had surgery for a condition that was private and unrelated to baseball. Last winter, I suffered a recurrence of that condition and I was provided with a medication that resulted in my positive test. Although that medication is on the banned list, I absolutely did not use it for performance-enhancement reasons." Blah, blah, blah.
He cheated, he was caught, he was suspended, he lied about the story. Happens all the time. Here's the thing: Why isn't anyone questioning Byrd's season?
• The Mets' TV ratings on SNY are down this season, reports Justin Terranova in the Post. The Yankees are down, too. Writes Terranova:
The Mets have experienced a similar, though less severe, decline on SNY with their ratings down 30 percent from this time last year, going from 2.61 to 1.82. There's no great mystery why -- as the team has spent most of the year under .500. Though recent seasons have ended bitterly, they have started off successfully.
The positive is the uptick that has occurred when Matt Harvey (1.96 rating) and Zack Wheeler (2.34 rating) start. The significant advantage Wheeler holds is likely because of the small sample size of starts he has had.
• Jared Diamond in the Journal notes the Mets are 20-13 since Wheeler's major league debut. That is comfortably the best record in the NL East during that span.
• From the bloggers … Faith and Fear in Flushing wonders if the Mets understand the object of the game is to bring runners home, not merely land them on base. … Mark Berman at Blogging Mets advocates trading Bobby Parnell.
BIRTHDAYS: No players to appear in a game for the Mets were born on July 26, but Sandra Bullock, Mick Jagger and Kevin Spacey celebrate birthdays today.
TWEET OF THE DAY:
@MikeVacc #mets sleep in the outfield promo? what's the big deal? Roger cedeno did this for a whole season in 2003

— Don Stohrer, Jr. (@donstohrerjr) July 26, 2013
YOU'RE UP: Would it be meaningful for the Mets to finish in second place in the division … if they also had a below-.500 record?