MIAMI
FIRST PITCH: Happy anniversary?
One year ago today, Johan Santana tossed the first no-hitter in franchise history, against the St. Louis Cardinals at Citi Field.
Now, Santana is in Fort Myers, Fla., in the early phases of recovery from a second shoulder surgery to repair the anterior capsule.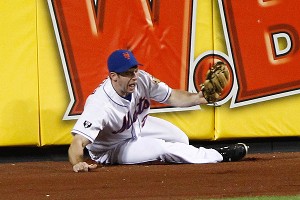 Debby Wong/USA TODAY Sports
Mike Baxter's grab, which resulted in a separated shoulder, save Johan Santana's no-hitter one year ago today.
Terry Collins candidly reflected Friday on his internal agony in allowing Santana to complete the historic June 1, 2012 event.
"If you would have taken him out, I promise you not only would the fans have been in an uproar, but the players would have too," Josh Thole, now in Triple-A with the Toronto Blue Jays, told Mike Harrington in the Buffalo News. "I feel like David Wright would have gone up to him and said, 'Skip, run him back out there. We're going to take a chance here.' ''
Anyway, one year later, Collin McHugh subs for Jonathon Niese (shoulder tendinitis) on the mound today at 4:10 p.m. at what undoubtedly will be a much less buzz-filled Marlins Park. McHugh opposes rookie Jose Fernandez (2-3, 3.78 ERA).
Saturday's news reports:
• Collins acknowledged Zack Wheeler was bypassed for the spot start in large part because it would have been impossible for observers to accept Wheeler returning to Triple-A if the outing against the Marlins had been successful. Read more in the Journal.
• Shaun Marcum took a scoreless effort into the seventh inning before allowing four runs and the Mets had a five-game winning streak snapped with a 5-1 loss to the Marlins on Friday night. Read game recaps in the Post, Daily News, Times, Star-Ledger, Newsday, Record and MLB.com.
• Collins said there was no post-Yankees series letdown.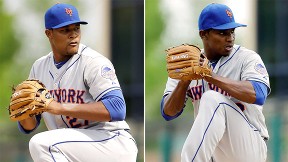 Carlos Osorio/Associated Press
Jeurys Familia and Jenrry Mejia both had setbacks.
• Jeurys Familia and Jenrry Mejia had setbacks during their rehab assignments, although Collins hopes Familia is back on a mound this weekend. Read more in the Star-Ledger.
• Marc Carig in Newsday discusses Ike Davis' potentially flawed swing, which includes a pronounced hand drop as the ball is being released by the pitcher. "I've always wanted to stop my hands from dropping," Davis told Carig. "But I've always swung like that. Obviously, it's not something that you want all the time, but I mean, Barry Bonds dropped his hands. A lot of people did and had success. It's just the way I've swung my whole life with my hands. It's tough to stop that."
• Read no-hitter reflections in the Post, Daily News, Star-Ledger, Times, Journal, Record and Newsday.
• Andrew Goldman in the Times has a Q&A with Dwight Gooden. Among the exhanges:
Matt Harvey, the Mets' pitching phenom, is compared with you a lot. Do you agree with Bobby Valentine that he could be the best pitcher ever to wear a Mets uniform?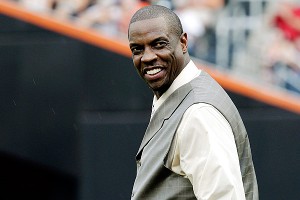 Kathy Willens/Associated Press
Dwight Gooden wasn't always thrilled with Darryl Strawberry.
"It's a possibility, but that's saying a lot, because of the things Tom Seaver did, that I did. He has a lot of ability, and he's not cocky. Even when he pitches seven shutout innings with 10 strikeouts, he wants to get better. Once he gets two or three years in, then you can say that."
In 1995, you and your former teammate Darryl Strawberry shared the cover of Sports Illustrated for an article called "The Dead End Kids," about your drug use after the Mets' 1986 season. Did you resent how the two of you were always grouped together?
"The media made it seem like we were closer than we really were. You had two young, very successful black players -- he was Rookie of the Year '83, I was '84. But I was actually closer with Keith Hernandez, Gary Carter, Mookie Wilson. In 2010, Darryl really crossed the line, calling my family and saying a lot of negative things about me, stuff that wasn't true. I always considered him a friend. The things he was doing really do not fit the definition of a friend."
• Jamie Hoffmann belted a grand slam and finished with five RBIs as Las Vegas beat Reno, 6-0. Read the full minor league recap here.
• Mike Puma in the Post gives his "confidential" breakdown of May and a look at the month ahead.
• David Lennon in Newsday looks at the Ivy League path to an MLB front office. Paul DePodesta and Adam Fisher from the Mets' front office did their undergraduate work at Harvard. Writes Lennon:
The Los Angeles Times dubbed him "Google Boy'' -- a derisive nickname meant to suggest DePodesta's over-reliance on computer-generated info -- and he was fired after the Dodgers went 71-91 in 2005. DePodesta lost his job, but remained a hero for the sabermetric crowd, which has only multiplied since then, especially in the college ranks.
The Harvard Sports Analysis Collective, which describes itself as a "student-run organization dedicated to the quantitative analysis of sports strategy and management,'' could be churning out the next army of DePodestas if they didn't sound so uninterested in baseball. It's not that the sport has necessarily fallen out of favor with the numbers-obsessed. There's just not a lot of groundbreaking debate that can be done by laptop-toting amateurs on such well-worn terrain.
"There's kind of a glut. The market is pretty saturated at this point,'' said Andrew Mooney, a Harvard junior and co-president of the HSAC. "It's getting to the point where if you want to say anything new about baseball, you need to access the type of tracking equipment that the organizations are using. I think the opportunities that people in our club are most excited about now are in basketball and football, where this industry is still kind of in its infancy.''
• Michael Powell in the Times reflects on being a Mets fan this week.
• Is Lucas Duda too passive at the plate? Tim Marchman addresses that topic in the Journal.
• From the bloggers … John Delcos at Mets Report believes Terry Collins indirectly threw his team under the bus. … Faith and Fear in Flushing considers the concept of "relevance," as it applies to the Mets and their fans.
BIRTHDAYS: Rick Baldwin, who pitched in relief for the Mets in the mid-70s, was born on this date in 1953.
TWEET OF THE DAY:
Happy No-no day. Let's Go #Mets

— Vince NY (@vinzska) June 1, 2013
YOU'RE UP: Where were you when Johan Santana tossed the first no-hitter in franchise history?