PORT ST. LUCIE, Fla.
FIRST PITCH: Captain America, it turns out, is not invincible.
David Wright should be back at the Mets' spring-training complex today, not with Team USA as it faces an elimination game in Miami against Puerto Rico. And that is worrisome. (UPDATE: Wright will fly directly to New York this morning to be examined by team doctors. He is due in Port St. Lucie on Saturday.)
Wright was scratched from Thursday night's game, an eventual 3-1 loss to the Dominican Republic, with rib soreness on the back left side. He is due to be examined today by Mets doctors in Port St. Lucie.
Wright said he began feeling discomfort a week ago. He has had difficulty sleeping in recent days, but maintains his body feels better playing than while idle. He was scratched after going through batting practice as the Mets exerted their influence.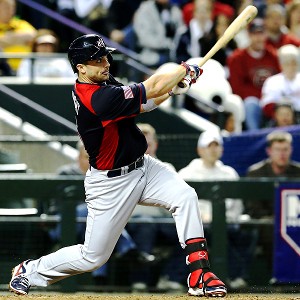 Mark J. Rebilas/USA TODAY Sports
David Wright should be back in Port St. Lucie getting a rib-cage issue checked out.
During the 2011 season, Wright played through discomfort before eventually being diagnosed with a stress fracture in his lower back. Last spring training, the now-30-year-old Wright dealt with a left rib-cage strain, although he told reporters last night this injury seemed different.
Wright insisted he could have played last night.
If Wright is not ready for Opening Day, however, Zach Lutz, Justin Turner or Brandon Hicks would be capable of playing third base.
On the field, the Mets travel to Disney today to face the Atlanta Braves.
Jeremy Hefner, who is poised to open the season in the rotation in place of Johan Santana, starts for the Mets opposite Tim Hudson. Also scheduled to pitch: Aaron Laffey, Bobby Parnell, Josh Edgin and Scott Atchison.
Terry Collins said Laffey should pitch at least two innings as he begins to get stretched out, presumably as the next alternative should another starting pitcher be needed.
Also today, Mets officials must ship out prospects on the 40-man roster or face additional risk the remainder of spring training. If Travis d'Arnaud or Wilmer Flores remained in camp beyond Friday and subsequently became injured, they would need to open the season on the disabled list and accumulate major league pay and service time. So prospect cuts from major league camp may be looming before today's close of business.
Friday's news reports:
• Read more on Wright's injury in the Times, Post, Daily News, Newsday, Star-Ledger and MLB.com.
• Tom Seaver has been battling a serious case of Lyme disease that included some memory loss, Bill Madden reports in the Daily News.
• Dillon Gee allowed six runs on three hits, four walks, two hit batters and three wild pitches in two innings and the Mets lost to the Tigers, 9-1, Thursday at Tradition Field. Read more in the Star-Ledger, Times, Newsday, Post, Daily News and MLB.com.
• The Post's Mike Vaccaro and Mark Hale spoke with Sandy Alderson on a Podcast. (Listen here, beginning at the 4:30 mark.)
On whether a multiyear deal will come up to cover the remaining three years of arbitration for Ike Davis and beyond, Alderson said: "It has to fit for us. It has to fit for the player. So, in his case, and maybe one or two others, we keep an eye on it. Sometimes the player is not interested. Sometimes the agent is not interested. It's one of those things that has to work for both sides."
As for why Collins is managing a lame-duck season rather than getting an extension, the GM said: "In part a desire just to see how the team continues to develop … we felt that this was the best thing for the Mets. That doesn't mean that Terry won't be with us long term. And it doesn't mean that he'll be judged strictly on the basis of wins and losses either."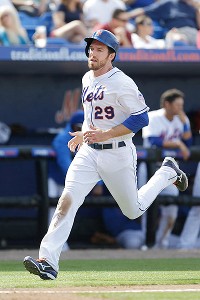 Jeff Robertson/Associated Press
Ike Davis is hitting 357 during spring training.
• Despite an 0-for-3 performance Thursday, Davis is still hitting .357 in Grapefruit League play. "Yeah!" Davis told Anthony Rieber in Newsday.
Davis discusses how badly Valley fever knocked him out last spring training with Kristie Ackert in the Daily News. Writes Ackert:
Every night last spring, after a day fighting through fatigue at the ballpark, Ike Davis would go back to his place and just crash. Still, lying there in his bed at night, there was no relief from the fatigue of Valley fever, the fungal infection that attacked Davis' lungs and sapped his strength. He'd get dizzy, he'd struggle to breathe -- and every night he would hardly sleep at all.
• Jenrry Mejia, who has recently rediscovered his cutter, has not pitched since Monday because of tendinitis, Mike Puma writes in the Post.
• Mike Baxter mourned the death of legendary prep coach Jack Curran, whom Baxter played for at Archbishop Molloy.
• Mike Kerwick in the Record reviews the recent outings of Bobby Parnell.
• Steven Marcus in Newsday reports that Sunday's college lacrosse doubleheader marks only the second time the sport has been played at a major league stadium on an intercollegiate level. The other instance came when Navy faced Johns Hopkins in the Houston Astrodome in 1971.
• From the bloggers … In light of Wright's plot-twist, Mets Police is convinced The Mets is actually a scripted television series.
BIRTHDAYS: No player to appear in a game for the Mets was born on March 15, but Eva Longoria, Kellan Lutz, Bret Michaels and Fabio celebrate birthdays today.
TWEET OF THE DAY:
Two days after being called Captain America, Wright is done for the WBC. Cause #Mets fans need more bad news

— (Atom) Anthony (@antdupree) March 15, 2013
YOU'RE UP: If David Wright were to start the season on the DL, whom would you like to see at third base -- Zach Lutz, Justin Turner, Wilmer Flores, Brandon Hicks or Brian Bixler?