PORT ST. LUCIE, Fla. -- Right-hander Collin McHugh and wife Ashley posted the story of their courtship on The NotWedding this Valentine's Day. She wrote, in part: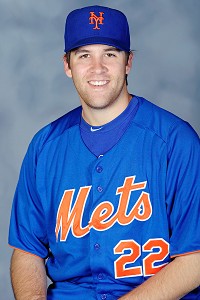 Courtesy of New York Mets
Collin McHugh
Once, on the way to Zaxby's, I asked him if he could spend his whole life playing baseball or spend his whole life with me, which would he choose? He chose baseball. We fought about that for a while. Later, I was happy because I was dating a guy who didn't need me to be the center of his world. Little did I know he would spend his life playing baseball and being with me.
Two years later, he pulled over on the highway and proposed to me in the median. My exact response was, "Duh." I only officially accepted after he asked me to be his Beyonce. And after three full years of drive-by dating, we got married on October 3rd … but I guess I already mentioned that. We were both 22. Some people thought we were too young (and I bet secretly, everyone) and we probably were. By the time I was 24, I marveled at -- and feared -- how I'd had the audacity to make such a huge decision. By the time I turned 26 I realized Grace had carried me through this far, and Grace will lead me home.
See the whole entry and wedding pictures here.