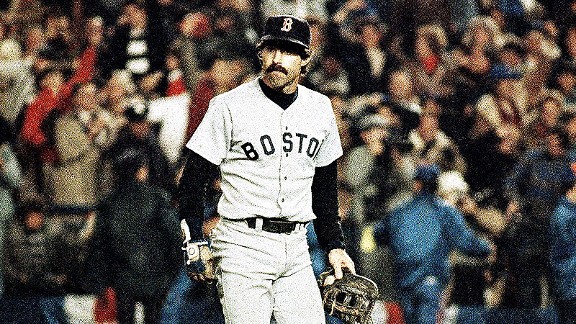 AP Photo/Rusty Kennedy
Bill Buckner's miscue made for one of the great moments in Mets history.ESPN's reporters remember what it was like to be at Shea Stadium for the Mets' amazing win over the Red Sox in Game 6 of the World Series on Oct. 25, 1986.
Tim Kurkjian
My game story for the Baltimore Sun was already in, and ready to go. And then the Mets made their miraculous comeback. I had seven minutes to rewrite the biggest game story I had ever written.
As if that wasn't hard enough, as I wrote from the auxiliary press box down the left-field line, and it was as if someone emptied a keg of beer in the upper deck above me in the celebration.
I threw myself on my computer to keep it dry, but I was dripping wet in beer as I replaced the first eight paragraphs of my story with eight new ones.
I had no time to craft some really cool lead, and my hair was all wet. I reflexively wrote the word "Amazin'" for the lead, and moved on.
Jeremy Schaap
I admit it. Like Keith Hernandez, I gave up. I didn't go into the clubhouse, light up a Marlboro and pop open a Bud, but, after he flied out, my hopes were all lost, too.
With the Mets down to their final out and trailing by two runs, my father and I got up out of our seats, turned our backs to the field and headed for the door leading out of the SportsChannel suite.
I didn't want to see the Red Sox celebrate on the Mets' field -- and he didn't want me to see it, either. I was 17 and the Mets hadn't won a World Series since Oct. 16, 1969, when I was seven weeks old.
My father was 52 and he had never seen the Red Sox win a World Series. We were fine with that second streak continuing, but certain that it was about to end.
Then Gary Carter singled -- the Kid always seemed to come through -- and my father and I looked at each other, silently communicated a "Let's see where this goes," and returned to our seats.
Then there was Mitchell, then Knight, then the wild pitch/passed ball. And, then, finally, ludicrously, the Wilson grounder.
I wish I could remember what my father and I said to each other at that moment, but I can't. Probably just, "Wow." There was nothing else to be said.
Game 6 of 1986 World Series
Summary
What I do remember was the trip down the elevator to the ground level. We got on and were joined by the Honorable Raymond Flynn, the All-American guard from Providence College who had become mayor of Boston, and the eminent A. Bartlett Giamatti, the president of Yale who had become president of the National League.
On the elevator, though, Giamatti was wearing a different hat -- figuratively, at least -- that of devastated Red Sox fan. The president of the NL had just seen the team representing his league pull off the greatest comeback ever in a World Series, forcing a seventh game.
You might expect him to be gratified. Or at least ambivalent. He wasn't.
It is possible that I am misremembering his exact words -- but I would swear I am not. "F---ing McNamara," the Renaissance scholar said angrily, loudly. "Where the f--- was [Dave] Stapleton?"
Barry Stanton, news editor
I was writing for the Journal-News. After Dave Henderson hit a HR off Rick Aguilera in the top of the 10th –- and jogged backwards down the first base line -- to put the Sox ahead, the fan came out in some of the Boston writers in the press box, almost understandably for the ones who had grown up cheering for a jinxed team they believed would never, ever win a World Series.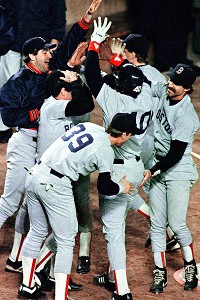 Amy Sancetta/A.P. Photo
Media members thought they'd be writing about a Red Sox World Series title ...
The guy next to me even called his father to share the moment.
"Dad, can you believe it! Did you ever think we'd see it?"
Looking down at the Red Sox dugout, with Roger Clemens and Oil Can Boyd waving towels in celebration, I remember thinking that it just didn't seem fair because the other team -- the Mets -- had been, by far, the best team in baseball that year.
And then, down to their final out, things starting happening.
Carter. Mitchell. Knight. Mookie at the plate. Stanley's wild pitch. And then Mookie's roller through Buckner's legs. Absolute bedlam.
In the clubhouse, we found out that Keith Hernandez, who had made the second out in the bottom of the 10th, spent the rally in Davey Johnson's office, drinking beer. And that Kevin Mitchell, naked from the waist down, was on the phone making plane reservations home when they called him to pinch hit for Aguilera, and that he'd quickly yanked on uniform pants (but no underwear) and run to the plate.
And I remember an angry Darryl Strawberry, storming through the happiest clubhouse I'd ever seen, because he'd been taken out of the game in a double-switch.
I still remember the column I wrote, played off the Dylan Thomas lines, "Rage, rage against the dying of the light."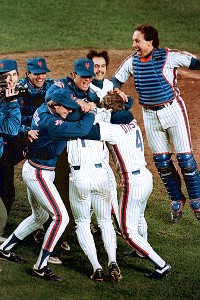 Amy Sancetta/A.P. Photo
Instead, they witnessed one of the greatest comebacks in sports history.
And we stayed in the Stadium club that night until 4 am.
Remarkable night.
Jayson Stark
Some nights in October blend into all the other nights. But not this one. I vividly remember going to the park for the Philadelphia Inquirer thinking I was about to see something almost no living human had ever seen -- the Red Sox winning the World Series. And then there it was, happening before my eyes.
So because I was in the newspaper business and we had this concept known as "deadlines," I had that tale all written, a story no one in that press box had ever written before, the story of the Red Sox winning the World Series. I'd sent it in. It was late on a Saturday night. I was practically done for the night. And then THAT inning happened. And everything changed, of course. So the story I'd waited a lifetime to write was never going to run.
I remember sprinting down the ramps at Shea Stadium, dodging fans, just about knocking people over, because I had to get to that clubhouse. I remember spending 10 minutes down there, grabbing anyone who appeared, and then sprinting back up the ramps and writing stream of consciousness for the next 20 minutes. And then it hit me what I'd just seen, a moment in baseball time we'd be talking about all my life.
But the other thing that hit me was: I was supposed to close on my new house that Monday, two days later. So I needed that World Series to be over. But of course, it didn't end that night. And then it didn't end the next night, because it poured.
And so I had to hustle back to Pennsylvania, go to the closing, then hustle back to Shea for an incredible Game 7. How 'bout that daily double? And all because of Bill Buckner, and Bob Stanley and all their Red Sox co-conspirators.
Willie Weinbaum, feature producer
I didn't cover it, but was there as a fan in the upper deck, with my dad, Sam (a Cubs fan).
As the Mets got hit after hit, everybody was on their feet. From the upper deck, far down the left-field line, when the grounder left the bat, it looked like an easy out. But for a split-second, when it got past the bag, because of Wilson's speed, I was thinking, maybe he can beat it out. Then it got through Buckner and everyone, it seemed, was screaming in unison, "I don't believe it! I don't believe it!"
Exhilaration replaced resignation -- how could the Mets have won the game and extended the Series, when Boston had wrapped up both? For my dad and me, it was tinged with sympathy for Buckner, who had been the definitive warrior for the Cubs.
We were also seated behind a friend and colleague, Ouisie Shapiro, who was the writer of the show "This Week In Baseball," for which I was later a field producer.
Ouisie, who has won Emmy Awards for her work as a documentary writer and producer, is a lifelong and devout Red Sox fan, born and raised in Boston.
With two outs, she was standing and crying in disbelief as the Red Sox fans' interminable wait was ending. Then it was simply shock as everything fell apart.
My dad and I will never forget -- and neither will Ouisie -- that in the moments after Mookie Wilson's grounder got by Bill Buckner, when we got on the No. 7 subway to head back to the Upper West Side of Manhattan, where all of us lived, Ouisie sat with her head down, in her hands, just above her lap, and didn't say a word the whole long ride home amid the jubilation on the packed train.
She had suffered a heartbreak that left her speechless. She has since appeared in documentaries about her beloved team and has experienced the team's redemption and the lifting of "the curse."
My dad and I didn't just feel sympathy for Buckner, but for Ouisie and all of the Boston fans.
My dad was to go in 1984 to the World Series in Chicago after the Cubs got up 2-0 on the Padres in the NLCS. Leon Durham's parallel episode to Buckner's and Steve Garvey's heroics ended that plan.
More than a quarter-century later, my dad still follows the Cubs with great passion and still suffers and still waits. Ouisie's team has won two World Series, while the team from Chicago's North Side hasn't even been in one since 1945.
Steve Wulf, ESPN The Magazine
I was with Sports Illustrated, but I was not at Shea that night because my wife and I were at a night wedding. Before we left the house, we had dressed our four-month-old boy, Bo, in a Red Sox onesie, and left him in the care of our baby-sitter, Agatha.
I followed the game on a transistor, and left the wedding in the sixth inning. When I got home to relieve Agatha, Bo was fast asleep. But as the game played out, and the Red Sox went ahead in the 10th, I thought to myself that some day he would want to know he watched the Red Sox win their first Series in 68 years.
I take him out of the crib and prop him up on my lap. As he blinks his little eyes at the TV, I look down at him and notice that Agatha, a Mets fan, had changed him into a Mets onesie. Before I could change him back into his Red Sox outfit, the wheels came off. (Agatha was from Barbados, where there is a culture of voodoo.)
So don't blame Buckner or Stanley or Gedman or McNamara or Schiraldi. Blame me. I lost the '86 Series because I was a sap.