PORT ST. LUCIE, Fla.
FIRST PITCH: Even though it is still two days until position players participate in the first full-squad workout, the gang essentially is all here.
Pitchers continue their fielding drills Tuesday. Half the group, which should include Matt Harvey and Jacob deGrom, again should be scheduled for bullpen sessions, too. A pitcher throws off a mound every other day this time of spring training.
Tuesday's news reports:
• Michael Cuddyer addressed the media at Mets camp on Monday. He insisted he is undaunted by Citi Field compared with his former home, hitter-friendly Coors Field. He also suggested former teammate Troy Tulowitzki would be a great fit for the Mets. Still, Cuddyer added, he would never trade Tulo if he ran the Colorado Rockies. Read more in the Post, Daily News, Newsday, Record and at NJ.com and MLB.com.
• Ben Baumer, who spent nine years as a statistical analyst for the Mets before departing to become an assistant professor at Smith College, wrote an article for ESPN.com on the sabermetric inclination of each MLB team. On the Mets, Baumer writes: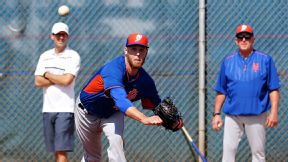 Adam Rubin
Zack Wheeler throws off a mound Monday at Mets camp.
With no scouting background, Alderson's greatest strength as a GM is his objectivity, and with him at the helm, analytical information is as likely to be put into practice in Flushing as it is anywhere in the game. Alderson's first two moves as Mets GM were to bring in former A's executives Paul DePodesta and J.P. Ricciardi. Both have been hyped as analysts because of "Moneyball," but they're underrated as scouts.
With DePodesta overseeing amateur scouting, and analytically minded executives Adam Fisher and Ian Levin directing baseball operations and player development, respectively, the Mets have a tightly integrated group that shares ideas freely -- both within the front office and with the field staff. Manning the keyboards of a mature baseball information system are T.J. Barra and developer Joe Lefkowitz.
One significant limitation: Though the Mets are a big-market club, they have a mid-market payroll and just haven't made the investment in highly trained personnel that teams like the Royals and Cubs have made in recent years.
• The SportsCenter Bus Tour will roll into Mets camp in Port St. Lucie on Thursday. Due to visit are Karl Ravech, Curt Schilling and Buster Olney.
• Matt Reynolds is likely ticketed for Triple-A Las Vegas, to play shortstop in a double-play tandem with Dilson Herrera. Still, Terry Collins pledged Monday to give Reynolds plenty of time at shortstop during Grapefruit League play. Read more in the Post and at NJ.com.
• Columnist Ken Davidoff in the Post suggests that the Mets hired a celebrity hitting coach in Kevin Long, which is not a bad thing. Essentially, he's the Rick Peterson of this Mets era, Davidoff asserts. Davidoff, who was not allowed to speak with Long, writes:
Long is friendly, passionate and extremely hard-working, and he's the opposite of media-shy. A handful of times in The Bronx over his eight years on the job, his words got him into hot water with his boss, Yankees general manager Brian Cashman.
Yet Cashman never would have fired Long if not for the Yankees' 2013-14 offensive outage to which Alderson referred. Here's all you need to know about Long and the regard his players hold for him: When he published "Cage Rat," an autobiography/hitting manual, in 2011, Rodriguez agreed to pose for the cover photo with him. And Jeter attended a release party for the book. The legendary frenemies could agree on their respect for Long.
• Tim Rohan in the Times writes about Dave Pearson, the Mets' minor-league rehab coordinator, giving a coin to players once they complete rehab from a significant injury. Harvey received one Monday. Writes Rohan:
Pearson got the idea for the coin a few years ago after he noticed that players in the Mets' strength and conditioning program were getting new T-shirts every year. He wanted something for the rehab program. But, he figured, "Nobody wants to wear a shirt that says 'rehab.'" Then he remembered a gift he had received, before he worked with the Mets, from a patient who had served in the military. As a sign of thanks, the man had given him a challenge coin, a special token that signified the unit to which he belonged.
Peterson thought the idea might work with the Mets. He sketched out a design for a coin that represented the Mets' rehab program. The result was a mash of Mets history, medical references and, of course, a motto. Pearson searched Google and found "Perfer et obdura; dolor hic tibi proderit olim," which is Latin for, "Be patient and tough; this pain will be useful."
But on the coin, "Perfer" is misspelled as "Prefer."
• Wilmer Flores told Mike Vorkunov at NJ.com that he has the mindset in camp of fighting for a job. Read more in the Record.
• While the Washington Nationals are heavy favorites to win the NL East, they respect the Mets, they told Anthony Rieber in Newsday.
"The Mets are going to be good," Jordan Zimmermann told Rieber. "They do have the young pitching and Harvey's coming back. The young pitchers they have, they all have good stuff and throw really, really hard. So they're going to be good and we have to play our best to beat them. Everyone's got us in first in the division, but we've still got to go out and play the games."
Said Gio Gonzalez: "Don't take anything away from them. They've got great arms, they've got great position players, great offense. I see a great group of guys. A young, talented team. That rotation is going to be very impressive with Harvey coming back. They're still putting pieces together. It just shows you the Mets are in it, too. They want to go out there and compete."
• Jared Diamond in the Journal offers a fan's guide to Port St. Lucie.
• SNY and WPIX released their spring-training telecast schedule for Grapefruit League games.
• The Mets placed blue T-shirts in players' lockers that read: "Win: It's in Your Grasp" on the front and "Take the Damn Thing" on the back, the Daily News writes.
• From the bloggers …Mets Report suggests a reason the Mets won't announce a set plan for Harvey.
BIRTHDAYS: Hall of Famer Eddie Murray turns 59.
TWEET OF THE DAY:
Sweating through his shirt now! Haha light colors are a bad choice for intense situations or hot environments #Bachelor #awkward

— Victor Black (@Vic_Black_2) February 24, 2015
YOU'RE UP: Is Michael Cuddyer's two-year, $21 million contract a good deal or a bad deal for the Mets?