JUPITER, Fla. -- Shaun Marcum and LaTroy Hawkins each logged two innings as a Mets "B" team was two-hit by the Miami Marlins in a 4-0 loss on Tuesday on a back field at the Roger Dean Stadium complex. Pedro Feliciano made his first game appearance with the Mets since 2010.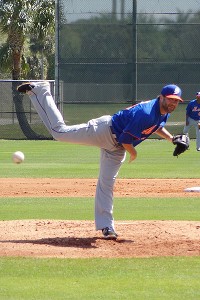 Adam Rubin
Shaun Marcum pitches during Tuesday's "B" game in Jupiter, Fla.
Matt den Dekker produced a leadoff triple against Chad Qualls in the fifth, but Juan Lagares and Reese Havens consecutively struck out and Jamie Hoffmann flied out to end that threat. The Mets loaded the bases in the eighth on a double by Andrew Brown and walks to Brian Bixler and Juan Centeno, but left-hander Brian Flynn stranded the three runners by striking out Josh Satin on a changeup.
Marcum, who had requested to be held out of game action, was pitching for the first time since the team's Feb. 23 Grapefruit League opener. With his fastball sitting at 84-85 mph, the Marlins loaded the bases against Marcum with one out in the first frame, but the ex-Brewer rallied by retiring Derek Dietrich and Marcell Ozuna on flyouts. Marcum then tossed a 1-2-3 second inning to complete a scoreless effort.
"I had a little shoulder flare-up last spring," Marcum said. "So I wanted to be smart about it this spring, especially with the extended spring, and just make sure that I was ready for whenever my turn is in the rotation for the start of the season. Because that's the most important thing, not making seven or eight starts down here. The elbow, shoulder, all that feels good."
Hawkins was making his first spring training appearance. He allowed a leadoff walk in the third to Ed Lucas, who then stole second. Joe Mahoney then delivered an RBI double. Hawkins also committed an error in the frame. He tossed a 1-2-3 fourth inning.
"That's probably the first time I've been in a bullpen I threw two innings in my first outing of a spring," Hawkins said with a chuckle. "But it went well, just throwing a lot of fastballs, trying to work on location and getting a feel for being back out there."
Gonzalez Germen surrendered two runs while recording only one out in the fifth, at which point that inning was called for a pitch count. Germen then contributed two additional scoreless innings.
Feliciano, wearing a heart monitor, surrendered a leadoff homer to Ben Lasater in the eighth. Registering 82-83 mph in his first game action after being idle earlier in camp, Feliciano also hit a batter.
Box score
Batter AB-R-H-RBI-BB-K
Omar Quintanilla, ss 4-0-0-0-0-1
Brian Bixler, 3b 2-0-0-0-2-0
Landon Powell, c 2-0-0-0-1-2
Juan Centeno, c 0-0-0-0-1-0
Josh Satin, 1b 4-0-0-0-0-3
Matt den Dekker, dh 3-0-1-0-1-1
Juan Lagares, cf 2-0-0-0-1-1
Alonzo Harris, ph 1-0-0-0-0-0
Reese Havens, 2b 3-0-0-0-0-1
Danny Muno, ph 1-0-0-0-0-0
Jamie Hoffmann, lf 3-0-0-0-0-0
Andrew Brown, rf 3-0-1-0-0-1
Pitcher IP-H-R-ER-BB-K
Shaun Marcum 2-2-0-0-1-1
LaTroy Hawkins 2-1-1-1-1-1
Gonzalez Germen 2.1-2-2-2-2-1
Pedro Feliciano 1-1-1-1-0-1
SB: Bixler
E-Hawkins (throw)
HBP: Feliciano
2B: Brown
3B: den Dekker