Nearly the entire winter, right-hander Jenrry Mejia drove 40 minutes daily to the Mets' complex in his native Dominican Republic to toss a baseball on flat ground and continue the rehab from Tommy John surgery performed on May 16, 2011.
"Like 6 o'clock in the morning, because I want to be back," Mejia recalled about his early-morning sessions under the guidance of pitching coach Benjamin Marte and trainer Antonio Sosa.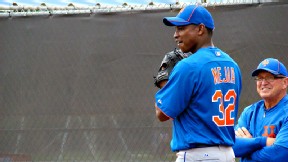 Adam Rubin
Jenrry Mejia's fifth minor league start will come with Triple-A Buffalo on Wednesday.
By the time he arrived in spring training, Mejia was so eager to throw full bullpen sessions, Mets officials had to advise him to slow down and not do too much, too soon.
"They said, 'Easy. You don't have a complete year (since surgery),'" Mejia said.
Mejia, 22, nonetheless appears on the fast track back to the majors, with all signs pointing toward a bullpen role with the Mets during the second half of the season -- if not sooner.
"That's exactly where he should be," said a scout who watched Mejia's last minor league appearance, referring to the bullpen.
On Wednesday, Mejia will make his fifth minor league start since returning, this time with Triple-A Buffalo. He previously made two starts apiece with Class A St. Lucie and Double-A Binghamton.
The current starting assignments are designed to guarantee Mejia a consistent workload and allow him to sharpen his curveball and changeup rather than simply focus on his fastball, which has a cutting action that bedevils hitters.
Terry Collins already has stated Mejia is expected to contribute in the Mets' bullpen in 2012. And Sandy Alderson has differentiated Mejia from fellow prospects Matt Harvey, Jeurys Familia and Zack Wheeler. That trio will develop at their own paces and not be forced into the Mets' bullpen. In Mejia's case, though, the needs of the organization will play a major factor in determining the role.
COMEBACK TOUR
Right-hander Jenrry Mejia has made four starts since Tommy John surgery.
"He has a little more experience," Alderson said, separating Mejia from the other highly regarded arms. "He's coming off an injury. He's pitched at the major league level before. And if we were to move him to the bullpen, in that scenario, we think he can help us perhaps in a way the other guys are not ticketed for."
When talking about Mejia during spring training, Paul DePodesta cited the Rangers' model of introducing high-profile pitchers to the majors in relief, with the option to start available down the road. Nefatali Feliz worked in Texas' bullpen from 2009 through last season before stepping into the rotation. Alexi Ogando broke into the majors two years ago as a reliever, stepped into the rotation last year, and now is back in the pen.
"That's something we'd consider in the right case," Alderson said.
A scout who watched Mejia's last outing with Binghamton noted Mejia's arm strength is not fully back yet. Mejia's fastball ranged from 90-94 mph. His breaking ball was "inconsistent." The scout added that Mejia needs to speed up his delivery time to the plate before he reaches the majors or runners will have a field day with his "very slow" time.
Mejia was rushed to the majors in 2010 out of spring training as Omar Minaya and Jerry Manuel tried to preserve their jobs. Now, though, Mejia is two years older and that same decision wouldn't be viewed as forced.
"I don't care," Mejia said. "The only thing I have to do is my job, keep concentration, never put my head down. Reliever, starter, anywhere, I have to do my job."