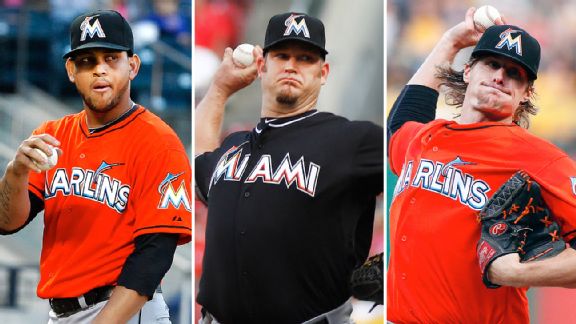 USA TODAY Sports
The Mets face Henderson Alvarez, Brad Penny and Tom Koehler in Miami.METS (64-73, fourth place/NL East) vs. MIAMI MARLINS (66-69, third place/NL East)
Monday: RHP Zack Wheeler (9-9, 3.44) vs. RHP Henderson Alvarez (10-6, 2.75), 1:10 p.m. ET
Tuesday: LHP Jonathon Niese (7-10, 3.48) vs. RHP Brad Penny (1-0, 5.40), 7:10 p.m. ET
Wednesday: RHP Jacob deGrom (7-6, 2.94) vs. RHP Tom Koehler (9-9, 3.79), 7:10 p.m. ET
Marlins short hops
• Giancarlo Stanton leads the National League with 33 homers and a career-high 98 RBIs. Dan Uggla was the last Marlin to drive in 100 runs, back in 2010 (105).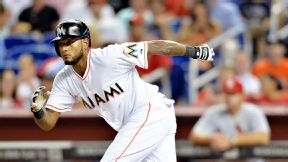 Steve Mitchell/USA TODAY Sports
Jordany Valdespin is back in the majors with Miami.
Stanton appears dissatisfied with the Marlins' commitment to winning, despite the team seemingly on an ascent. "Five months doesn't change five years," Stanton recently told Yahoo! "We've definitely done better than anyone thought we would do. At the same time, we're still not where we need to be to keep playing beyond the designed schedule. ... I want to be the only game on TV at the end of the day."
• After spending the first portion of the season at Triple-A, ex-Met Jordany Valdespin made his Marlins debut on July 19. He started 16 games in a three-week stretch, primarily at second base, but since has receded to a backup role, with Donovan Solano handling the position. Valdespin, 26, is hitting .228 with three homers and seven RBIs in 79 at-bats.
• Brad Penny went 48-42 with a 4.04 ERA with the Marlins from 2000 through '04, when he was the batterymate of current manager Mike Redmond. He had been out of the majors since 2012 until he was promoted on Aug. 9. Penny made starts that day and Aug. 14, but since has worked out of the bullpen. He will take Tuesday's start after a couple of turns for Brad Hand.
• The Marlins traded reliever Chaz Roe to the Yankees for cash on Sunday. Roe exclusively had pitched at Triple-A this season.
• Garrett Jones' 13 errors lead all MLB first basemen.
• Sunday's 1-0 loss to the Braves snapped a string of 60 straight games not being shut out, which had been the longest active streak in the majors. The Marlins last had been shut out on June 21, by Jacob deGrom and the Mets.