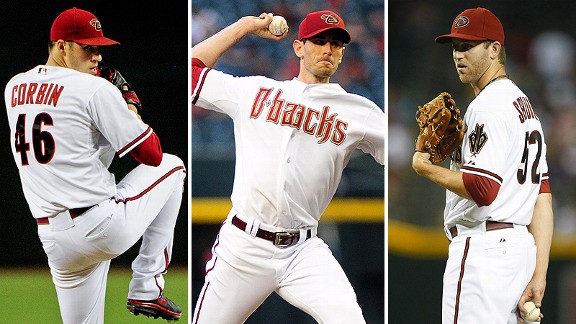 Associated Press, USA TODAY Sports
The Mets face (l to r) Patrick Corbin, Brandon McCarthy and Zeke Spruill this weekend at Chase Field.METS (52-60, third place/NL East) vs. ARIZONA DIAMONDBACKS (58-55, second place/NL West)
Friday: RHP Jeremy Hefner (4-8, 4.23) vs. LHP Patrick Corbin (12-3, 2.33), 9:40 p.m. ET
Saturday: RHP Zack Wheeler (4-2, 3.73) vs. RHP Brandon McCarthy (2-5, 4.94), 8:10 p.m. ET
Sunday: LHP Jonathon Niese (3-6, 4.32) vs. RHP Zeke Spruill (0-1, 6.48), 4:10 p.m. ET
Diamondbacks short hops
• All-Star Patrick Corbin's 12 wins are one off the NL lead, shared by St. Louis Cardinals teammates Adam Wainwright and Lance Lynn as well as Washington's Jordan Zimmermann. Corbin's 2.33 ERA trails only Clayton Kershaw (1.91) and Matt Harvey (2.09). Corbin had been 9-0 until the Mets scored five runs in six innings and handed him a defeat at Citi Field on July 2. A victim of little run support, Corbin now has lost two straight starts, although he allowed only a combined four runs in 14 innings in those defeats.
• The Diamondbacks dealt underachieving right-hander Ian Kennedy to the San Diego Padres at the trade deadline for situational left-hander Joe Thatcher, potential future closer Matt Stites and a draft pick. Arizona personnel have compared the right-handed Stites to Atlanta Braves closer Craig Kimbrel. Kennedy, a 21-game winner two years ago, was 3-8 with a 5.23 ERA in 21 starts for Arizona this season.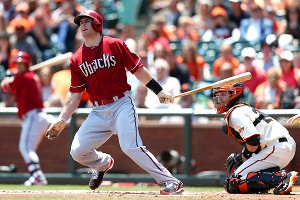 Brad Mangin/Getty Images
Paul Goldschmidt leads the National League in RBIs.
• Third baseman Martin Prado has five multi-hit games in his past seven games. He is hitting .388 with two homers and 14 RBIs in 18 games since the All-Star break. He reached base in all five of his plate appearances Wednesday. Prado, acquired from the Braves during the offseason in the Justin Upton trade, has made consecutive starts in left field before shifting to third base later in the games. That's because manager Kirk Gibson is fiddling with his lineup with outfielders Jason Kubel (.226, 5 HR) and A.J. Pollock (.249, 6 HR) struggling.
• Sidearmer Brad Ziegler has taken over for ex-Mets J.J. Putz and Heath Bell in the closer's role. Ziegler has converted all seven of his save chances and has not allowed an earned run in 12 straight appearances. Putz and Bell nonetheless have contributed 11 straight scoreless appearances apiece. Ziegler coaxed 21 double plays last season, which led major league relievers. Putz blew a save chance July 1 at Citi Field in his second game after a DL stint, after which Ziegler stepped into the role and excelled.
• Paul Goldschmidt is tied with Colorado's Carlos Gonzalez for second in the NL with 26 homers, one shy of leader Pedro Alvarez of the Pittsburgh Pirates. Goldschmidt has a league-leading 90 RBIs.
• Catcher Miguel Montero landed on the disabled list a week ago with a lower-back strain and required an epidural injection. Wil Nieves is handling the bulk of the catching duties in Montero's absence, while Tuffy Gosewisch has been promoted as the backup.
• After making his major league debut in June as a reliever and appearing in four games, 23-year-old Zeke Spruill made his first major league start last Thursday at Texas. The rookie right-hander -- who also arrived in the Upton trade -- allowed five runs in four innings, including homers to A.J. Pierzynski, David Murphy and Mitch Moreland.
Trevor Cahill is nearing a return to the rotation, but remains on the DL with a right hip injury. Cahill allowed six earned runs in 4 1/3 innings in a rehab start for Triple-A Reno on Tuesday, and it was determined he would make another minor league start before being activated, so Spruill remains in the rotation.
• Outfielder Cody Ross is hitting .412 (14-for-34) with three homers and 10 RBIs in his past nine games (eight starts). He is hitting .394 this season against left-handed pitching.
• Third baseman Eric Chavez (.305, 9 HR), who missed most of June with an oblique injury, is not playing every day, but has produced when in the lineup.