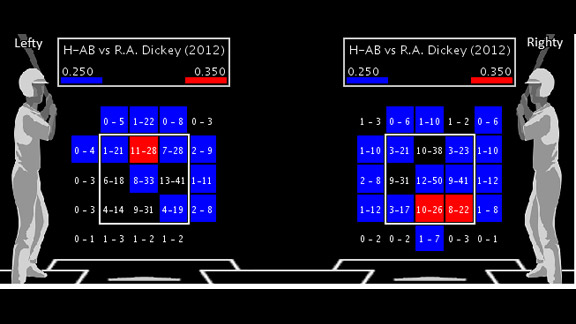 R.A. Dickey has been tough to hit all season.
We review a rare and unusual sweep for the Mets, with much help from our friends at Baseball-Reference.com.
Rah-Rah for R.A.
With his win on Friday night, Dickey became the first Mets pitcher to beat the Marlins four times in a season. He's the fifth pitcher from any team to beat the Marlins four times in a season joining Tom Glavine (2002), Greg Maddux (2002), Jamie Moyer (2007 and 2008) and Roy Halladay (2010).
Dickey became only the second Mets pitcher to throw a shutout against the Marlins in Florida. The other is Pat Misch in 2009. Misch had the last shutout against the Marlins. The last one by a right-hander was Aaron Heilman's one-hitter against them in 2005.
How Dickey Won
Friday vs Marlins
Dickey became the third Mets pitcher to throw complete games in consecutive starts against the Marlins joining Bret Saberhagen and Dwight Gooden, who both did so in 1993.
Dickey's five complete games are the most by a Met since Gooden had seven in 1993. His three shutouts are the most by a Mets pitcher since David Cone had five in 1992.
Shop Around
Kelly Shoppach's go-ahead hit in Saturday's win marked the first time that a Met had a go-ahead hit in a "Bases loaded, two outs, down by a run with two outs in the ninth inning" scenario since Carlos Beltran's go-ahead grand slam against Kevin Gregg and the Marlins on August 29, 2008.
Go-Ahead Hits in 9th Inning
With Mets Trailing at Time
Last 5 Seasons
The Mets have had a dozen hits in such situations, beginning with a go-ahead triple by Wayne Garrett off ex-Mets closer Tug McGraw and the Phillies in 1976.
Among the most notable were Kevin McReynolds' go-ahead grand slam vs Rich Gossage in 1988 and game-winning walk-off singles by John Olerud and Matt Franco against Curt Schilling and Mariano Rivera within a two-month stretch in 1999.
Shoppach only had one go-ahead hit in the ninth inning in his career prior to this—a walk-off homer against the Athletics in 2007.
It was the 14th go-ahead hit in the ninth inning or later by a Mets player this season, the most since the team had 14 in 2007.
Shoppach was fortunate to bat in the ninth inning at all. Andres Torres, who batted prior to Shoppach, walked on a 3-2 pitch. Two of the balls during the at-bat were pitches deemed right on the edge of the strike zone by the Pitch F/X system in all 30 ballparks, including a 2-2 pitch that would have been a game-ending strike three.
This also marked the 20th time in Mets history that the team won a game in which the opposing starter went at least eight innings, allowing one run or fewer and three hits or fewer (as Josh Johnson did).
The last such win came in 2002 against the Brewers, a 1-0 triumph over former Met Glendon Rusch.
The Mets are now 20-215 all-time in such games, and snapped a 24-game losing streak in them.
A Happy Day of Play for Jason Bay
Jason Bay's 25th home run as a Met was his third grand slam with them (he hit two in 2011). It was his fifth career grand slam, with each of the last four coming off a left-handed pitcher.
It was the first grand slam by a Met against the Marlins in Florida since the Beltran home run we mentioned in 2008. It was the fourth first-inning grand slam hit by the Mets in Florida. That matches the most that they have against a team- they also have four versus the Giants.
Bay became the fourth Mets player with multiple grand slams in the first inning for the team. The others are Rusty Staub, David Wright, and Darryl Strawberry, with two each.