PORT ST. LUCIE, Fla. -- Jonathon Niese retired eight straight batters to open his outing, then ran out of steam. Niese allowed the next four batters to reach and departed after 52 pitches in what became a 6-3 loss to the Boston Red Sox at Tradition Field on Sunday afternoon.
Tyler Pill inherited the bases loaded from Niese in the third inning and walked Bryce Brentz to force in a run that evened the score at 2. The prospect then rallied to coax an inning-ending fielder's choice grounder from Bryan LaHair.
Hansel Robles walked the first two batters in the fifth, then served up a tiebreaking three-run homer to Xander Bogaerts. Akeel Morris issued two walks to open the sixth and eventually uncorked a run-scoring wild pitch as Boston took a 6-2 lead.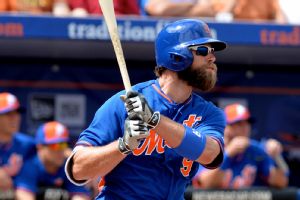 Steve Mitchell/USA TODAY Sports
Kirk Nieuwenhuis upped his Grapefruit League average to .600 with a 3-for-4 game Sunday.
Mets pitchers issued leadoff walks in four straight innings and walked 10 batters in the game.
Manager Terry Collins acknowledged it might be nerves with the young pitchers, but added, "That's still not an excuse for not being able to throw the ball over the plate. You're going to get noticed by pounding the strike zone. I'd rather see guys get hit than 10 base on balls. They're all known to have been strike-throwers. I know [pitching coach] Dan [Warthen] is trying to get them to calm down. We'll run them back out there."
Niese said he had good command of his cutter early, but never commanded his curveball. His command completely unraveled in the third.
"The arm felt great," Niese said. "I kind of ran out of gas there at the end and lost command, but it was good to get that 50 pitches, get the workload in. I haven't thrown that many pitches in a while, so it's building up. I'm feeling better and better each outing."
Warthen has noted that Niese is using a higher arm slot this season as compared with 2014, when he was beset by shoulder woes.
"Last year I was just trying to find an angle where it didn't hurt," the southpaw said. "This year I feel 100 percent healthy, so I'm able to actually work on my mechanics and have proper mechanics."
Jersey guy: Rick Porcello, a Seton Hall Prep product who grew up a Mets fan in New Jersey, limited the Mets to one unearned run in three innings. He surrendered a leadoff double to Kirk Nieuwenhuis in the second inning. Nieuwenhuis scored from second base on Wilmer Flores' infield single and an E-4.
"I was a pretty big Mets fan, probably up until I got drafted," Porcello said afterward. "I stopped rooting for any baseball teams after that besides my own. 2000 was the peak of my being a fan. I loved watching them when I was a kid, but I'm past it now. They're just another team."
Porcello added that he was the black sheep in his family as far as New York allegiance.
"Nobody else in my family was a Mets fan," he said. "We went to a lot of Yankees games. My brothers were Indians fans because my grandfather [Sam Dente] played for them in '54. So we'd always go see a Yankees-Indians game in the summer."
As for the 2000 Subway Series, when he was 11 years old, Porcello said, "I cried my eyes out."
Beaming: Nieuwenhuis went 3-for-4 with two runs scored Sunday and is now hitting .600 (9-for-15) in Grapefruit League play.
"It's early, but I'll try to build on it," Nieuwenhuis said.
Nieuwenhuis is out of options and appears a near-lock to make the Opening Day roster as a backup outfielder and lefty pinch hitter. He said he is not paying attention to his option status, though. The Mets would have to expose him to waivers before demoting him.
Ouch: Collins pulled Travis d'Arnaud because trainers were unable to stop bleeding on the catcher's left ring finger. D'Arnaud was spiked while aggressively sliding into second base to break up a double play. He did not require stitches.
Flo! Flores made a diving catch on a first-inning line drive by Bogaerts.
What's next: The Mets' homestand continues Monday when Zack Wheeler faces ex-Yankee David Phelps and the Miami Marlins at 1:10 p.m. (SNY). Jenrry Mejia, Jeurys Familia and Chasen Bradford also are scheduled to pitch. Collins expects that Daniel Murphy, who was struck atop the right hand on Friday, will return to the lineup against Miami.