Right-hander Tyler Pill had a pair of guests in the Brooklyn Cyclones clubhouse last Thursday, on the night Dillon Gee was being honored and Gee's No. 20 joined the minor league team's ring of honor alongside the numbers worn by Angel Pagan, Brian Bannister and Danny Garcia.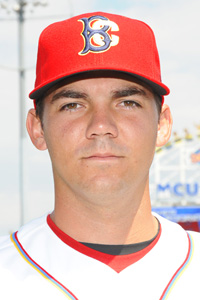 Courtesy of Brooklyn Cyclones
Tyler Pill
Justin Turner visited Pill in the Cyclones clubhouse, and introduced Pill to Gee. Pill also had met with Turner as well as Terry Collins at Dodger Stadium, during the Mets' early July trip to L.A., after the draft. Turner played for at Cal State Fullerton with Pill's brother Brett.
Brett, a first baseman, went on to be drafted in the seventh round in 2006 by the San Francisco Giants. He is currently hitting .318 with 23 homers in 114 games for Triple-A Fresno. His 97 RBIs actually are tied with ex-Met Mike Jacobs' total for the Pacific Coast League lead. Turner was drafted in the same '06 seventh round by the Cincinnati Reds, two picks before Pill in fact (204th vs. 206th overall).
Pill one-upped both. He was selected by the Mets in the fourth round this June, after hitting .323 as an outfielder and posting a 7-1 record and 2.28 ERA in 17 appearances (15 starts) during his junior season at Fullerton. The Mets selected Pill as a pitcher. Pill's fastball sits between 89-92 mph. He also throws a curveball, changeup and cutter.
"He's tough. He doesn't get fazed," Turner said. "He's composed, I'd say similar to how Dillon is. Not a lot of stuff really gets to him."
So far, after a cameo in the Gulf Coast League, the 21-year-old Pill has made two scoreless one-inning appearances for Brooklyn. Like with other early round draft picks such as Cory Mazzoni (second round/NC State) and Jack Leathersich (fifth round/UMass Lowell), who logged major innings in college this season, the Mets are only having Pill toss roughly one inning every five days, piggybacking another starter.
Pill, as a batter in the Cape Cod League, recalled facing Leathersich twice -- striking out and then doubling.
For Pill, the No. 3-hole hitter at Fullerton, there has been an adjustment in not picking up a bat as a professional.
"It's a lot different," Pill said. "I'm used to playing every day and being out there and hitting. When you're a position player, you want to hit. So I have that 'want' to hit every day. I need to get over that.
"At Fullerton, I played outfield when I didn't pitch. I hit pretty well there. My freshman year was more of like a pinch-hit year. But my sophomore and junior years, I was the three-hole batter."
Because his brother played before him at Fullerton, Pill was around the program from a young age.
"He came to some camps at Fullerton," Turner said. "I remember watching him hit. He could really hit. And then I found out he was a pretty good pitcher after that."
Pill did get to face his brother and Turner when the duo returned to campus for the annual alumni game.
"I struck my brother out," Pill said. "I actually faced Justin, too. I faced him twice. I can't remember what he did the first at-bat. His second at-bat he got a hit off me. It was a single up the middle."
Having a brother precede him into pro baseball has been an asset.
"I've picked his brain quite a bit, even the years before my junior year when I got drafted," Pill said. "He just told me what to expect, just how different it was from college. He even told me from a pitcher's standpoint how it will be every five days for a rotation when I throw, how I'll be in the stands (charting teammates' pitches), just what to expect from the fans, coaches and the everyday life of minor league baseball."
Organization leaders
Average: Juan Lagares, Binghamton, .350; Danny Muno, Brooklyn, .333; Josh Satin, Buffalo, .330; Julio Concepcion, Kingsport, .324; Richard Lucas, Brooklyn, .316; Greg Pron, Kingsport, .316; Cam Maron, Kingsport, .314; Pedro Zapata, St. Lucie, .312; Travis Taijeron, Brooklyn, .309; Luis Figueroa, Buffalo, .304.
Homers: Brahiam Maldonado, Binghamton, 20; Valentino Pascucci, Buffalo, 17; Jordany Valdespin, Binghamton, 15; Allan Dykstra, Binghamton, 14.
RBI: Valentino Pascucci, Buffalo, 78; Josh Satin, Buffalo, 71; Wilmer Flores, St. Lucie, 70; Aderlin Rodriguez, Savannah, 67; Allan Dykstra, Binghamton, 58.
Steals: Jordany Valdespin, Binghamton, 33; Pedro Zapata, St. Lucie, 30; Matt den Dekker, Binghamton, 19; Darrell Ceciliani, Savannah, 17; Rafael Fernandez, Savannah, 16.
ERA: Darin Gorski, St. Lucie, 2.39; Todd Weldon, Brooklyn, 2.53; Gabriel Ynoa, GCL Mets, 2.63; Bret Mitchell, Brooklyn, 2.84; Jeurys Familia, Binghamton, 3.12; Matt Harvey, Binghamton, 3.17; Angel Cuan, Savannah, 3.19; Ryan Fraser, Savannah, 3.30; Carlos Vazquez, Brooklyn, 3.45; Greg Peavey, St. Lucie, 3.46.
Wins: Greg Peavey, St. Lucie, 11; Darin Gorski, St. Lucie, 10; Angel Cuan, Savannah, 9; Matt Harvey, Binghamton, 9; Brandon Moore, Binghamton, 9.
Saves: Josh Edgin, St. Lucie, 22; Dale Thayer, Buffalo, 15; Hamilton Bennett, Savannah, 11; Jeffrey Kaplan, St. Lucie, 10.
Strikeouts: Matt Harvey, Binghamton, 134; Darin Gorski, St. Lucie, 119; Chris Schwinden, Buffalo, 114; Collin McHugh, Binghamton, 110; Jeurys Familia, Binghamton, 106.
Short hops
• Brooklyn has six selections for Tuesday's New York-Penn League All-Star game in Lowell, Mass. -- infielders Richard Lucas and Danny Muno, outfielders Travis Taijeron and Charley Thurber, right-hander Tyson Seng and left-hander T.J. Chism. Taijeron, the organization's 18th-round pick out of Cal Poly Pomona, leads the league in slugging percentage at .566, 40 points more than runner-up Jeff Malm of Hudson Valley. Muno (eighth round/Fresno State) ranks third in the league in average at .333. Thurber (.293, 0 HR, 22 RBIs) is a 39th-round pick out of the University of Tennessee.
• Infielder Josh Satin upped his hitting streak to 15 games with Triple-A Buffalo on Tuesday. In 17 games since a promotion from Double-A Binghamton, Satin is hitting .353 with a homer and 11 RBIs in 68 at-bats.
• Infielder Jordany Valdespin was promoted from Binghamton to Buffalo.
• Right-hander Zack Wheeler, the sixth overall pick in the 2009 draft, who was acquired for Carlos Beltran, produced a solid second start with the St. Lucie Mets. Wheeler, who allowed four runs in four innings at Dunedin in his debut with the organization, tossed six scoreless innings Sunday at Charlotte. He allowed four hits, struck out seven, issued no walks and hit one batter. He also issued two wild pitches.
• Right-hander Matt Harvey, the Mets' first-round pick last year, notched his first Double-A win Thursday at Altoona. In his past two starts, Harvey has limited Eastern League opponents to one run and seven hits in 12 innings while striking out 14 and walking three. Harvey is approaching an innings limit after throwing 96 innings in college last year at North Carolina, but the organization believes he may squeak through the remainder of the season uninterrupted, without having to be capped.
• Second baseman Reese Havens homered Friday for the first time since returning July 20 from a month-long absence for a back injury. Havens, who played every other day when he returned from the disabled list to ease back and avoid re-injury, has upped the frequency of his playing time. He started all three weekend home games against Reading.
• Corner infielder Zach Lutz, who is on the 40-man roster, returned Saturday from a second concussion. Lutz has been hit with pitches in the head twice this season. In 41 games with Buffalo, he is hitting .303 with five homers and 15 RBIs in 145 at-bats.
• First baseman/DH Valentino Pascucci is tied for second in the International League with 78 RBIs. He trails Scranton/Wilkes-Barre's Jorge Vazquez, who has 82.
• T.J. Rivera, signed by the Mets on June 13 after going undrafted, made his Cyclones debut Sunday as a pinch-hitter at Staten Island. He then started at second base the following day. Rivera attended Lehman High School in the Bronx before playing collegiately at Troy University in Alabama. He hit .290 in 27 games with Kingsport before the reassignment to Coney Island.
• Savannah right-hander Erik Goeddel (2-2, 2.49 ERA) made his first Gnats appearance since May 23 on Sunday, tossing four scoreless innings at Charleston. Goeddel had been on the disabled list with a shoulder strain.
• Unheralded Binghamton right-hander Collin McHugh continues to open eyes. After briefly being bumped from the rotation by the return of Jeurys Familia from the disabled list, McHugh has regained a starting role. McHugh then picked up the win at Trenton on Tuesday, limiting the Thunder to one run in five innings. Instead, Tobi Stoner will piggyback starts, working a starter's length in relief.
• Jason Botts and Bubba Bell were activated from Buffalo's disabled list with Ruben Tejada and Mike Baxter's promotions to the majors. Mike Nickeas' demotion prompted fellow catcher Dusty Ryan to be bumped back from Buffalo to Binghamton. Nickeas is paired behind the plate with Raul Chavez with the Bisons.
• Savannah catcher Albert Cordero is hitting .352 with four homers and 21 RBIs in 142 second-half at-bats.
• Right-hander Ryan Fraser, a Memphis product, has made consecutive scoreless five-inning starts for the Sand Gnats.
• Michael Fulmer, the prep right-hander from Oklahoma taken 44th overall in the draft, made his pro debut Monday, walking three in two-thirds of an inning in the Gulf Coast League in a rain.
• Chin-lung Hu started consecutive weekend games at shortstop in the GCL, his first game action since being sent from Buffalo to the Mets' Florida complex in mid-June. Hu was charged with a throwing error in his first game back. Farm director Adam Wogan said Hu did have a shoulder impingement during his prolonged time away from games, and it was not just a yip-related absence. "He feels good now," Wogan said. Hu is switch-hitting in GCL games.
Adam Rubin's farm report appears Wednesdays during the regular season