PORT ST. LUCIE, Fla. -- With Jeremy Hefner poised to step into the rotation until Johan Santana is ready, the Mets need to have a safety net in place should another need arise. That will be 27-year-old left-hander Aaron Laffey, who is 25-29 with a 4.38 ERA in 148 appearances (65 starts) over six major league seasons, primarily with the Cleveland Indians.
Laffey tossed 2 1/3 no-hit innings in Friday's game against the Atlanta Braves, which Hefner started. He has allowed seven hits and three walks in eight scoreless Grapefruit League innings.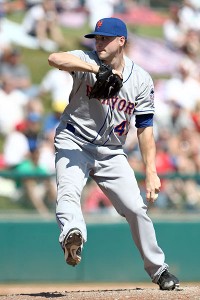 Douglas Jones/USA TODAY Sports
Aaron Laffey tossed 2 1/3 scoreless innings Friday against the Braves.
Laffey is due to start Wednesday's game in Kissimmee, Fla., against the Houston Astros to continue to build up his innings count.
"I think they know what I can do," Laffey said. "I've been in the big leagues for over four years now. It's just nice to get out there and throw multiple innings."
Laffey served as starter early in his major league career with the Indians, but shifted primarily to the bullpen in 2010. He struggled with his mental approach in the new role, and felt fortunate that offseason to be approached by former major league infielder Buddy Biancalana, who authored the book, "The 7 Secrets of World Class Athletes."
Laffey said the mental training served him well the following season, when he went to camp with Cleveland, was traded that March to the Seattle Mariners for minor leaguer Matt Lawson, then ended up becoming a waiver claim of the Yankees and appearing in relief in the Bronx in September.
"Buddy called me at the end of the 2010 season," Laffey said. "I was just kind of going through some things. I wasn't real happy where I was at there in Cleveland, and I probably let it affect me mentally a little bit. We had some conversations at the end of that season, and then right before spring training I worked with him.
"I think working with him before that 2011 season happened was huge for me. It was perfect timing working on the mental side of the game and being able to eliminate all the outside anything. That year I was traded, designated. Working with him was a big reason why I was able to stay successful through that entire season. Ever since then I've been in constant communication with him.
"It was crazy," Laffey continued about 2011, when he was employed by three organizations. "I had been with one team for eight seasons. … That was a whirlwind season, but I had a really good season. I put up actually the best ERA of my career that year (3.88). That was the first and only year I spent the entire season in the bullpen and had a really successful year."
Laffey said he purposely signed with the Toronto Blue Jays during the 2011-12 offseason to get back into a starting role, even if it meant opening the year at Triple-A Las Vegas. He eventually got called up to the Jays and slid into the rotation on June 26 at Fenway Park, where he tossed six scoreless innings against the Red Sox. That was his first major league start in nearly two years. He made 15 additional starts that season with Toronto.
"That was my goal last year," Laffey said. "I had actually rejected a pre-tender offer [from the Yankees] just so I could get an opportunity somewhere to start. I ended up signing a minor league deal with the Blue Jays just because I wanted the opportunity to start the year as a starter. If I had to start the year in Triple-A last year that was fine with me, if that's what it took to get back to starting. That way, instead of being three-plus years removed from starting, now I had 160-plus innings last year and 20-some starts."
As for signing with the Mets this offseason, Laffey said: "I like starting, but what I like more than anything is pitching in the big leagues. I feel I'm a big league pitcher. That's one of the reasons I signed here as well. I feel I can provide depth here as a starter, but my goal is to make the big league team in whatever capacity that may be. That's all that matters."