SAN DIEGO -- Edinson Volquez forced in a pair of runs on bases-loaded walks in a four-run second inning and Jeremy Hefner limited his former organization to one run in six innings in what's likely his final start for the near term as the Mets beat the Padres, 6-2, Saturday at Petco Park.
On a big pitching day in the system, with Zack Wheeler and Johan Santana scheduled to appear in minor league games, Matt Harvey makes his third major league start in today's finale to an 11-game road trip. The Mets already having secured a winning record on the three-city jaunt. Harvey (1-1, 1.59 ERA) opposes Padres right-hander Jason Marquis (4-6, 4.08 ERA) in the 4:05 p.m. ET game. Harvey's home debut is scheduled for Friday against the Braves.
Sunday's news reports:
• With a five-run cushion in the ninth, Terry Collins tried to avoid using Frank Francisco, because the closer's right lat muscle barks after he is used. But after Bobby Parnell surrendered a ninth-inning homer and allowed two more baserunners to reach, Collins had to summon Francisco, who notched a save in his first appearance since June 22.
• Daniel Murphy went 4-for-4 with a walk, while Mike Baxter walked in each of his five plate appearances, tying a franchise record for bases on balls. Josh Edgin contributed two scoreless relief innings. Read game recaps in the Post, Star-Ledger, Times, Newsday and Daily News.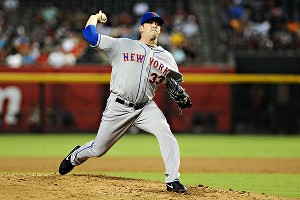 Jennifer Stewart/US Presswire
Matt Harvey makes his third major league start today, in San Diego.
• Harvey has already demonstrated a baseball sophistication beyond his rookie status, including noticing a teammate tipping pitches and sharing the info with pitching coach Dan Warthen. Writes Andy Martino in the Daily News:
Warthen is on the top step of the dugout, watching one of his pitchers face the D-Backs, but there is something his veteran eye does not catch. Harvey joins him, and points to the mound. "I think his glove flashes a little bit," the kid tells the lifer. "Do you see that?" This is not a widely known term, but Harvey understands it. When a pitcher comes set and adopts a breaking ball grip, his glove can expand, or "flash," as his fingers move. As this happens, he tips his pitch to an astute hitter. Warthen looks at the mound, then back at Harvey. The rookie is right. "He's as old school as he can be," Warthen says. "Listens, watches, but doesn't talk a lot. He's actually a very loquacious young man, but he just follows his instincts and watches the game intently."
Writes columnist Kevin Kernan in the Post about Harvey:
Harvey keeps a book. That is not unusual. Some of the best pitchers in the game, kept notes on opposing hitters and wrote themselves reminders on how to keep their mechanics in line. Curt Schilling kept just such a journal, using it as a workbook. Harvey keeps his journal on his iPad. He calls it his Pitching Bible. Harvey's journal is only for him, a reminder of what he must do to have success as a pitcher. After his last outing, Harvey's notes included this key point, stay more over the pitching rubber, don't rush. Harvey explained the adjustment to The Post in a quiet corner of the visitor's clubhouse. "I need to have almost a hesitation, a pause,'' he said. "Sometimes you jump out too fast before your hand gets out of your glove. Sometimes I will go to the plate and my hand is still in my glove, instead of staying over the rubber and getting a release with that hand and arm.''
Read more in the Record.
• Santana makes a scheduled three-inning appearance for the Brooklyn Cyclones at 5 p.m. today. Santana will face the Auburn Doubledays, which is actually the New York-Penn League team for which the southpaw made a combined 16 starts during his first two professional seasons, in 1997 and '98, as an Astros farmhand. Santana eventually was a Rule 5 pick out of Houston's minor league system on Dec. 13, 1999, by the Marlins on behalf of the Twins.
With Santana due to return to the majors on Saturday against the Braves, Hefner should be available in the bullpen by Wednesday. Read more in the Star-Ledger, Daily News and Newsday.
• Edgin has been unscored upon in nine straight appearances. Collins said pregame he will be wary of overusing Edgin in Tim Byrdak's absence with a shoulder issue. But the manager said after the rookie tossed two scoreless innings Saturday: "I wanted to win tonight's game. The way their lineup is set up, those left-handed hitters at the top of the order, I wanted him to face them." Writes Andy McCullough in the Star-Ledger:
The day Josh Edgin's life changed, he sat in front of a computer, still covered in sweat and grime from a day spent working on a directional boring crew in the swamps of South Carolina. On June 10, 2010, the second day of the MLB Draft, he spent his day laying pipe in the muggy weather, shoveling dirt and batting away gnats. He got paid about $650 a week. He intended to finish out his degree that fall at nearby Francis Marion University in Florence, S.C. His career as a mediocre college starter was over. Real life would now begin.
When he got home, he turned on his computer, just to check if his name was called in the draft. With the 902nd pick, early in the 30th round, the Mets chose him. Edgin soon got a call from area scout Marlin MacPhail. Two days later, he recalled, they met at a nearby Chili's, where he signed a $1,733 bonus and reported a few days after that for work as a pitcher in the lowest rungs of the Mets' minor-league system, Class A Kingsport.
Read more in the Times, Post and Newsday.
• Wheeler makes his Triple-A debut at 1:05 p.m. today in Buffalo against Syracuse, the top affiliate of the Washington Nationals. "I've just got to go out there and pitch the same game that I've been pitching and get my offspeed over for strikes and early and show them that I have something other than my fastball so they can't just sit on that," Wheeler told Amy Moritz in the Buffalo News. "Hopefully it will work out for me. ... You know, I'm a hard-throwing guy. This offseason I worked hard to develop my off-speed pitches, getting those over for strikes early in the count so you can kind of put them away a little bit later. My slider's come a long way, and that goes well with my fastball and helps me strike out a lot of guys."
• Wally Backman was suspended three games for his incident with Syracuse manager Tony Beasley during Friday's Triple-A game. Watch the video here.
• 2012 first-round pick Gavin Cecchini suffered a fractured tip of his middle finger Wednesday when he was struck with a pitch while playing for Kingsport. The Louisiana prep product's season may be over.
• Chris Schwinden tossed six scoreless innings and Lucas Duda had an RBI double in Buffalo's 1-0 win against Syracuse. Greg Peavey tossed his second career complete game in Binghamton's win in Game 1 of a doubleheader. Read Saturday's full minor league report here.
• The Mets plan to introduce the logos for the Citi Field-hosted 2013 All-Star Game during a press conference Tuesday. However, at least one of the primary images apparently has made its way onto the internet. Items with the logo apparently already have been on display at the Mets' team store in Manhattan. Check it out via The Mets Police here.
• Mike Kerwick in the Record catches up with Don Bosco product C.J. Nitkowski, who is attempting a comeback as a sidearm reliever at age 39 with Binghamton.
TRIVIA: When Mike Cameron and Carlos Beltran collided in right-center on Aug. 11, 2005 at Petco Park, who was the third starting outfielder that day?
Saturday's answer: Baxter was drafted by the Padres in the fourth round in '05 out of Vanderbilt. He began his college career at Columbia.