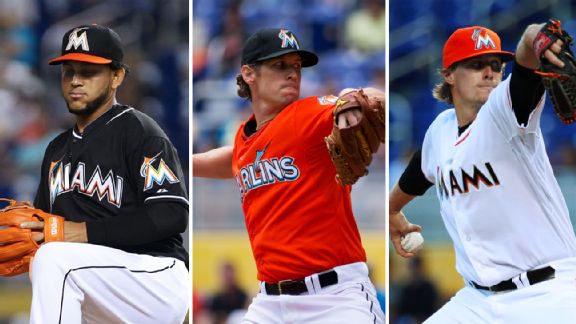 Getty Images
The Mets face Henderson Alvarez, Kevin Slowey and Tom Koehler this weekend at Citi Field.METS (12-10, second place/NL East) vs. MIAMI MARLINS (10-12, fifth place/NL East)
Friday: RHP Zack Wheeler (1-2, 4.63) vs. RHP Henderson Alvarez (1-2, 2.66), 7:10 p.m. ET
Saturday: RHP Jenrry Mejia (3-0, 1.99) vs. RHP Kevin Slowey (0-0, 4.15), 7:10 p.m. ET
Sunday: LHP Dillon Gee (1-1, 3.58) vs. RHP Tom Koehler (2-1, 2.13), 1:10 p.m. ET
Marlins short hops
• Giancarlo Stanton leads the National League with 27 RBIs. Among his six long balls, he has the longest homer in the majors this season: 484 feet, on April 4 against San Diego's Eric Stults (watch video here). Last Friday against Seattle's Yoervis Medina, Stanton belted his second career walk-off grand slam. The other came May 13, 2012 against the Mets' Manny Acosta.
Jeff Roberson/Associated Press
Christian Yelich arrives at Citi Field with a 17-game hitting streak.
• Christian Yelich enters the series with a career-high 17-game hitting streak -- the longest active streak in the majors. Yelich, 22, also is 14-for-14 in steals attempts to begin his big-league career. That is a Marlins record, displacing Edgar Renteria, who began his career with 13 straight successful steals in 1996.
• The Marlins used free agency to bring in nearly an entirely new infield during the offseason: catcher Jarrod Saltalamacchia, first baseman Garrett Jones, shortstop Rafael Furcal and third baseman Casey McGehee.
Furcal (hamstring) has opened the season on the disabled list, although he has started a rehab assignment. He signed a one-year, $3.5 million contract on Dec. 5 after missing all of last season. Furcal underwent Tommy John surgery on March 15, 2013. Adeiny Hechavarria has started all 22 games at shortstop in Furcal's absence.
McGehee, who signed for one year, $1.1 million on Dec. 18, spent last season with Rakuten in Japan. He tied for second in that country's Pacific League in homers with 28. With that pennant-winning Japanese club, McGehee played alongside ex-Met Kazuo Matsui as well as current Yankee Masahiro Tanaka, who went 24-0 with a 1.27 ERA.
The Marlins signed Saltalamacchia away from the champion Boston Red Sox with a three-year, $21 million contract on Dec. 4.
Jones signed for two years, $7.75 million on Dec. 9 after spending the previous five seasons with the Pittsburgh Pirates.
• Closer Steve Cishek has converted a franchise-record 33 consecutive save attempts dating to June 8, 2013. It is the longest active streak in the majors. The previous Marlins record belonged to Todd Jones, who converted 27 straight saves in 2005. Last year's 94.4 save percentage tied Toronto's Casey Janssen for best in the majors.
• After opening the season working in long relief, Kevin Slowey replaced ineffective Brad Hand in the rotation last turn. Slowey had gone 1-6 with a 4.11 ERA in 14 first-half starts for Miami last season before being dispatched to the bullpen. He then suffered a season-ending forearm strain.
Hand had an 11.37 ERA while tossing a combined 6 1/3 innings in two starts against the Washington Nationals before getting bounced from the rotation last week.
• Stony Brook University product Tom Koehler has limited opponents to two runs or fewer and completed at least six innings in each of his four starts.
• Center fielder Marcell Ozuna's 2013 season ended July 22 when he suffered a torn thumb ligament on a diving play in the outfield. Ozuna is hitting .309 with three homers and 10 RBIs in 81 at-bats.
• Miami is tied for second in the NL with 98 runs scored.
• The Marlins are 1-8 on the road.
• Reliever Carlos Marmol was forced to depart Wednesday's game with a strained right hamstring.