Robbie Shields already was working out with the varsity team at Pasco High School in Florida as a seventh grader.
As a 15-year-old, he teamed with current Phillie Domonic Brown to take Dade City, Fla., to the Senior League World Series. "He was the No. 1 pitcher and I was No. 2," Shields recalled about the Little League experience.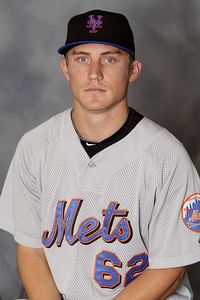 Courtesy of New York Mets
Robbie Shields
After being drafted in the third round in 2009 out of Florida Southern, Shields had a slower start to his professional career, including a .178 average with Brooklyn and then Tommy John surgery that year.
Now, though, he clearly is on track.
Shields, now 23, produced his 14th multi-hit game of the season Tuesday and scored the lone run as the Gnats won, 1-0, for their ninth victory in the past 10 games. Shields was starting at second base for only the fourth time in his professional career.
Mets officials had resisted exposing the shortstop to the other middle-infield position until 10 days ago, when Shields finally started at second base. The hesitance had been because Shields underwent Tommy John surgery after the '09 season with the Cyclones. Out of an abundance of caution, the Mets did not want Shields trying anything different besides shortstop, which might prompt him to put different pressures on his elbow.
Shields had previously only played second base during the first 30 games of his freshman season at Florida Southern.
"Our coach decided to move me to shortstop from then on," said Shields, who is hitting .375 with the Sand Gnats since May 12. "I was lucky enough to play every inning of my college career. And then I played shortstop from then on out. So I've only got 30 games under my belt, and then a little more than a week ago I played my first game at second base in pro ball. I feel like it's an easy transition for me because I played a little bit my freshman year of college. It's just about putting your work in and getting different reps."
During that first pro season with Brooklyn in '09, Shields played 44 games at shortstop despite a persistent elbow problem, unaware of the actual extent of the injury. A day after the season, an MRI revealed the torn elbow ligament. He underwent the Tommy John surgery, which is often thought of as exclusively required by pitchers.
Shields required nearly nine months to get back to game action, several months shy of the standard rehab time for a pitcher.
"You don't need to throw at top velocity all the time, so it's a little easier to come back from a position-player standpoint," Shields said.
Still, Shields did not suggest the elbow issue contributed to his struggles at the plate with Brooklyn.
"I definitely wouldn't make that excuse saying that's why I didn't hit well," Shields said. "I went up there and it was definitely a reality check for me. I had an awful 40 games. That's the best way to put it. You go through adversity early in your career and, to be honest, it's helped me now. I learned how to cope with failure -- an 0-for game or a couple of 0-fors in a row."
Organization leaders
Average: Pedro Zapata, St. Lucie, .343; Cory Vaughn, Savannah, .333; Juan Lagares, St. Lucie, .317; Matt den Dekker, St. Lucie, .309; Kirk Nieuwenhuis, Buffalo, .302; Josh Satin, Binghamton, .296; Robbie Shields, Savannah, .291; Jefry Marte, St. Lucie, .286; Mike Fisher, Buffalo, .286.
Homers: Brahiam Maldonado, Binghamton, 10; Aderlin Rodriguez, Savannah, 9.
RBI: Wilmer Flores, St. Lucie, 35; Aderlin Rodriguez, Savannah, 31; Brahiam Maldonado, Binghamton, 31; Valentino Pascucci, Buffalo, 30; Josh Satin, Binghamton, 30.
Steals: Pedro Zapata, St. Lucie, 12; Jordany Valdespin, Binghamton, 11; Cesar Puello, St. Lucie, 10; Matt den Dekker, St. Lucie, 9; Cory Vaughn, Savannah, 8.
ERA: Jeurys Familia, Binghamton, 1.79; Darin Gorski, St. Lucie, 2.16; Chase Huchingson, Savannah, 2.40; Matt Harvey, St. Lucie, 2.50; Erik Goeddel, Savannah, 2.72; Ryan Fraser, Savannah, 2.83; Greg Peavey, Savannah, 2.85; Chris Schwinden, Buffalo, 2.87; Gonzalez Germen, Savannah, 3.22; Brad Holt, Binghamton, 3.78.
Wins: Matt Harvey, St. Lucie, 6; Greg Peavey, Savannah, 5.
Saves: Jeffrey Kaplan, St. Lucie, 9; Josh Edgin, Savannah, 9.
Strikeouts: Darin Gorski, St. Lucie, 63; Matt Harvey, St. Lucie, 62; Jeurys Familia, Binghamton, 57; Greg Peavey, Savannah, 55; Gonzalez Germen, Savannah, 50.
Short hops
• After three games with St. Lucie, 2008 first-round pick Reese Havens moved to Binghamton on Friday and started three straight games at second base. Havens was tormented by oblique problems last season, then underwent offseason surgery to remove an inch of a rib that is believed to have been contributing to the problem. The University of South Carolina product was drafted 22nd overall three years ago, four slots after Ike Davis, when the Mets had two first-round picks that year. Havens has been limited to a combined 159 games in parts of four professional regular seasons because of injury.
• Lucas Duda, who had been sidelined three weeks with a back issue, returned Saturday and immediately homered on back-to-back days with Buffalo. Duda has split time between left field and first base, with one appearance in right field, since reentering the lineup.
• Buffalo center fielder Kirk Nieuwenhuis has been sidelined since injuring his right, throwing shoulder on a diving catch a week ago. Nieuwenhuis resumed playing catch Monday.
• Right-hander Chris Schwinden, who had been held out 10 days with Buffalo in case he needed to fill in for R.A. Dickey in the Mets' rotation, returned to action Tuesday night with the Bisons. His sharpness may have been affected by the layoff. Schwinden walked five, matching the total from his previous four starts. He had his shortest of nine Triple-A starts -- lasting 4 2/3 innings -- and surrendered a pair of homers. His International League ERA rose from 2.36 to 3.04.
• Pat Misch, who cleared waivers, accepted an assignment to Buffalo and may reenter the Bisons' rotation Saturday.
• Fast-rising left-hander Mark Cohoon, who began the 2010 season at low-A Savannah, made his Triple-A debut Monday. Benefiting from run support, the southpaw picked up the win against Charlotte despite allowing five runs on seven hits, two walks and two hit batters in five innings. The promotion from Binghamton resulted in Collin McHugh joining the B-Mets from St. Lucie. In his Eastern League debut, McHugh received a no-decision despite limiting Erie to two runs (one earned) on three hits while striking out five in six innings Tuesday.
• Savannah right-hander Greg Peavey, a sixth-round pick last year out of Oregon State, went 4-1 with a 1.75 ERA, 31 strikeouts and three walks in 36 innings in May.
• Gnats closer Josh Edgin, a 30th-round pick last season out of Francis Marion by scout Marlin McPhail, is 1-0 with nine saves in 10 chances and a 1.21 ERA. He allowed only five hits, three walks and one run (unearned) in 16 innings in May. Edgin is sitting in the low-90s mph with his fastball and also throws a slider.
• Binghamton infielder Josh Satin, a natural second baseman, continues to get the bulk of his recent starts at third base to increase diversity and try to get his bat to the big leagues. Satin's five most-recent games have come at the hot corner. He is hitting .296 with six homers and 30 RBIs in 169 at-bats for the B-Mets. Satin's assignment to third has pushed Eric Campbell into more outfield exposure, including limited right-field play.
• Gnats right-hander Erik Goeddel, who had been used as a starter to open the season before shifting to the bullpen to try to limit his fast-rising innings count, landed on the disabled list with a right shoulder strain. Goeddel, a UCLA product, is 2-2 with a 2.72 ERA in nine appearances (seven starts) for Savannah. Adam Kolarek took Goeddel's roster spot.
• Manny Acosta converted saves on three straight days for Buffalo, striking out six and walking one in three innings. Acosta has surrendered only one run over his last 13 appearances.
• St. Lucie lost 12 of 15 to finish May. The Florida State League club, after a sizzling start, is 9-20 since April 30. Among the swoons, shortstop Wilmer Flores hit .323 in April and .214 in May. Center fielder Matt den Dekker hit .376 in April and .254 in May.
• St. Lucie left-hander Darin Gorski, a seventh-round pick in 2009, struck out a career-high 13 batters in 7 2/3 innings Thursday against Dunedin. His previous best had been 10 strikeouts against Bradenton on April 27, although that came in four innings. Gorski took over the organization's strikeout lead with 63, one ahead of St. Lucie teammate Matt Harvey.
• Veteran left-hander Casey Fossum has left Buffalo and has been placed on the restricted list, but has not announced his retirement. In his final two starts with the Bisons, the 33-year-old Fossum had allowed 15 runs in eight innings.
• Savannah outfielder Cory Vaughn has hit safely in nine of 10 games, including a 4-for-4 performance Thursday. Vaughn hit .356 with three homers and 15 RBIs in 104 at-bats in May. He had a .496 on-base percentage for the month.
Adam Rubin's farm report appears Wednesdays during the season