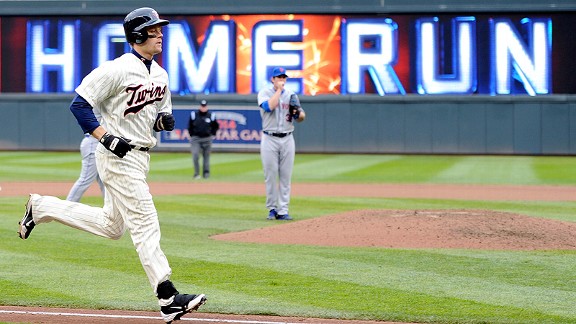 Hannah Foslien/Getty Images
Justin Morneau trots around the bases after breaking up Matt Harvey's no-hit bid with two outs in the seventh with a homer.
MINNEAPOLIS
FIRST PITCH: The forecast is for a 90 percent chance of freezing rain throughout the day. Dillon Gee opposes Kevin Correia this afternoon at 2:10 p.m. ET if the game proceeds, as the Mets aim for a series sweep of the Minnesota Twins.
If the game is postponed, conceivably the Mets could bump Aaron Laffey -- who is scheduled for Tuesday in Colorado -- all the way until Friday and continue with a four-man rotation.
Sunday's news reports:
• Matt Harvey took a no-hit bid two outs into the seventh inning, when Justin Morneau homered off the right-field foul pole. The Mets ultimately won, 4-2, against the Twins on Saturday at Target Field. Read game recaps in the Post, Star-Ledger, Newsday, Daily News, Times and Record.
• Sandy Alderson tells Matt Balasis at Metsmerized Online that there have not been "any conversations" with the Miami Marlins regarding Giancarlo Stanton since early in spring training. The GM added that he is not trading John Buck at the deadline and suggested the Mets can find a way to get Travis d'Arnaud and Buck on the field at the same time if Buck continues to produce.
• Left-hander Steven Matz limited Rome to an unearned run in five innings and Jayce Boyd belted a three-run homer as Savannah won, 8-6. Read the full minor league recap here.
• It's been cold this trip. Read more in the Star-Ledger, Post, Newsday, Daily News and Record.
• Agent Chris Leible tweeted that Jose Reyes appreciated receiving a supportive call from Terry Collins on Sunday regarding an ankle injury that will sideline the Toronto Blue Jays shortstop for three months.
• The Mets have homered in their first 11 games, the longest streak to open a season since Tampa Bay went deep in 12 straight in 2007. Read more in Newsday.
• Kristie Ackert in the Daily News talks with reliever Scott Atchison about his daughter Callie, who was born with the genetic-disorder thrombocytopenia-absent radius syndrome (TAR). She experienced low platelet levels and is missing a set of bones in her forearms.
"She figures out how to do things," Atchison told Ackert. "We worried she would have trouble with writing, coloring, cutting when she went to school, but she has found a way. It may not be the way I would do it, but she finds a way.
"And she has never let this slow her down. She loves school. The teacher said she is the one who is friends with both the girls and the boys. She just finished her first season of T-ball, and she loves soccer. As a parent, I think we worried about what she might miss out on or might not be able to do, but she doesn't. She just shows us how she is going to do it."
• Cody Derespina in Newsday statistically addresses whether Ike Davis should be facing lefty pitching.
• Jonathan Lehman in the Post writes about Double-A right-hander Rafael Montero.
• From the bloggers … Faith and Fear says "Amen!" after the Third Day of Harvey. … At Mets Police, Shannon loves Harvey but worries about both the manager's enthusiasm for no-hitters and the specter of dynamic ticket pricing. … Rising Apple offers a statistics-driven piece that attempts to debunk the claim that Ike Davis has already "failed to become a franchise cornerstone."
BIRTHDAYS: Mike Bomback, who went 10-8 with a 4.09 ERA for the Mets 23 years ago, was born on this date in 1953.
TWEET OF THE DAY:
Morneau got lucky... We need to come up with a nickname for this kid... He's the real deal... Matt "THE REAL DEAL" Harvey !!! @mattharvey33

— Dwight Gooden (@DocGooden16) April 13, 2013
YOU'RE UP: Are you surprised by the Mets' 7-4 start? Or should it be taken with a grain of salt because the series wins have come against the Padres, Marlins and Twins?