FIRST PITCH: Don't look now but the Mets are within a game of gaining a share of second place in the National League East.
With Atlanta sweeping Washington, the Mets (52-60) and second-place Nationals (54-60) actually are even in the loss column. Philadelphia (52-62) is now alone in fourth place, a game behind the Mets.
Of course, the Mets still are 10 games behind the Cincinnati Reds (63-51) for the second wild-card slot. So the Mets' division gains are not moving the club any closer to a postseason appearance.
The streaking Atlanta Braves have won 13 straight and have a magic number of 33 over the Nats and Mets to clinch the NL East.
As for what's next, the Mets begin a four-city trip out west that includes stops in Phoenix, L.A. and San Diego as well as a snow-out makeup in Minneapolis.
Jeremy Hefner (4-8, 4.23 ERA) opposes Arizona Diamondbacks left-hander Patrick Corbin (12-3, 2.33) in tonight's 9:40 ET series opener at Chase Field.
Friday's news reports: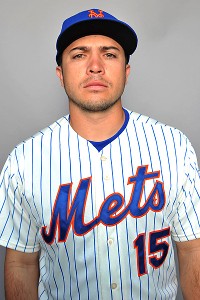 Steve Mitchell/USA TODAY Sports
Travis d'Arnaud is headed to Triple-A for the first time since April.
• Travis d'Arnaud has been promoted from Binghamton to Las Vegas, the Binghamton Press & Sun-Bulletin's Lynn Worthy reported via Twitter. D'Arnaud last played for the 51s on April 17, when he suffered a broken first metatarsal in his left foot on a foul ball while catching.
During seven Double-A games, d'Arnaud hit .222 (6-for-27) with one homer. Moving him to the Pacific Coast League as the Mets begin a road trip on that side of the country allows the Mets to have d'Arnaud in position to step in once John Buck needs to go on paternity leave.
• Dillon Gee allowed one run in 7 2/3 innings and the Mets completed a three-game sweep of the Colorado Rockies with a 2-1 win Thursday afternoon at Citi Field. LaTroy Hawkins notched his second save since Bobby Parnell landed on the disabled list. It marked the Mets' first three-game home sweep this season, and the first sweep of the Rockies since July 11-13, 2008 at Shea Stadium.
Read game recaps in the Post, Daily News, Newsday, Star-Ledger, Record, Times, Journal and MLB.com.
• Matt Harvey pronounced himself OK a day after getting struck in the right knee cap with a line drive with one out remaining in his first career complete game. Harvey next is scheduled to pitch Tuesday at Dodger Stadium on an extra day of rest. The Mets are set to reinstitute a six-man rotation with Jonathon Niese due to be activated from the disabled list to face the Diamondbacks on Sunday. Read more in the Star-Ledger, Record and Newsday.
• Darin Gorski tossed 7 2/3 scoreless innings as Binghamton beat Altoona, 1-0. Brandon Nimmo went 3-for-5 with an RBI and run scored as Savannah beat Hickory, 6-3.
• Dan Duggan in Newsday notes the Mets bullpen has a 2.10 ERA since July 1.
• Neil Best in Newsday profiles Chris Majkowski, who just celebrated his 20-year anniversary producing Mets radio broadcasts.
BIRTHDAYS: Tommie Agee was born on this date in 1942. The '69 Met died in 2001. … Right-hander Pat Mahomes turns 43. … Seventh-round pick Matt Oberste, currently playing at Brooklyn, is 22.
TWEET OF THE DAY:
Dear people who love the #Mets, people who hate the #Yankees, or (my favorite) people who are both pic.twitter.com/doEBrUkSow

— Benjamin Frey Hesse (@BengeDrinking) August 8, 2013
YOU'RE UP: Did you ever foresee the Mets within striking distance of the Nationals in the division standings this season?