PORT ST. LUCIE, Fla.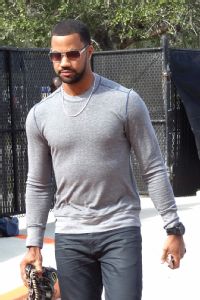 Adam Rubin
Chris Young arrives at Mets camp Saturday for the first time.
FIRST PITCH: Mets pitchers and catchers take physicals on Sunday. They then engage in the first official workout of spring training on Monday morning.
A team official did not expect any players to be delayed by visa issues or otherwise.
Outfielder Chris Young was among those who arrived at the complex for the first time Saturday. Curtis Granderson and Matt Harvey are likely to address the media Sunday.
Sunday's news reports:
• Bartolo Colon, who signed a two-year, $20 million deal with the Mets in early December, said the club was the only organization to offer him a multiyear deal.
Writes columnist Ken Davidoff in the Post, making reference to Colon's 50-game suspension in 2012 for testing positive for abnormal testosterone levels:
As he essentially tries to replace the injured Matt Harvey, Colon brings risk -- that his unorthodox physique finally will surrender to common sense, or he will get caught using illegal performance-enhancing drugs for a second time. Colon failed a drug test in 2012, and it turned out he acquired the offending testosterone from the renowned Anthony Bosch -- demerit to Colon for apparently not following Bosch's test-beating advice as diligently as did Alex Rodriguez.
He brings wisdom, too. The soft-spoken Colon won't be working as Dan Warthen's associate pitching coach. None of his new teammates will probably become great friends with him. Yet they can watch and learn from this master of movement, command and self-control.
Omar Minaya, meanwhile, reiterated to Tim Rohan in the Times he "of course" would make the June 27, 2002 trade with the Cleveland Indians again that dealt then-prospects Cliff Lee, Brandon Phillips and Grady Sizemore away and brought Colon to Minaya's Montreal Expos.
Read more in the Daily News, Star-Ledger, Newsday and MLB.com.
• Steve Serby in the Post has a Q&A with Noah Syndergaard. One exchange:
Q: You wrote the word "Lion" on your glove one time.
A: Yeah, I feel like just putting your name on a glove is kinda boring, so I just put random stuff on it, like I put Lion, just to be the lion on the mound, and then I have another glove that has "Drago" written on it [after "Rocky IV" villain Ivan Drago], and my two others have "Rick Grimes"and "Heisenberg" from two of my favorite shows, "Breaking Bad" and "Walking Dead."
• Mike Puma in the Post reports the Mets would be willing to offer Stephen Drew a one-year contract with an option, but Scott Boras' asking price "hasn't dropped enough recently for the Mets to consider themselves serious suitors." Sandy Alderson has been clear in saying signing Drew is unlikely.
• Kyle Farnsworth offered his thoughts about joining the Mets. Read more in the Post, Daily News, Star-Ledger and Newsday.
• The Mets seriously discussed trading Jose Reyes to the Texas Rangers during the 2003-04 offseason for Alfonso Soriano, but the Rangers owner halted those talks, writes Joel Sherman in the Post. It came just after Soriano was acquired from the Yankees for Alex Rodriguez.
• Aaron Harang, who finished last season with the Mets, joined the Indians on a minor-league deal. Read more in the Cleveland Plain Dealer.
• Phil Mushnick in the Post is unimpressed with the Mets' $10 "UltiMet" offering.
• Marc Carig in Newsday suggests "the Mets did import some talent this offseason, but they also left several glaring holes unfilled."
• Danny Anderson, the St. Lucie Mets clubhouse staffer whom David Wright and other players had a Super Bowl party to rally around, died of cancer Thursday, writes TCPalm.com.
• From the bloggers … Faith and Fear in Flushing sorts through a slew of responses to its question regarding which Mets postseason most merits cosmetic reconstructive surgery. … John Delcos at Mets Report lists five questions Terry Collins must answer this spring.
BIRTHDAYS: Former Mets infielder Bill Pecota was born on this date in 1960.
TWEET OF THE DAY:
#TeamUSA Pic of the Day: TJ Oshie (@OSH74) gets ready to make magic in #USAvsRUS. #GoTeamUSA pic.twitter.com/qB3qgBQyJ1

— US Olympic Team (@USOlympic) February 15, 2014
YOU'RE UP: What will Bartolo Colon's record and ERA be in 2014?