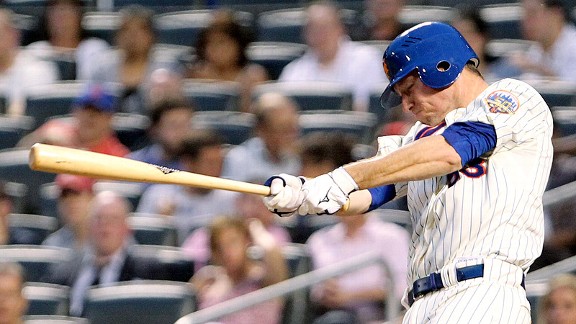 US Presswire/Anthony Gruppuso
Jeremy Hefner displayed some heft at the plate with a home run in Tuesday's win.
The Mets missed an opportunity in the series finale against the Phillies, and wound up losing two of three games. Let's take a look back at some of the notable stats from the matchup, with the help of the Elias Sports Bureau and Baseball-Reference.
Stat of the Series
The Mets' win on Tuesday, keyed by home runs from pitcher Jeremy Hefner and pinch-hitter Scott Hairston, marked the first time that the Mets got a home run out of both a pitcher and another player in the No. 9 spot in the batting order since July 1 1993 when Dwight Gooden and Chico Walker each went deep against the Marlins. The Mets did it on one other occasion -- July 7, 1986 against the Reds (Rick Aguilera and Howard Johnson).
Leaderboard Of The Week
Highest OPS vs PHI (active)
They also got home runs out of two players from the No. 9 spot on August 15, 1962 against the Phillies, with both Choo Choo Coleman and Jim Hickman doing so as pinch-hitters.
Hefner became the second Mets pitcher to homer in the season of his MLB debut, joining Paul Wilson (1996).
The Elias Sports Bureau notes that he's the first pitcher in Mets history to earn his first major league win and hit his first major league home run in the same game.
Ty as in Cobb
Former Met Ty Wigginton burned his team by reaching base five times and driving in six runs in the Phillies series-opening win over the Mets on Memorial Day.
Wigginton's six RBIs matched the mark for most RBIs by a former Met against the Mets. Dave Kingman is the only player who could say he got six RBI against his former team, doing so for the Cubs against the Mets in 1980 (after his first Mets stint).
Joe Randa gets an asterisk. He was a Met in name, but not in game in 1998 (in other words, he was traded to the Mets, but was traded away before playing for the Mets). He had six RBIs against the Mets for 2005 Reds.
Three future Mets had six-RBI games against the Mets prior to joining the Mets --Jerry Morales, Tommy Herr, and Willie Montanez.
Right on Q
Omar Quintanilla, the only player in Mets history whose last name begins with "Q," became the ninth Mets player to have multiple doubles in his Mets debut and the second shortstop to do so, joining Kazuo Matsui (2004). He joins Danny Heep (1983) and Jason Hardtke as the only Mets to do it without driving in a run.
Duda Goes Deep
Lucas Duda, who hadn't homered against a left-handed pitcher in his major league career, hit two on fastballs from Cliff Lee and Raul Valdes.
Each of the home runs came in a pitch location in which Duda had not previously gotten a hit against a fastball from a lefty in his career -- up-and-in from Lee, and middle-away (but in the strike zone) from Valdes.
Duda is 9-for-25 in at-bats ending with a fastball from a lefty this season. His seven other hits are singles.
Vintage Metric of the Week
Manny Acosta 2012 Ranks
Single Season, Mets History
Manny Acosta was let go by the Mets after Monday's loss. Acosta finished with an 11.86 ERA in 22 innings pitched. He was worth -1.9 Wins Above Replacement, by Baseball-Reference.com's measurement.
This is not the worst Pitching WAR season in Mets history. The worst (minimum one inning pitched) belongs to 1962 Mets reliever Craig Anderson, whose 5.35 ERA in 131 1/3 innings that season was valued at -2.7 WAR.