NEW YORK
FIRST PITCH: David Wright could be back in the lineup tonight for the first time since straining his right hamstring Aug. 2.
But Wright does not put any stock in trying to catch the Philadelphia Phillies during the weekend series at Citizens Bank Park.
Charles LeClaire/US Presswire
David Wright should return to the lineup tonight.
The Mets (68-84) are on track to finish fourth in the NL East for the fifth straight season. They trail the third-place Phillies (71-81) by three games with 10 to play.
If the season ended now, the Mets would be even with the Milwaukee Brewers for the seventh pick in the draft. The San Francisco Giants, who have the first unprotected pick, are 2½ games better than the Mets.
"In my eyes, third place, fourth place, you're still going home," Wright said. "So, to me, it's not all that important. What's important is that we try to go out there and win each game, to try to play good baseball and finish strong. Because I think there is something to be said -- especially when you have a young team like this -- to finish strong, where you have guys competing for jobs for next year, guys competing for playing time. With the injuries that we've had, with the trades that we've made, it sure has opened up some chances for guys that probably wouldn't have a chance right now."
Wright said he will confer with Terry Collins and trainers before a firm resolution is made on entering the lineup tonight. Collins has indicated he expects Wright to play in the series opener.
Daisuke Matsuzaka (1-3, 6.12 ERA) is due to face left-hander Cole Hamels (8-13, 3.48).
As for what Wright has observed about the Mets while watching from the bench in recent weeks, the captain said: "I love the intensity, the enthusiasm that we're playing with. We're making a ton of mistakes. But that's expected with a young group. But the attitude is there. The preparation is there.
"Now, it's just a matter of getting these guys enough at-bats and innings where the execution becomes second nature, where they're not nervous, where they're not a little tight, because they obviously don't have much big-league experience."
Friday's news reports: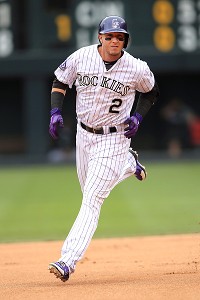 Doug Pensinger/Getty Images
The Rockies may be willing to trade Troy Tulowitzki.
• Columnist John Harper in the Daily News believes the Mets should make a bid to acquire shortstop Troy Tulowitzki from the Colorado Rockies. Tulowitzki is owed at least $134 million over the next seven seasons. Writes Harper:
The Rockies aren't desperate to get rid of the contract, but baseball people familiar with their thinking say Colorado believes getting a package for Tulowitzki while reinvesting some of the money it would save could speed up a necessary rebuilding process.
OK, so how about this: Travis d'Arnaud, Dillon Gee, and Rafael Montero for Tulowitzki.
• Jonathon Niese suffered a tough-luck loss. The southpaw surrendered two runs in seven innings but was outdueled by fellow left-hander Madison Bumgarner as the Giants won Thursday's rubber game, 2-1. The Mets went 4-7 on their longest homestand of the season. They scored 2.2 runs per game and hit only .184 with four homers during that 11-game stretch.
Read game recaps in the Post, Daily News, Star-Ledger, Record and MLB.com.
• Bobby Parnell said goodbye to teammates Thursday and indicated to reporters he is confident he will be ready for spring training. Parnell underwent surgery to address a herniated disk in his neck on Sept. 10.
• Does Zack Wheeler have one or two starts remaining? Collins said that depends on how deep Wheeler pitches in Monday's start at Cincinnati. If the rookie goes seven or eight innings, he likely is done for the season.
• Ruben Tejada, who suffered a broken fibula in his right leg on Wednesday, is the best internal option to be the Opening Day shortstop next season, Collins said. Of course, the manager added, Tejada needs to demonstrate with work that he merits that opportunity. Collins did not discount an external acquisition this offseason to fill the role. Read more in the Post, Star-Ledger, Record and Newsday.
• Double-A shortstop Wilfredo Tovar is due to join the Mets today in Philly. Collins foresees a platoon between the lefty-hitting Omar Quintanilla and the righty-hitting Tovar the remainder of the season, although Tovar has been idle for two weeks, so Quintanilla should start tonight against Hamels.
• Matt Harvey made a second call-in to The Dan Patrick Show to apologize for his Qualcomm-focused first appearance. Watch here.
Critic Bob Raissman in the Daily News wrote this dissenting take:
It's strange, even hypocritical, that Patrick or any other sports talkie would find fault with Harvey putting his business responsibility way ahead of answering all questions about his elbow, which he did briefly address.
Read more in the Post.
• Tim Rohan in the Times notes the Mets appear headed for their fifth straight season finishing in fourth place. Asked if a third-place finish might signal progress, 1960s- and '70s-era Met Ed Kranepool told Rohan: "That's irrelevant to me! Would it make any difference if they were second? It wouldn't make any difference to me. The number that matters is: Are you in the playoffs? I'm 69 years old. I want to see them good again. I don't want to run out of time."
• Read more on Wright's probable return in the Post, Daily News, Star-Ledger, Record and Newsday.
• Jared Diamond in the Journal looks at the Mets' massive turnover between the Opening Day roster and the current team.
• From the bloggers … John Delcos at Mets Report writes about how the Mets' propensity for striking out defines them. … Mark Berman from Blogging Mets believes Collins made some poor decisions in the ninth inning Thursday.
BIRTHDAYS: Jason Bay, who was released by the Seattle Mariners on Aug. 6, turns 35. … Dave Gallagher is 53.
TWEET OF THE DAY:
they took out Parnell's voicebox by mistake? oh, #METS pic.twitter.com/biaxnfgwEE

— Mets Fan In Therapy™ (@MetsFanInPhilly) September 19, 2013
YOU'RE UP: Would you rather a better draft pick or finishing ahead of the Phillies?