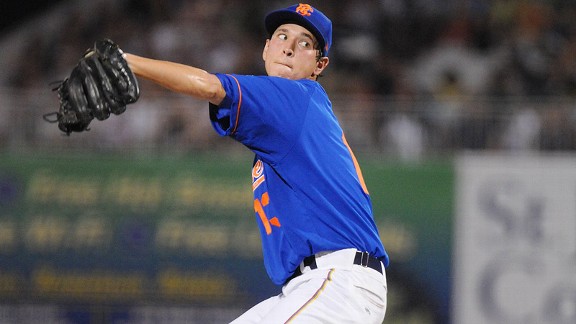 Courtesy of Brooklyn Cyclones
Matt Bowman studied Tim Lincecum's delivery and tried to incorporate some of the San Francisco Giant's mechanics into his own delivery.
After drafting Matt Bowman in the 13th round last month, Paul DePodesta likened the Princeton right-hander's delivery to Tim Lincecum's distinctive motion.
That is no coincidence, according to the 6-foot-1, 175-pound Bowman, who made his professional debut with the Brooklyn Cyclones on Friday by striking out five in two scoreless relief innings.
"I've definitely heard it before. It's definitely a fair comparison," said Bowman, who made his second Cyclones appearance Tuesday, allowing a run in two innings while earning his first pro win. "I've watched him pitch, and I've studied a little bit of what he does mechanically. I sort of look at him as almost a template for a smaller guy who's flexible and somewhat athletic creating a lot of velocity with not a lot of weight behind the ball. I've certainly looked at his mechanics and tried to take little parts of it and incorporate it into my motion. I am certainly not trying to do exactly what he does."
What's similar?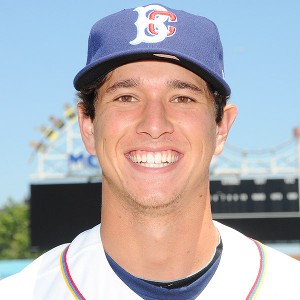 Courtesy of Brooklyn Cyclones
Matt Bowman
"There are things that are coincidentally the same, like the way I start and the way he starts, just with the [right] hand behind the back and the glove in front. But in terms of consciously, it's that big turn, leg up, showing the back and the butt, and then sort of the leg as you come forward. And I have a little bit of a dangle with the arm. He certainly has a little bit more. It's mostly when I come up -- so the leg lift maybe until I put the foot down afterward that looks the same."
Bowman was named honorable mention All-Ivy League both as a pitcher and as a shortstop during his junior season. He indicated it was a no-brainer to turn pro. He plans to complete his Princeton education and earn an economics degree by taking fall classes this year and in 2013. He expects to be given the year and a half to write his senior thesis, following the same plan as another former Princeton baseball player, Danny Barnes (Blue Jays, 35th round in 2010).
"It seems to basically be the best of both worlds," Bowman said about playing pro ball and getting the Princeton degree.
Bowman's junior thesis involved interviewing members of the Phillies organization about their ticket sales and analyzing StubHub data.
"Basically I was trying to make comparisons and see if they could adapt a new ticket-pricing scheme to maximize their revenue," Bowman said.
Bowman has not met Chris Young, another Princeton product. But a teammate of Bowman's at Princeton who grew up in Texas down the block from Young, and who used to regularly throw with the Met back home, has passed along Young's phone number. Bowman figures he will reach out at some point this season, which particularly makes sense since he is nearby in Brooklyn.
Bowman has met Mets bench coach Bob Geren, who has ties to Princeton as well. Geren's sons Bobby and Brett also play for the Ivy League school. They both have catching experience, although Bowman pitched to Sam Mulroy, a 33rd-round draft pick of the Angels, at Princeton this season.
After being drafted by the Mets but before signing, Bowman -- a Chevy Chase, Md., native -- visited Nationals Park when the Mets were playing in D.C. Geren gave Bowman a tour of the visitors' clubhouse and introduced him to players.
"He's been very nice to me," Bowman said about Geren.
DePodesta suggested that Bowman concentrating on pitching should benefit him as a pro.
"He's very athletic, a very good strike thrower," DePodesta said after the draft. "At our workout he actually was up to 95 mph, but pitching mainly 93-94 with plus life on his fastball. We like the athletic package and think he has some upside there when he concentrates on pitching full time. … He was a guy ever since he came to our workout that we've targeted. We were just trying to figure out the best time to call his name. He's a guy we were pretty intent on taking somewhere."
LOOK FOR PART II OF THE FARM REPORT AT NOON, WITH ORGANIZATIONAL STATISTICAL LEADERS AND PLAYER NOTES.
Adam Rubin's farm report appears Wednesdays during the regular season