Cory Vaughn's athletic interests have their limits.
While his father Greg played 15 seasons in the majors, the other competitive athletes in Vaughn's family these days are his mother Michele and 17-year-old sister Genay, an aspiring Olympian. They are involved in equestrian, operating Starr Vaughn Equestrian Center in Elk Grove, Calif., and competing internationally in countries such as Germany.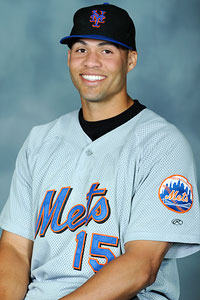 Courtesy of New York Mets
Cory Vaughn
You will not find the 22-year-old outfielder Vaughn on horseback with them.
"Oh, definitely not," Vaughn said. "Those horses are so big. I was so big when I was little, I felt like I was 20 feet in the air on top of the horse. I shied away from that and stuck to baseball."
Baseball is working out nicely for Vaughn, a fourth-round pick last year out of Tony Gwynn's San Diego State program.
After last year's draft, Vaughn hit .307 with 14 homers in 72 games for the Brooklyn Cyclones and was named a New York-Penn League All-Star. This season, he hit .286 with four homers and had a .405 on-base percentage in 68 games with Savannah while again earning an All-Star selection.
After the Gnats clinched the first half, Vaughn was promoted to high-A St. Lucie. His average exceeded .313 just 10 days ago in the Florida State League, but has dipped to .250 through 35 games with a 4-for-36 rut. Vaughn has played right field with St. Lucie. That's the position he played his freshman year at San Diego State before moving to center field.
"I feel like I almost saw guys throw harder down in Savannah, but here they have a better idea of how to approach you and get you out," Vaughn said.
Vaughn's healthy on-base percentage comes from walks as well as getting hit 19 times this season -- tied for fifth most in minor league baseball. He also was hit in the All-Star Game, so the actual total is 20.
"I'm not even standing on the plate," he said. "I'm trying to have good at-bats. You're not going to get on base every single game. You're not going to have hits every single game. But I've been trying to go up there with a plan and approach, just try to work the counts a little bit, trying not to do too much -- just play the game the right way. Any way it takes I'm going to try to get on base."
While he might have preferred to be promoted to St. Lucie earlier, Vaughn remained in low-A until fellow 2010 draft pick Matt den Dekker moved from St. Lucie to Binghamton -- and until Savannah clinched the first-half title in its South Atlantic League division. That allowed Vaughn to participate in the SAL All-Star Game in Salisbury, Md., where he homered off Roman Mendez of the Rangers organization with Vaughn's father on hand as a spectator. His father primarily played for Milwaukee, San Diego and Tampa Bay during a major league career that spanned 1989 to 2003.
"The coach went out there and talked to him because he was a little wild," Vaughn said about the opposing pitcher in the All-Star Game. "He was throwing probably about 96, 97ish mph. First of all, in an All-Star game, you're not trying to get cheated at all. I go up there, and the first pitch as soon as the coach is done talking to him, a fastball up in the zone, I just took a good swing. It worked out for me that it got over the fence."
As for his father being in attendance for the game, Vaughn added: "He tries to make it to as many as he can, but my sister is in high school in Sacramento. And my mom is doing her business with equestrian and horses. Whenever he has a chance he tries to make it out. I mean, I talk to him every night. He tries to give me my own space."
Vaughn's Twitter handle, by the way, is @sugarfreecv. It's a reference to Vaughn dealing with juvenile diabetes since his youth.
Organization leaders
Average: Juan Lagares, Binghamton, .348; Richard Lucas, Brooklyn, .340; Danny Muno, Brooklyn, .333; Josh Satin, Buffalo, .329; Julio Concepcion, Kingsport, .318; Pedro Zapata, St. Lucie, .317; Greg Pron, Kingsport, .315; Cam Maron, Kingsport, .306; Luis Figueroa, Buffalo, .305; Charley Thurber, Brooklyn, .302.
Homers: Brahiam Maldonado, Binghamton, 19; Valentino Pascucci, Buffalo, 16; Jordany Valdespin, Binghamton, 15; Allan Dykstra, Binghamton, 14.
RBI: Valentino Pascucci, Buffalo, 75; Josh Satin, Buffalo, 70; Wilmer Flores, St. Lucie, 67; Aderlin Rodriguez, Savannah, 65; Allan Dykstra, Binghamton, 56.
Steals: Jordany Valdespin, Binghamton, 31; Pedro Zapata, St. Lucie, 28; Matt den Dekker, Binghamton, 19; Darrell Ceciliani, Savannah, 16.
ERA: Rafael Montero, GCL Mets, 1.45; Darin Gorski, St. Lucie, 2.20; Todd Weldon, Brooklyn, 2.56; Erik Goeddel, GCL Mets, 2.57; Gabriel Ynoa, GCL Mets, 2.83; Bret Mitchell, Kingsport, 2.95; Jeurys Familia, Binghamton, 2.97; Angel Cuan, Savannah, 3.00; Matt Harvey, Binghamton, 3.32; Carlos Vazquez, Brooklyn, 3.38.
Wins: Darin Gorski, St. Lucie, 10; Greg Peavey, St. Lucie, 10; Angel Cuan, Savannah, 9; Matt Harvey, Binghamton, 8; Brandon Moore, Binghamton, 8.
Saves: Josh Edgin, St. Lucie, 21; Dale Thayer, Buffalo, 14; Jeffrey Kaplan, St. Lucie, 10; Hamilton Bennett, Savannah, 10.
Strikeouts: Matt Harvey, Binghamton, 130; Darin Gorski, St. Lucie, 115; Chris Schwinden, Buffalo, 112; Jeurys Familia, Binghamton, 104; Gonzalez Germen, Savannah, 101.
Short hops
• Right-hander Zack Wheeler allowed three first-inning runs, and four runs in four innings, on Monday in his Mets debut, with Class A St. Lucie. Wheeler did not issue a walk. He reverted to his high school mechanics for his final two starts in the Giants organization, and that resulted in issuing only two walks in 11 1/3 innings. Through 76 2/3 innings with San Jose, Wheeler had walked 45.
• Jim Callis of Baseball America re-ranks the Mets' top-10 prospects this way, naming Wheeler the organization's top farmhand, followed by Matt Harvey, 2011 first-round pick Brandon Nimmo, Jeurys Familia, Kirk Nieuwenhuis, Jenrry Mejia, Cesar Puello, 44th overall pick Michael Fulmer, Jordany Valdespin and Wilmer Flores. (Mejia is not eligible for Rookie of the Year consideration going forward because he spent a half-season in the majors as a reliever.)
• Fulmer, a prep right-hander from Oklahoma, should make his professional debut in the Gulf Coast League shortly after signing for a reported $937,500. Fourth-round pick Tyler Pill from Cal State-Fullerton made his Brooklyn debut on Tuesday with a scoreless inning after two appearances in the Gulf Coast League.
• Familia returned to Binghamton's rotation Tuesday after missing three weeks with a shoulder impingement.
• Dillon Gee will be enshrined in the Brooklyn Cyclones ring of honor in a ceremony before Thursday's New York-Penn League game. His No. 20 will be displayed in the stadium, alongside the names/numbers of outfielder Angel Pagan, right-hander Brian Bannister and second baseman Danny Garcia, who was the first Cyclone to reach the majors. While the numbers are displayed at MCU Park, they are not retired.
• 2009 top pick Steve Matz, who is progressing slowly from Tommy John surgery performed 15 months ago, has yet to throw a professional pitch in a game and is unlikely to do so this season. The former standout at Ward Melville High School on Long Island has not resumed throwing following a shutdown for micro-sized muscle tears in the left elbow area. Matz is just preparing for an offseason, with an eye toward pitching in 2012.
• Infielder Josh Satin has a 10-game hitting streak and has upped his average to .354 with one homer and 10 RBIs in 12 games since a promotion to Triple-A Buffalo. Satin mostly will play third base with the Bisons, but also will see action at second base, with limited duty at first base.
• Outfielder Fernando Martinez (.254, 8 HR, 27 RBI, 189 at-bats) returned Saturday after missing two weeks with the Bisons with a hip injury.
• St. Lucie manager Pedro Lopez will manage the Peoria Javelinas in the Arizona Fall League. In addition to Mets prospects, the squad also will include farmhands from Milwaukee, St. Louis, Seattle and San Diego. The Mets will determine their player contingent later this month.
• Food poisoning struck the Brooklyn Cyclones, including fifth-round pick Jack Leathersich, who has not appeared since striking out the side in an inning on July 24.
• In his latest start, Harvey narrowly remained winless since a June 26 promotion to Double-A. Harvey limited Harrisburg to one run and four hits while walking two and striking out 10, including Nationals phenom Bryce Harper twice, in seven innings Thursday. However, Harvey received a no-decision.
• Buffalo third baseman Zach Lutz, who suffered a second concussion this season after again getting hit in the head with a pitch, has resumed hitting off a tee, throwing and running. He should return to games in the near future.
• Mike Nickeas' promotion to the majors resulted in a trickle up with catchers in the minors. Dusty Ryan, who missed substantial time this season to get a meniscus tear repaired, moved from Binghamton to Buffalo. Jean Luc Blaquiere was activated from the disabled list with the B-Mets.
• Juan Lagares continues to sizzle since a promotion to Double-A. After consecutive multi-hit games, Lagares has lifted his average to .409 through 44 Eastern League at-bats while displaying solid bat speed and arm strength. Lagares suffered a gruesome ankle fracture with St. Lucie in late July last year and is still not in perfect form health-wise, so Mets brass is anxious to see how he performs in 2012 when healthier.
• Right-hander Taylor Whitenton (4-2, 2.61 ERA) successfully returned to Savannah's rotation after missing two starts with a forearm strain. He was pulled after three scoreless innings to be cautious as he eases back into action.
• UCLA product Erik Goeddel's next start should come with Savannah for the first time since May 23. The right-hander tossed three scoreless innings Monday in the Gulf Coast League as he works back from a shoulder strain.
• Brooklyn third baseman Richard Lucas has reached base in 24 straight games. Lucas, who ranks third in the New York-Penn League with a .340 average, is a fourth-round pick out of high school in Jacksonville, Fla., in 2007 and probably merits playing at a higher level. But the Mets valued getting him regular playing time at third base, and he would have been boxed out at higher levels by St. Lucie's Jefry Marte and Savannah's Aderlin Rodriguez. Lucas experienced shoulder soreness during spring training and when he was ready to play, it coincided with the start of Brooklyn's season anyway.
• Outfielder Travis Taijeron, the organization's 18th-round pick out of Cal Poly Pomona, had five homers in a 10-game span with Brooklyn.
• Chin-lung Hu, who experienced throwing yips with Buffalo, is due to begin a rehab assignment shortly in the Gulf Coast League. Hu worked on switch-hitting while inactive, but it will be his call whether he takes that into games.
Adam Rubin's farm report appears Wednesdays during the regular season