WASHINGTON -- David Wright most certainly recalled the other streak in his career in which he homered in three straight at-bats, back in 2007 against the Yankees. He even correctly recalled that Mike Myers had entered that game in the first inning after the starting pitcher was forced to leave after being struck with a comebacker.
His only fuzziness: Who was the starting pitcher who got knocked out? And which Met hit the shot back up the middle that forced him out?
Wright's two-homer, five-RBI contribution Thursday -- which followed a ninth-inning homer the previous night against Tyler Clippard -- was vital. It helped snap the Mets' six-game losing streak and salvage the finale of a second-half-opening road trip to Atlanta and D.C.
R.A. Dickey, who earned his National League-leading 13th win, asserted that placing must-win tags on too many games can wear a team down, so he suggested the term was misapplied to the 9-5 victory against the Nats. Wright, fully aware of the '07 collapse and the vital nature of every last win, did not fully echo his teammate's statement.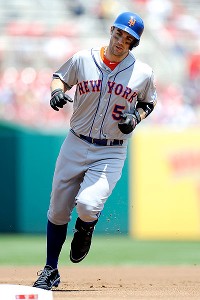 Greg Fiume/Getty Images
David Wright rounds the bases after the first of his two homers Thursday.
"Kind of from here on out, a win is a big win," Wright said. "We've dug ourselves, obviously, a little bit of a hole. But the funny thing is we haven't played terribly. I think that we've given an inning away here and there on this road trip, and that's come back to cost us five games. There were a couple of games where we got flat-out beat, but it seemed like every game we had a chance to win.
"All in all, it's a brutal road trip for us results-wise. But, hopefully, it gives us a little momentum heading home, because the schedule is not going to get any easier. We've got the Dodgers coming in, and then these guys. We're going to have to dig down deep. Like I said before, every win is a big win from here on out."
Said Dickey: "It's obvious that we have not been playing to our capability. And so we've lost some games here in a row. But I don't think anybody has panicked. So as far as this being a must-win game, if you do that, you're just going to run out of gas too quickly."
Before the Mets traveled back to New York by train from D.C. late Thursday afternoon, Dickey noted his fastball was only "fair" as he gave up four runs (three earned) on 10 hits and a walk in 7 1/3 innings. He threw more fastballs than normal because of his knuckleball's average quality, and because a large early lead afforded him that opportunity.
Dickey, wearing a Wright T-shirt postgame, said he visualized a 115-pitch complete-game shutout he had thrown one winter-ball season in steamy Zulia in Venezuela while trying to cope with Thursday's heat and humidity.
"I kept trying to remember that, like, 'I've done this before,'" said Dickey, who vastly outpitched fellow All-Star Gio Gonzalez.
The Mets held a 9-1 lead after four innings.
"It's something we struggled with I think, this series especially -- scoring runs early," Wright said. "So it was nice to be able to jump on a guy that can go on to win the Cy Young. They've had great pitching, so to be able to jump on them early and kind of let R.A. coast a little bit, I think, was big for us."
As for his string of homers in three straight at-bats against the Yankees five years ago, Wright correctly recalled the opposing starting pitcher had been knocked out after two batters.
Who was it?
Darrell Rasner, who suffered a broken right index finger on a one-hop comebacker.
Wright then speculated it was Paul Lo Duca who inflicted the blow.
That was incorrect.
The culprit: Endy Chavez.
Myers then entered and served up a pair of homers to Wright. Wright then homered the following day against Clippard as well.