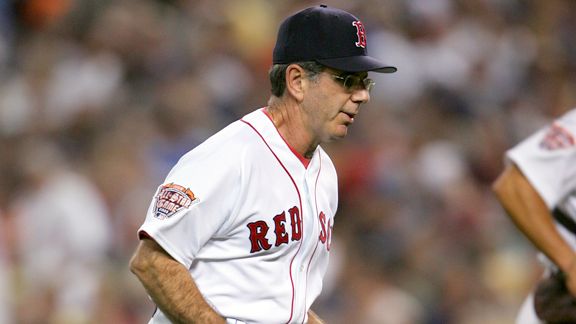 Elsa/Getty Images
Dave Wallace has served as a pitching coach with the Mets, Red Sox, Astros and Dodgers.
Dave Wallace may be the leading candidate to become Terry Collins' pitching coach, a source with organization ties told ESPNNewYork.com.
The source also suggested Triple-A Buffalo manager Ken Oberkfell could become the Mets' bench coach, although that was far less certain.
Metsblog reports Mookie Wilson is a consideration for first base coach.
Wallace spent 17 years affiliated with the Los Angeles Dodgers, much of it coinciding with Collins' tenure with that organization. He was the Mets' pitching coach in 1999 and 2000.
Wallace, 63, spent this past season as minor league pitching coordinator for the Atlanta Braves.
One source who knows about the relationship said: "He and TC are tight."
That would not be good news for incumbent pitching coach Dan Warthen, who had ownership endorsement with third base coach Chip Hale to remain on the staff. If Wallace is hired as pitching coach, perhaps Warthen could take over the role as minor league pitching coordinator, since Rick Waits has been pushed out of that role.
Meanwhile, here's a detailed bio on Wallace directly from the Braves' 2010 media guide, with time references updated:
• Dave Wallace completed his first season as minor league pitching coordinator for the Braves, after joining the club from Seattle where he served as special assistant to the general manager for two years (2008-09). Wallace's primary responsibility is to oversee the progress and development of Braves minor league pitchers at all levels.
• Wallace spent the 2007 season as Major League pitching coach for the Houston Astros. He was the Red Sox pitching coach from June 2003 through the end of the 2006 season. He also had stints as a major league pitching coach with New York (NL; 1999- 2000) and with Los Angeles (NL; 1995-97).
• As a major league coach, minor league coach and front office executive since 1981, Wallace has spent most of his time in the Dodgers organization, including a 17-year stretch from 1981-97. When he was hired by the Red Sox in 2003, he was serving as the Dodgers Senior Vice President/Baseball Operations, overseeing LA's minor league operations and consulting with the general manager on baseball operations. Wallace previously had served the Dodgers as a Special Assistant to the GM (December 2000-April 2001) and interim GM (April-October 2001).
• Wallace spent three seasons with the New York Mets, first as senior advisor to the GM, then as senior executive advisor/player personnel, prior to returning to the field in 2000 as pitching coach.
• While with LA, Wallace coached Vero Beach (A, 1981-82), San Antonio (AA, 1983) and Albuquerque (AAA, 1984-86) and he was the Dodgers minor league pitching instructor from 1987 until he was named Major League pitching coach in 1995.
• The former right-handed pitcher made 13 major league appearances with Philadelphia (1973-74) and Toronto (1978), and 355 minor league appearances.
• He graduated from the University of New Haven in 1969 with a degree in Business Administration. He signed as a free agent with Philadelphia after posting a 24-6 record in college and helping UNH to the NAIA Eastern Regional Championship and a spot in the national tournament in 1966.
• He resides in Wrentham, Mass., with his wife Joyce.