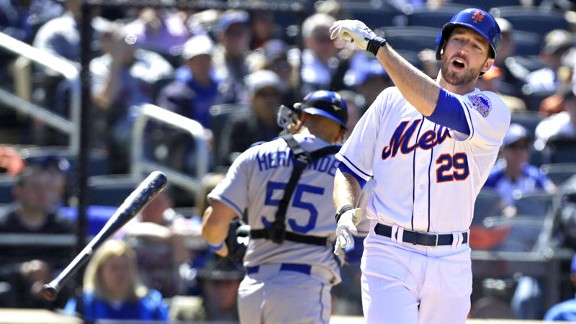 Seth Wenig/Associated Press
Ike Davis is in danger of a demotion within five days or so if he does not start producing.
CHICAGO
FIRST PITCH: For the first time since May 1-2, the Mets have a two-game winning streak.
Jeremy Hefner (0-4, 4.61 ERA) looks to keep the roll going when he opposes Chicago Cubs right-hander Scott Feldman (3-3, 2.53) at 1:05 p.m. ET today at Wrigley Field.
"Hef's been pitching good enough," Terry Collins said. "We've got to start putting some points on the board so these guys have something to work with."
Saturday's news reports:
• Ike Davis does not have many days remaining to prove he deserves to avoid a demotion, ESPNNewYork.com has learned. Davis did snap a hitless skid at 24 at-bats Friday. Andrew Brown played first base for Triple-A Las Vegas for the first time on Friday, and would seem the most likely call-up if a swap is made. Brown does have to stay in the minors for another five days before potentially returning, since he only was demoted Monday, when Rick Ankiel arrived. Zach Lutz and Josh Satin would appear less-likely alternatives. That also would appear to signal that the Mets do not want to disrupt Lucas Duda in left field, since any potential Davis absence would not be indefinite.
FOR STARTERS
A comparative look at Matt Harvey versus all other Mets starting pitchers this season:
• Matt Harvey took the Mets' offensive woes into his own hands, driving in the go-ahead run in the seventh after Collins passed on using a pinch hitter. Harvey improved to 5-0 and snapped a four-start streak of no-decisions as the Mets beat the Cubs, 3-2, at Wrigley Field.
Harvey became the second starting pitcher in the majors this season with a go-ahead RBI in his win in the seventh inning or later. The other: Clayton Kershaw against San Francisco on Opening Day. Harvey is the first Mets pitcher to do so since Sid Fernandez in 1993. It was only the second RBI by a Mets pitcher this season.
Bobby Parnell tossed a 1-2-3 ninth for his fifth save, although Anthony Rizzo put a charge into a ball that got knocked down by the winds blowing in at Wrigley Field. Harvey and Parnell are a combined 9-0 with a 1.44 ERA; the rest of the Mets pitching staff is 7-23 with a 5.35 ERA, according to ESPN Stats & Information.
Cubs third-base coach David Bell took responsibility for Darwin Barney getting thrown out at the plate in the eighth by right fielder Marlon Byrd with the would-be tying run. "Obviously it is disappointing. It turned out it wasn't a very close play," Bell told ESPNChicago.com. "I just watched the replay again and it wasn't close. As a third-base coach you always want to make the right decision, and that clearly wasn't the right decision."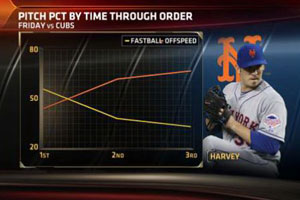 ESPN Stats & Information
Matt Harvey relied on offspeed pitches after the first time through the Cubs lineup.
After allowing two first-inning runs as the Cubs jumped on his fastball, Harvey changed his approach in the following frames. He threw eight first-pitch fastballs the first time through the lineup, then only eight first-pitch fastballs to the next 18 hitters he faced, according to ESPN Stats & Info. Forty-four percent of his pitches overall the first time through the order were offspeed pitches. That increased to 62 percent the second turn through the order and 67 percent the third time through.
"They were coming out swinging," Harvey said.
Harvey has allowed five hits or fewer in 15 of his first 20 career starts, the most in franchise history. Nolan Ryan, Dwight Gooden, Randy Tate and Fernandez are tied for second (13 apiece).
Read game recaps in the Post, Daily News, Times, Journal, Newsday, Star-Ledger and Record.
• Travis d'Arnaud will be required to wear a boot and avoid placing pressure on his left foot for two more weeks, doctor Struan Coleman advised after examining the top catching prospect Friday at the Hospital for Special Surgery in Manhattan. The Mets had hoped d'Arnaud would be cleared to begin weight-bearing activity after suffering a fractured first metatarsal on April 17 on a foul ball while catching.
Since d'Arnaud needs more Triple-A seasoning once he ultimately returns to play (perhaps in six weeks), he may end up no more than a September call-up to the majors at this point. Because of knee and foot injuries, d'Arnaud has played in only 79 Pacific Coast League games over two seasons.
The news was positive for Zack Wheeler yesterday. The Mets have slotted him back into Las Vegas' rotation on Wednesday at Iowa.
Read more on d'Arnaud and Wheeler in Newsday and the Daily News.
• Cubs outfielder Scott Hairston told ESPNNewYork.com he had no hard feelings about how Sandy Alderson handled his free agency, although he questioned how much the Mets really wanted him.
• Satin had a three-run homer and Matt Fox earned the win in his organization debut as Las Vegas beat Omaha, 7-3. Jenrry Mejia allowed two runs on five hits and three walks in three innings in his first official rehab appearance with St. Lucie. Read the full minor league recap here.
• Keith Law projects the Mets will select California high school first baseman Dominic Smith with the 11th overall pick in next month's draft.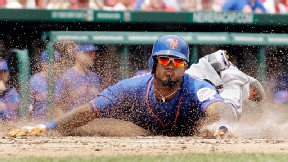 Jeff Roberson/Associated Press
Mookie Wilson says lay off Jordany Valdespin.
• Read more on Davis' struggles in the Star-Ledger.
• Jose Reyes offered this to Dan Martin in the Post about Jordany Valdespin:
"I talk to Valdespin almost every day," Reyes said. "He's a very good friend of mine … I don't know what's going on over there. I don't want to touch that. Valdespin, I support him in everything he [does] because he's a good friend of mine. Other than that, I don't know what's going on over there."
Mookie Wilson told the Daily News that Valdespin needs a chance to succeed without a bull's-eye n his back.
"Give the kid a chance," Wilson said. "He is a very spirited kid, very young and has a lot to learn, no question about that. But some things are being blown out of proportion. I think we need to back up and not overanalyze everything."
• From the bloggers … Faith and Fear in Flushing discovers everything works on Harvey Day. … John Delcos at Mets Report asserts the Mets should demote Davis.
BIRTHDAYS: Brooklyn-born Nelson Figueroa is 39.
TWEET OF THE DAY:
Hey "guy who wants to give me a public scolding about being on my cellphone in the elevator", I'm not listening because I'm busy on my phone

— Collin McHugh (@Collin_McHugh) May 17, 2013
YOU'RE UP: Would you be OK with Andrew Brown at first base? Or would you prefer Lucas Duda at first base and Brown available as an outfielder if Ike Davis' demotion materializes?