NEW YORK -- Terry Collins did not need to worry about identifying a fill-in closer Wednesday night. Matt Harvey went the distance for the first time in his career, in a 106-pitch effort.
Harvey produced the first shutout by a Mets starting pitcher this season and Wilmer Flores produced his first two major league hits and first three major league RBIs as the Mets beat the Colorado Rockies, 5-0, at Citi Field.
The Mets (51-60) clinched only their second home-series victory since the Subway Series in May.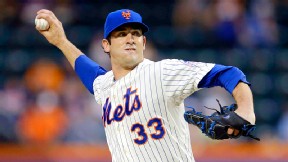 Frank Franklin II/Associated Press
Matt Harvey tossed a four-hit shutout Wednesday night.
Harvey limited the Rockies to four hits and no walks.
R.A. Dickey had three shutouts and Johan Santana had two shutouts a season ago, but the Mets had not produced one in 2013 until Harvey's latest gem. In fact, the Mets had only one other complete game this season. And that ended badly, when Dillon Gee took a shutout bid into the ninth inning in Atlanta on June 17 and ended up serving up a walk-off two-run homer to Freddie Freeman.
When Harvey allowed a two-out single to Wilin Rosario in the second inning, there was an audible groan at Citi Field from fans who have come to expect flirtations with no-hitters deep into games.
The third hit surrendered by Harvey came with one out in the eighth and snapped a string of 11 straight batters retired by the ace. Nolan Arenado was awarded an infield single by first base ump David Rackley, although replays appeared to suggest Arenado was out. No matter. Harvey coaxed an inning-ending double play from ensuing batter DJ LeMahieu.
The final hit allowed by Harvey was a liner that struck him in the lower right leg off the bat of Charlie Blackmon with two outs in the ninth.
Harvey will get an extra day of rest before his next start, Tuesday at Dodger Stadium, because the Mets are reverting to a six-man rotation once Jonathon Niese reenters the rotation Sunday.
It's a first: On Day 2 as a major leaguer, Flores produced his first major league hit in his fifth career at-bat. Flores delivered a one-out single to center in the second inning against fellow Venezuelan Jhoulys Chacin. Flores became the 706th player in franchise history to produce a hit, according to ESPN Stats & Information. Flores scored the game's opening run later in the inning on Omar Quintanilla's single.
Flores then produced his first three career RBIs with a bases-loaded, two-out double in the eighth against Manny Corpas that gave the Mets a 5-0 lead. The three-bagger came after the Rockies intentionally walked Ike Davis with first base open.
Six Mets have produced a three-RBI game within their first two career games: Duffy Dyer, Lee Mazzilli, Jason Hardtke, Kazuo Matsui, Mike Jacobs and Flores, according to ESPN Stats & Information.
Davis had produced his third double in two days and scored on John Buck's fourth-inning single as the Mets grabbed a 2-0 lead.
What's next: The Mets complete their homestand with a 12:10 p.m. matinee against the Rockies. Dillon Gee (7-8, 3.97 ERA) opposes right-hander Tyler Chatwood (7-4, 3.15). Chatwood originally was scheduled to start Tuesday's series opener, but was given two extra days of rest to allow a balky hamstring to heal.