Jeff Roberson/Associated Press
Sandy Alderson reportedly told staffers the Mets can, and should, win 90 games.PORT ST. LUCIE, Fla.
FIRST PITCH: Let the games begin!
The Mets will stage a midday intrasquad game Thursday, in advance of Friday's Grapefruit League opener against the Washington Nationals. (UPDATE: The intrasquad game may be moved to 10:15 a.m. to get ahead of predicted inclement weather.)
Dillon Gee and Jenrry Mejia are due to start opposite each other and log two innings apiece in the intrasquad game. Also scheduled to pitch Thursday: Daisuke Matsuzaka, Noah Syndergaard, Steven Matz, Jose Valverde, Carlos Torres, Jeurys Familia and Joel Carreño.
Terry Collins said Torres will be stretched out like a spot starter/long reliever, building up starter's innings.
David Wright, Curtis Granderson and Daniel Murphy will not play in the intrasquad game, according to Collins.
Thursday's news reports:
• Sandy Alderson told staffers in an internal meeting that the Mets can win 90 games in 2014, columnist John Harper reports in the Daily News. Writes Harper:
Yes, 90.
And, according to people who were in the room, after Alderson's decree prompted discussion about how to best maximize the Mets' assets, owner Fred Wilpon chimed in at one point with his own pointed assessment.
"We better win 90," he said, according to a source.
What, Matt Harvey's elbow surgery was just a cruel practical joke of some kind, and he's secretly preparing for Opening Day?
Otherwise the idea sounds preposterous, right? A Las Vegas sports book, Bovada, on Wednesday released its over/under proposition bets, and it put the number for the Mets at 73.5.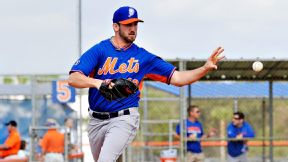 Brad Barr/USA TODAY Sports
Jon Niese is headed to New York for an MRI of his shoulder.
• Jonathon Niese is headed to New York for an MRI of his shoulder after experiencing pain, which Collins says is actually in the triceps. The southpaw told ESPNNewYork.com he wanted an MRI of the shoulder for peace of mind after missing two months last season with a rotator-cuff strain.
Bartolo Colon (calf) and Eric Young Jr. (side) also have injuries, while Matt den Dekker is briefly limited with a stomach ailment.
The Mets have planned for Niese to start on Opening Day, followed by Colon and Dillon Gee against the Nats in Game Nos. 2 and 3 of the regular season, but that is subject to those pitchers' health.
Read columnist Kevin Kernan's take on Niese's injury in the Post. Read news stories in the Post, Daily News, Journal, Times, Newsday, Star-Ledger, Record and MLB.com.
• Ruben Tejada is the shortstop "at this moment," Collins said, but Wilmer Flores will get legitimate consideration and Seattle's Nick Franklin is on the Mets' radar. Arizona Diamondbacks GM Kevin Towers, meanwhile, says it is quiet on the trade front for his extra shortstop, whether that's Chris Owings or Didi Gregorius.
As for any criticism about his fitness or otherwise, Tejada told Marc Carig in Newsday: "I don't really pay attention, you know? Because I did my best in the offseason so I could come here with really good positive energy. Mentally, I'm good, so I'm not listening to anybody about that."
Read more on Tejada in the Post, Daily News and Star-Ledger.
• Anthony DiComo at MLB.com profiles Syndergaard, who did not physically mature and get on scouts' radar until his senior year of high school. He ultimately was selected by the Toronto Blue Jays with the 38th overall pick in 2010.
"This wasn't a guy who was famous before the spring of his senior year," Paul DePodesta told DiComo. "He sort of emerged on the scene. He didn't go into the year with a whole lot of hype, and that's probably one of the reasons why he lasted to where he did in the draft."
Said David Walden, Syndergaard's high school coach: "There were a bunch of scouts down here who got in a lot of trouble."
• Bovada sets the over/under for Mets wins at 73.5. Read more in the Post.
• Sharknado 2 stars are filming at Citi Field. Read more in the Star-Ledger.
• Jared Diamond in the Journal reviews the honeymoons of the five Mets who got married during the offseason -- Anthony Recker (French Polynesia), Josh Satin (Thailand), Kirk Nieuwenhuis (Hawaii), Zach Lutz (none), Wright (none).
Wright tells Diamond: "I'm very routine-based. I've done the same routine for 15 years of playing baseball now, so I like to stick to that routine. I'm sure we will do something in the future, but there's nothing really planned yet. For me, getting married over the holidays, my routine starts come Jan. 1, so I wanted to make sure I didn't fall behind that."
As for the eventual honeymoon spot, Wright adds: "We travel so much during the season that the last thing I want to do during the winter is hop on a plane for a long time. There are a lot of places I'd like to go, though. I've never been to Europe. She did such a good job planning the wedding, she can pick where she wants to go."
• From the bloggers … John Delcos at Mets Report suggests the Mets are not comfortable with Tejada at shortstop, no matter what they say publicly.
BIRTHDAYS: Jersey native Anthony Seratelli, in camp with the Mets, turns 31. … Former Mets (and longtime Braves) pitcher Pete Smith was born on this date in 1966.
TWEET OF THE DAY:
Had a great birthday dinner tonight w/ the guys. Thanks @You_Found_Nimmo for pickin up my tab! Also thanks for all the bday shoutouts today!

— Kevin Plawecki (@kplawecki26) February 27, 2014
@Noahsyndergaard @You_Found_Nimmo oh don't think we forgot about ya big guy. Tomorrow night is on you!

— Kevin Plawecki (@kplawecki26) February 27, 2014
YOU'RE UP: Can the Mets win 90 games?