PORT ST. LUCIE, Fla. -- Long Island native Steven Matz tossed two no-hit innings, Dillon Gee had a successful relief cameo and Brandon Allen delivered a three-run homer, but a Mets split squad lost to the Marlins, 8-7, in Jupiter on Saturday.
Lefty reliever Jack Leathersich ultimately was charged with five runs in a six-run seventh, as the Marlins grabbed an 8-3 lead.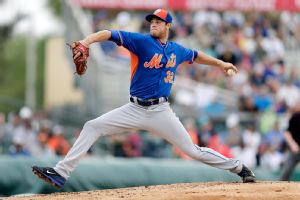 Jeff Roberson/Associated Press
Steven Matz tossed two no-hit innings against the Marlins.
The Mets answered with four runs a half-inning later, highlighted by a two-run single by Xorge Carrillo, but fell a run short.
Start of something? Gee entered mid-inning for Rafael Montero and ultimately tossed 2 2/3 innings out of the bullpen as the Mets try to prep him for a long-relief role. Gee had expected to work only one inning -- the fifth -- but Montero's trouble forced him into the unaccustomed role an inning earlier. He was caught off-guard by working in parts of three innings.
"I don't know the reasoning behind it, but I'm glad I was able to stretch it out a little bit, and at least keep stretching that pitch count, even though it came in relief," Gee said. "It seems like I'm just going with the flow right now. If they ask me to come out of the pen, I'm going to come out of the pen. And if I get a start, great."
Gee, a veteran, noted with a laugh that he was picking the brain of Leathersich -- who has yet to reach the majors -- about how to get ready for a relief appearance.
After Montero was pulled with one out in his second inning of work, Gee entered with two Marlins aboard. He retired Miguel Rojas and Derek Dietrich to strand both inherited runners. Gee added another two scoreless frames, allowing one hit with one strikeout.
"I wouldn't say it's hard. It's just different," Gee said. "Preparation-wise, a starter to the bullpen is night and day. That's going to take some getting used to. It was a little weird to come in that quick today, because I was supposed to get the fifth. ... It seemed like that last inning I was finally starting to warm up. So that's going to take some getting used to."
Still, there is no 100 percent guarantee Gee makes it to the Mets' Opening Day roster in any role.
Rangers ace Yu Darvish learned he may need Tommy John surgery, which could necessitate Texas acquiring a starting pitcher. The Mets and Rangers had trade dialogue involving Gee early in the winter.
Gee said in an ideal world he would remain a starting pitcher. He had heard about Darvish's injury before taking the mound in Jupiter.
"What it boils down to is I don't make those decisions. I can't strike a trade with myself," Gee said. "I did see that [about Darvish]. In my mind all I'm really thinking about is, 'That sucks for Darvish.' I mean, he's a phenomenal pitcher. And I feel sorry for him. It sucks if he's going to be gone for a year. I was trying to worry about pitching out of the bullpen today."
Island pride: Matz allowed only one baserunner, when he hit leadoff batter Dee Gordon with his opening pitch.
"Definitely a little jittery. I was excited to be out there," Matz said. "I think it got the best of me. I was able to settle down after that."
Matz was particularly excited to retire Ichiro Suzuki on a flyout to cap a six-pitch confrontation that included three curveballs.
"My first thought was, 'Wow, Ichiro is in there. That's pretty cool.' I was watching him when I was 10 years old," Matz said. "Looking at that lineup at the beginning of the game, going over the hitters, it was interesting. You've got Ichiro in there. He's one of the greatest hitters. And seeing [Giancarlo] Stanton in there, it was a little nerve-wracking in the beginning. I just settled down and that was pretty much it."
Said Ichiro through an interpreter about facing people who revered him during their childhood: "It feels strange because I'm still playing the game. It's a lot of fun to play with that generation of guys that watched me when they were kids and be able to be on the same field. I think they'll allow me to up my game, too, and help me get better."
Matz had 20 family members and friends in attendance. He retired Stanton on a flyout to center, although the wind knocked down the shot.
Odds & ends: The Mets led 3-2 when Leathersich, who is ticketed for Triple-A Las Vegas, was charged with five runs in the seventh. Leathersich, who has walked nearly a batter an inning over his Triple-A career, walked three and allowed two hits while retiring only one Marlins batter. Leathersich already has issued five walks in 1 1/3 Grapefruit League innings. ... Michael Cuddyer started in left field. He has started only three regular-season games in that position in his career, but Terry Collins prefers to use him there and keep Curtis Granderson in right field.