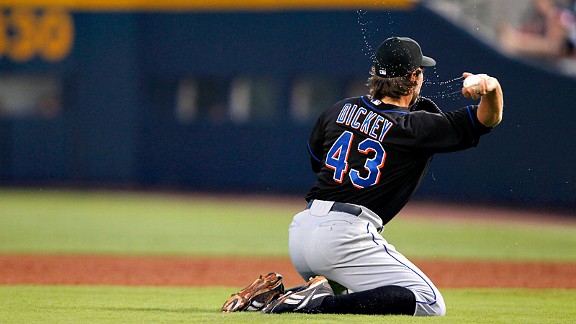 Mike Zarilli/Getty Images
R.A. Dickey was among baseball's best fielding pitchers last season.ESPN.com's Jim Caple talked to R.A Dickey about his mountain climb up Mount Kilimanjaro to raise awareness for the exploitation of young women in Mumbai.
In what has been a rough offseason for the Mets, Dickey has been all about knowing how he can best assist. That's a trend he exhibited during 2011 as well.
R.A. Dickey
2011 Season
Did you know that Dickey led all major league pitchers with 58 assists last season?
That was 15 more than the pair -- Tim Stauffer and Jake Westbrook -- with the next-most, and the most in the majors since Livan Hernandez had 61 in 2004.
Amazingly, Dickey finished just two assists shy of the Mets single-season record for a pitcher (60), set by Roger Craig in 1963, and one more than Al Jackson's 59 in 1962.
Since then, only two Mets pitchers, including Dickey, finished with at least 50 in a season. The other was Dwight Gooden, who had 56 in 1988. Dickey was the first Met to lead the NL in assists since Ron Darling shared the title in 1986.
Dickey has yet to win a Gold Glove, but he did finish second to Mark Buehrle in the 2011 Baseball Info Solutions Fielding Bible Awards, a vote of 10 baseball experts rating the best defender at each position.
Dickey got second-place votes from both ESPN's Doug Glanville and ex-Sweet Spot blog editor Rob Neyer.
Dickey rates well by advanced defensive metrics, such as Baseball Info Solution's Plus-Minus rating, which assigns credits and debits to all fielders on every batted ball. Dickey rated six plays above average for a pitcher in both 2010 and 2011, which tied him for third-best in the majors last season.
Dickey's best attributes on defense suited him well on his mountain climb.
He puts himself in the best position to succeed with a follow through that ends with him ready to field any ball hit his way. He's also shown that he has good instincts.
Dickey's agility has been on display from his very first start as a Met.
His willingness to do whatever gets the job done also aids him in his defensive cause. As Mets broadcaster Gary Cohen pointed out after watching this play in 2010, "He'd make quite an infielder."
Dickey is also averse to people taking what doesn't belong to them. In other words, he is good at managing baserunners (he allowed seven steals in 208 2/3 innings). Dickey recorded a caught stealing and five pickoffs on the mound last season, including an odd reverse spin that caught Marlins baserunner Mike Cameron by surprise to help preserve a 2-1 Mets win last August.
The five pickoffs were tied with fellow New Yorker A.J. Burnett for the third-most by a right-handed pitcher in the majors. His success in limiting stolen bases helped him finish with eight Defensive Runs Saved last season, one shy of the major league lead.
Dickey's skills have contributed to the Mets cause, meek as it has been over the past two seasons.
Check out Caple's article for more on a Mets story that may cause you to do what a player does when someone else on his team makes a nice play -- tip your cap.