PORT ST. LUCIE, Fla.
FIRST PITCH: Terry Collins promises a light workload at the Mets' spring-training complex on Wednesday.
Position players will undergo physicals but are being dissuaded from any baseball activities. Pitchers purposely will have a short day.
Collins wants a reduced workload ahead of Thursday's first full-squad workout. Once those workouts begin, the only day off the remainder of spring training will come March 18.
Also on Wednesday, the Mets have scheduled a 9 a.m. press conference for top prospect Noah Syndergaard to address the media.
Wednesday's news reports:
• Lucas Duda has been dealing with a left side-muscle strain for a couple of weeks and will not be permitted to bat for two or three more days. He has been going through fielding drills. Duda reportedly received a cortisone injection. After originally labeling the issue as with the oblique, the Mets clarified the issue as related to the intercostal muscle. Read more in the Times, Post, Newsday, Record and at NJ.com and MLB.com.
• Curtis Granderson expressed indifference where he bats in the lineup, downplayed the impact of dimension changes at Citi Field and which corner outfield spot he might play, and talked up new hitting coach Kevin Long on Tuesday. Read more in the Post, Daily News, Newsday, Record and at NJ.com and MLB.com.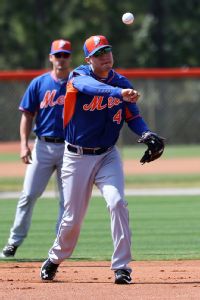 Adam Rubin
Wilmer Flores fields a grounder Tuesday in Port St. Lucie.
• Sandy Alderson recently had jury duty and offered a shortstop one-liner in the courthouse. Read the original story in the Journal.
• Regarding Wilmer Flores, Alderson told Bill Madden in the Daily News on Tuesday about the two New York shortstops: "[Didi] Gregorius and Flores are two different players. Gregorius is a defensive shortstop and Flores is an offensive shortstop. But we think Flores has as much upside as anyone. What does a great shortstop have to do? He has to have great hands, an outstanding arm, great range, the ability to make the double play and to hit. Well, of all of those attributes, the only thing Flores doesn't have is great range. But if he can do all the other things, then we've got ourselves a pretty good shortstop."
• Collins acknowledged Ruben Tejada would not be receiving consideration for the starting shortstop job if he did not arrive early to Port St. Lucie. Read more at NJ.com and MLB.com.
• Matt Harvey may face batters as soon as Thursday, and Bobby Parnell should only be a few days behind that. Both pitchers are returning from Tommy John surgery.
• Jeurys Familia will get extra tutoring working on throwing to bases during spring training. Familia told Mike Puma in the Post he already worked to improve in that area during the winter at the Mets' academy in the Dominican Republic. "[Errors] are part of the game, but right now I'm working on that and trying to get better," Familia told the newspaper. "But if it happens again trying to make the play, I'm not perfect. I made a mistake and I have no excuse about that, and I'm just going out there every day and trying to get better on that part."
• David O'Brien in the Atlanta Journal-Constitution interviews Eric Young Jr., who signed a minor-league deal with the Braves late in the offseason. "He's an awesome player -- fast, gets on base, top-of-the-lineup kind of guy who can play a lot of positions," first baseman Freddie Freeman told the AJC. "I got to sit down with him at Justin Upton's wedding this year. What a great guy EY is."
• From the bloggers … Mets Report prefers Juan Lagares leading off.
BIRTHDAYS: Ed Lynch turns 59.
TWEET OF THE DAY:
Make the Wright choice! #DavidWright #FaceofMLB pic.twitter.com/LeuA9YwOiE

— New York Mets (@Mets) February 25, 2015
YOU'RE UP: Are you concerned about Lucas Duda's rib-cage strain?