Collin McHugh's second major league start lasted only four innings, with McHugh surrendering four runs. The drama, though, came late. With the Mets trailing by a run in the ninth, Andres Torres seemingly led off with a double. But at the instruction of injured ex-Met Carlos Beltran, the St. Louis Cardinals successfully appealed to rookie ump Dave Rackley that Torres missed the first-base bag. The Mets, deprived of the baserunner, lost shortly thereafter, 5-4, on Monday afternoon at Busch Stadium.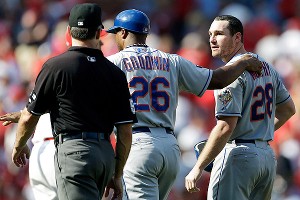 Jeff Roberson/Associated Press
Daniel Murphy jaws at first base ump Dave Rackley after the final out.
Two-run homers by Kelly Shoppach and Daniel Murphy had clawed the Mets within a run. Despite only 33 at-bats as a Met, Shoppach now has three homers with the club, more than the combined total of Josh Thole (one), Mike Nickeas (one) and Rob Johnson (none). Murphy, meanwhile, produced his first extra-base hit in his past 22 games (18 starts).
Rackley and crew chief Dale Scott stood by the call, despite vehement protest from the Mets. The crew noted neither Torres nor first base coach Tom Goodwin initially complained about the call.
Rackley told Terry Collins he would not have made the ruling had he not been positive it was correct.
"He went over the front corner with his toe and it just kicked dirt up onto the base," Rackley said.
Said Scott after reviewing the video with his crew: "It was exactly what [Rackley] described. His foot went over [the bag], the toes hit the ground, the heel never did [hit the bag]. And did you see where [Rackley] was? He was right there to make the call."
Countered Murphy: "We had access to video. I'm sure you guys did, too. So we know the answer to that."
Now, Matt Harvey makes potentially his second-to-last start of 2012 in Game 2 of the series, tonight at 8:15. Harvey, whose innings cap will be reached with two to three more starts, opposes left-hander Jaime Garcia (3-6, 4.52 ERA).
Tuesday's news reports:
• Read game recaps in the St. Louis Post-Dispatch, Times, Record, Star-Ledger, Newsday, Daily News and Post.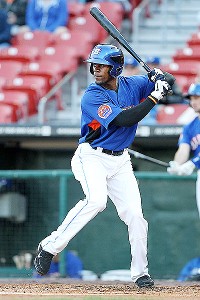 Mike Janes/Associated Press
Fred Lewis, 31, has been rewarded for a solid season at Buffalo with a September call-up.
• With Buffalo's season complete, the Mets have summoned six additional minor leaguers to St. Louis: Jordany Valdespin, right-handers Jenrry Mejia, Jeurys Familia and Elvin Ramirez, left-hander Justin Hampson and outfielder Fred Lewis. Buffalo manager Wally Backman is due to join the Mets on Sunday. Zach Lutz, Nickeas and McHugh already had been added -- giving the Mets nine extra players in total.
• Dillon Gee joined the Mets in St. Louis. He already has been cleared to begin tossing a baseball following surgery to repair a damaged artery in his pitching shoulder.
• Andy McCullough in the Star-Ledger reviews Harvey's early success, including the influence of former major league pitcher Don Carman on the mental side of the rookie's game.
"Sometimes in the minors, it was, 'I have to get this guy out. I have to go seven innings, eight innings, and completely dominate this game in order to get to the big leagues,'" Harvey said, according to Brian Costa in the Journal, while constrasting minor league struggles with major league success. "Whereas here, it's, 'I have to win.'"
Read about Harvey's impending shutdown after two to three more starts in the Post.
• Stephen Strasburg's final start of the season will be Sept. 12 against the Mets at Citi Field.
• Buffalo was rained out at Lehigh Valley on Monday in what is expected to be its final game affiliated with the Mets. Las Vegas has been widely speculated as the Mets' next Triple-A home, but a minor league source said do not rule out Nashville over Las Vegas if the Mets have a choice between those markets. The Brewers currently are affiliated with Nashville and may re-up, though. Meanwhile, Brooklyn sliced its magic number to one with two games remaining to clinch the New York-Penn League's wild card. Like Buffalo, Binghamton and Savannah completed their seasons Monday. St. Lucie opens the Florida State League playoffs tonight at Jupiter. Read the full minor league recap here.
TRIVIA: Who preceded Tony La Russa as Cardinals manager?
Monday's answer: Jason Bay's first grand slam as a Met came on June 28, 2011 at Detroit. He and Beltran both had slams that day as the Mets snapped a historic streak in which their opponents had hit an MLB-record 18 consecutive unanswered slams.