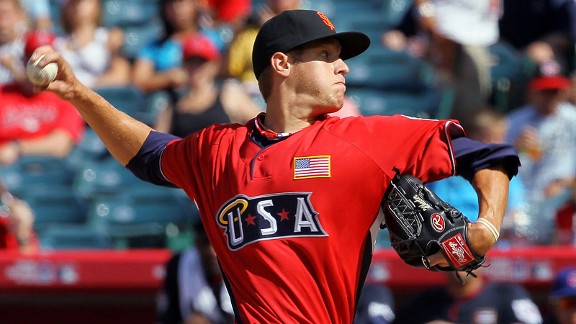 Stephen Dunn/Getty Images
Zack Wheeler will participate in his second Futures Game today. He was a participant in 2010 as well, while with the San Francisco Giants.
Jordany Valdespin and Ike Davis homered, Dillon Gee matched a career high by tossing eight innings and Ruben Tejada's over-the-shoulder catch aided Bobby Parnell's second save as the Mets beat the Cubs, 3-1, Saturday.
The Mets now send Jon Niese (7-3, 3.35 ERA) to the mound in the first-half finale against right-hander Ryan Dempster (3-3, 2.11). The Amazin's are looking to match their season high at eight games over .500.
Sunday's news reports: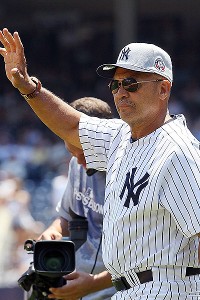 Jim McIsaac/Getty Images
Reggie Jackson (pictured) irked Wally Backman by questioning late '86 teammate Gary Carter's Hall of Fame credentials.
• Buffalo manager Wally Backman called Record columnist Bob Klapisch to complain about Reggie Jackson's comments regarding '86 teammate Gary Carter. "Who is he to question?" Klapisch, on Twitter, quoted Backman about Jackson. "At least Gary was a complete player. It's unbelievable Reggie would criticize a great guy and great player who's passed away. Show some respect."
Among other derogatory statements, Jackson had told Sports Illustrated: "I didn't see Kirby Puckett as a Hall of Famer. I didn't see Gary Carter as a Hall of Famer. I didn't see Don Sutton as a Hall of Famer. I didn't see Phil Niekro as a Hall of Famer. As much as I like Jim Rice, I'm not so sure he's a Hall of Famer."
• In a Q&A with Steve Serby in the Post, Sandy Alderson offers these tidbits:
On whether the Mets are serious buyers before the July 31 trade deadline: "Well, we're serious lookers right now. We'll see where we are as we get closer to the deadline. Right now the market for players is not quite as defined as it will be in the next couple of weeks." Still, Alderson added: "Right now we're in a somewhat different mode than we were last year at this time."
On acquiring a right-handed bat via trade: "Well, I hope the right-handed bat we have [is] Jason Bay. I know that doesn't inspire confidence on the part of most Mets fans, but I think Jason has an opportunity to play a big part for us the second half. ... I think we have to keep in mind that Jason could be the biggest addition we could hope to get. No guarantees that he'll make a big contribution, but he certainly has that potential."
On whether he believes the Mets are a playoff team: "Yeah, I do. There are two things about our rotation -- No. 1, it's deep. We match up pretty well, regardless of the opposition, with all five of our guys. And, the other thing is that right now we have some real quality at the top end, which can have a very big impact in a short series."
On David Wright's future as a Met: "I think it will be a long one, and hopefully very bright."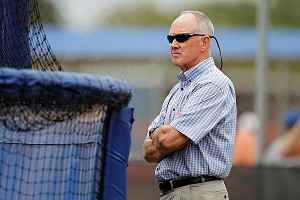 Jeff Roberson/Associated Press
Sandy Alderson says Jason Bay may be the best righty bat the Mets add after the All-Star break.
On Matt Harvey reaching the big leagues in 2012: "It's conceivable. I think it's unlikely, but I think it's conceivable."
On Zack Wheeler: "It's very possible that he'll be moved to Triple-A sometime in the near future. I'd be surprised if he ends up in New York by the end of this season, but he is someone who would have to be protected on the major league roster going into next year, so at the very worst, he'll be in major league camp next year, and I'm sure he'll be competing for a rotation spot."
• Columnist John Harper in the Daily News discusses Wright's MVP-caliber season with the third baseman. Writes Harper:
Only two seasons ago, in fact, Wright racked up a whopping 161 strikeouts. Entering the final game before the All-Star break he has only 46 Ks, a reduction that is as astonishing as it is revealing. "It's funny how it works," Wright said at his locker on Saturday. "You have some success and all of a sudden your mentality is different. You're aggressive but also confident that if they pitch you out of the strike zone you're going to take those pitches. Whereas, there were times the last few seasons I felt I was swinging before the ball was even thrown. I had those at-bats when no matter what the pitcher threw, I knew I was swinging at it."
Wright acknowledges the revised Citi Field dimensions have helped. He tells Harper: "It's a huge difference. It allows you to relax and know you don't have to try to hit the ball a mile to see results. And, at the same time, if you do hit the ball well and you see results, instead of a 400-foot flyout, you're 1-for-1 and feeling good about yourself. There were times the last couple of years I tried to muscle up and hit the ball a mile, and that had something to do with my strikeouts going up, too.''
• The Mets used an all-homegrown starting lineup Saturday for the second time this season and fourth time in franchise history. Read more in Newsday.
• Read game recaps in Newsday, the Record, Star-Ledger, Times, Daily News and Post.
• Third baseman Wilmer Flores and Wheeler will represent the Mets in the Futures Game in Kansas City at 5 p.m. ET today. The prospect showcase will be televised by ESPN2. Wheeler tossed a scoreless inning in the 2010 Futures Game while a Giants farmhand. Flores actually started at second base and went 0-for-2 in the 2009 Futures Game while a month shy of his 18th birthday.
Flores is hitting .390 with two homers and 11 RBIs in 59 at-bats since a promotion to Double-A Binghamton. With third base also occupied by Jefry Marte with the B-Mets, Flores has appeared at three games at second base and two games at first base in addition to hot-corner duty in Double-A. Flores exclusively was a shortstop in the Mets system until this year, although he had played other infield positions in winter ball.
"He's never been extremely fast. He's never been your typical shortstop," B-Mets manager Pedro Lopez told Lynn Worthy in the Binghamton Press & Sun-Bulletin. "He probably has that type of body -- what you look for from a shortstop, a body like that. But his first step wasn't fit for a shortstop. We all knew that eventually he was going to end up moving. But I had him his first year, in 2008. Watching him in 2008 and watching him play last year every day at short was night and day. He learned how to play that position. He played it well.
"Right now, there are a lot of guys in the big leagues that, No. 1, don't have the arm that he has. They don't have the glove that he has. They're playing second base because of the bat. His bat definitely profiles at second, but he's also a good third baseman. He's got good hands. His arm definitely plays there, if you played at short. I think as a third baseman you don't have as much ground to cover as short. I think he's done a good job."
• Johan Santana, whose ankle was cranky but likely a non-issue a day after twisting it, is scheduled to start the second-half opener in Atlanta on Friday. R.A. Dickey and Niese will round out that series. Gee then starts next Tuesday in Washington, in the series opener against the first-place Nationals, followed by Chris Young. Placing Santana at the start of the rotation to begin the second half is an expression of confidence there are no lingering questions about his shoulder's health since his return from Sept. 14, 2010 surgery to repair a torn anterior capsule. Read more in the Star-Ledger.
• Frank Francisco threw off a mound Saturday for the first time since landing on the DL during the Subway Series with a strained left oblique. He is due to pitch in a rehab game for the first time Wednesday, Terry Collins said.
• Collins said he needs to find a way to get Valdespin into Sunday's game after he homered for the second straight day Saturday. Read more in the Daily News and Newsday.
• Davis' homer tied him with Scott Hairston and Lucas Duda for the team lead at 12. Read more in Newsday and the Post.
• Columnist David Lennon in Newsday has some early thoughts about Tuesday's All-Star Game, in which neither Wright nor Dickey may start. Writes Lennon:
What complicates things now is that the fan balloting, which used to involve folksy punch cards distributed at ballparks, has evolved into a powerful online gateway for advertising revenue and website hits for MLB.com, a huge money-making enterprise. Not that there's anything wrong with that. This is, after all, an entertainment business. But as a result, there will be some inequities -- [Pablo] Sandoval starting over Wright, for instance -- and that tends to hurt the integrity of the overall message. It also puts a burden on the All-Star Game managers to balance that showcase element with some sort of competitive mindset.
• Dickey tells Mike Puma in the Post it would be unfortunate if he is disqualified from starting the All-Star Game because he is a knuckleballer. "I feel like [the decision] is probably being over-thought on a lot of different fronts," Dickey told Puma. "Anybody would love to start the game, so if you're asking me, of course I would like to start it. That doesn't mean I'll be insulted if I don't. There are plenty of candidates that are worthy. But I do think the knuckleball angle, as far as that being a deterrent, is a little bit blown out of proportion. Simply because I've worked with so many guys who have been able to get it, basically. And I've gotten one wild pitch this year and I think my strikeout-to-walk [ratio] probably speaks for itself -- as far as the control aspect goes -- so I don't see the real issue with that."
• Buffalo right-hander Collin McHugh, whose blog entries periodically are reprinted at ESPNNewYork.com, discusses the transition from Double-A to Triple-A in his latest entry. McHugh is an under-the-radar prospect who is starting to get attention. He has drawn comparisons to Gee.
• SNY is advertising in the Bronx, at the subway stop by Yankee Stadium, according to Richard Sandomir in the Times. "This isn't about the Mets' network trying to co-opt Yankee fans," SNY president Steve Raab told Sandomir. "This is a regional sports network that has always positioned itself as the home of all things New York sports taking the program that is most representative of that positioning and going for sports fans."
Yankees president Randy Levine offered this reply to the Times: "There's no such thing as any kind of turf. But I give SNY credit. When you're a consistent No. 3 network, you shoot for No. 1."
• Matt den Dekker had a three-run homer and Justin Hampson resurfaced for the save with Buffalo. Cory Mazzoni tossed seven scoreless innings for Binghamton. Jimmy Fuller tossed five no-hit innings for Savannah. Read the full minor league recap here.
TRIVIA: Who was the last Met to play second base in the All-Star Game?
Saturday's answer: Dempster pitched for the Marlins and Reds before being released by Cincinnati in November 2003 and signing later that offseason with the Cubs.