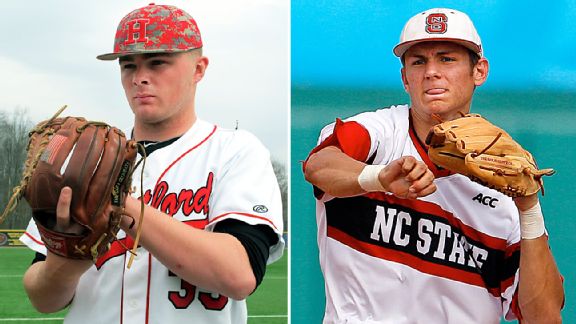 Associated Press
Keith Law projects the Mets will draft Hartford left-hander Sean Newcomb in Thursday's first round, with NC State shortstop Trea Turner another option.CHICAGO
FIRST PITCH: The Chicago Cubs have not won three straight games all season, much less swept a series. They will have a chance to do both Thursday at Wrigley Field.
After winning four of five in Philly during a series in which the teams played 14-, 14- and 11-inning games, the Mets have stumbled twice in the Windy City. And Terry Collins believes there is some exhaustion carrying over from the extra-inning affairs.
"I think some of it is a residue of what we went through in Philly," the manager said.
Collins said he will give a couple of starters off for Thursday's 7:05 p.m. ET series finale in Chicago. That should include second baseman Daniel Murphy, who has started 57 straight games since opening the season on paternity leave. Wilmer Flores is expected to play second base.
Julie Jacobson/Associated Press
Jacob deGrom again bids for his first major league win Thursday.
Jacob deGrom (0-2, 2.42 ERA) opposes left-hander Travis Wood (5-5, 5.15). DeGrom remains in search of his first major league win. The bullpen has failed to hold a lead for him in each of his past two starts.
Despite two straight victories, the Cubs are a National League-worst 22-34.
David Wright also is due for a day off on this trip. That now would seem likely to wait for San Francisco this weekend, since the Mets face a southpaw in the finale against the Cubs.
Also Thursday, the draft begins in Secaucus, N.J. The Mets will select 10th overall.
ESPN's Keith Law has projected the Mets will select University of Hartford left-hander Sean Newcomb. One alternative is NC State shortstop Trea Turner.
The Mets do not have a second-round pick because of their signing of Curtis Granderson to a four-year, $60 million deal. The organization's second pick will come Friday in the third round (84th overall).
Thursday's news reports:
• Benefiting from a pair of misplays from Cubs shortstop Starlin Castro, the Mets produced three first-inning runs. However, Daisuke Matsuzaka, Dana Eveland and Jeurys Familia combined to surrender three fifth-inning runs as the Cubs took the lead and held on for a 5-4 victory Wednesday. Anthony Recker and Granderson stranded the bases loaded in consecutive innings.
The Mets are now hitting .148 (9-for-61) with the bases loaded this season.
"We've had opportunities to put games away. We've had bases loaded several times," Collins said. "They're getting guys on, so it's not like we're not getting on base. We're just not hitting with guys on base, which has been the tune thus far from when we started the season.
"They haven't let down. I just think sometimes you go through playing all those innings in all those days the way we did, we've got to find some energy somewhere."
Collins said Matsuzaka (4.1 IP, 4 H, 4 R, 4 ER, 5 BB, 2 K) will remain in the rotation.
Read game recaps in the Post, Daily News, Newsday, Times, Journal, Star-Ledger, Record and at MLB.com.
• Right-hander Buddy Carlyle was designated for assignment after Wednesday's game to clear a roster spot for Andrew Brown, which restores the bench and bullpen to their customary numbers. Read more in the Star-Ledger and Record.
• Dillon Gee has not picked up a baseball in 11 days. He last attempted to throw May 25 at Citi Field. That day, Gee planned to step on a mound for the first time since landing on the disabled list, but he aborted the session after two throws on flat ground because of renewed discomfort with his strained right lat muscle. Read more in the Post and Newsday.
• Don Zimmer, who started at third base for the Mets in the franchise's first-ever game on April 11, 1962, died Wednesday. He was 83.
"We are saddened by the passing of Don Zimmer, an original Met, who played in our very first game," the Mets said in a statement. "He gave six decades of his life to baseball. Our thoughts and prayers are with his family."
Read more in the Times, Daily News, Post, Newsday, Journal and at MLB.com.
• Columnist Joel Sherman in the Post suggests the NL East is looking weak, so the Mets need to commit dollars now in an up-for-grabs division. Writes Sherman:
In the last week, Miami got proactive -- trying to address a weak setup crew by trading the 39th pick in the draft to Pittsburgh for Bryan Morris and signing Kevin Gregg. Maybe Gregg is just another way of saying Kyle Farnsworth or Jose Valverde. But give the Marlins credit for trying. Too many teams are playing for 2016 or to be loved by Baseball America for their prospect base.
Do I think the Mets can make the playoffs? It remains unlikely. But I will say this: I thought it was, at best, a 5 percent chance a month ago, but now I think it is better than that. Just six of the 15 NL teams began Wednesday over .500 and just three were more than two games over .500. …
There are four months of the season left, so maybe the Nationals get their act right. Maybe. Perhaps the Braves' power bats overcome all. Perhaps. But there is opportunity here for [Sandy] Alderson and the Mets. If the Marlins are trying to get their team better, Alderson should be proactive as well. Ownership needs to stop talking about the money it is willing to spend and open wallets.
• Matt Cain will come off the disabled list to face the Mets on Friday in San Francisco. The Mets also will face Tim Hudson and Tim Lincecum at AT&T Park. Read more in the San Francisco Chronicle.
• Read a draft preview from Zach Braziller in the Post and Matt Ehalt in the Record.
• Matt Harvey is due to throw off a mound for the first time since undergoing Tommy John surgery on Monday. A day later, Jeremy Hefner is scheduled to do the same thing. Hefner's elbow procedure actually was performed two months before Harvey's, but Hefner began throwing on flat ground early this year only shortly before Harvey did.
• A Wrigley Field scoreboard operator fell asleep during Tuesday's game, the Star-Ledger notes.
• Pinch hitter Rylan Sandoval had a game-ending strikeout with the tying run on second base and Altoona held on to beat Binghamton, 6-5. Luis Cessa struck out 10 and rehabbing Gonzalez Germen had a scoreless inning in which he allowed two hits as St. Lucie beat Dunedin, 4-3. Colton Plaia had a two-run homer, but Savannah lost to Asheville, 12-6. Read the full minor-league recap here.
• Mike Puma in the Post chats with Bobby Abreu. "I think to be around with these young guys, they make you feel younger," Abreu told Puma.
• Tim Rohan in the Times, Marc Carig in Newsday and Anthony DiComo at MLB.com look at the playing-time distribution at shortstop between Ruben Tejada and Flores.
BIRTHDAYS: Former lefty reliever Paul Siebert was born on this date in 1953.
TWEET OF THE DAY:
#FanReactions pic.twitter.com/hT4clM7WPj

— LA Kings (@LAKings) June 5, 2014
YOU'RE UP: Can the Mets actually win the NL East?