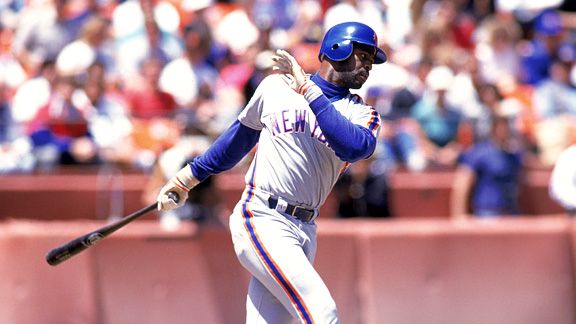 Otto Greule Jr./Getty Images
Daryl Boston was a unique Met until Justin Turner matched his rarity.
Mark Simon reminisces about Mets history each week in his "Remember When We Met" posts.
The walk-off hit-by-pitch was a one-of-a-kind event in Mets history until Wednesday, when Justin Turner joined Daryl Boston as the only players in Mets history to end a game by being plunked. Boston's came on April 23, 1992 against lefty reliever Juan Agosto and the St. Louis Cardinals.
Our colleagues at Plunkeveryone.com (yes, this site really exists), have done their share of work on the subject, noting such things as Turner's being the second interleague "plunk-off" in major league history. The rarity of the game-ending plunk is not necessarily as great as you'd think-- it has happened 45 times in Major League Baseball since the Mets' first season in 1962.
The Elias Sports Bureau tells us that since 1962, there had been 102,874 regular season games played through Wednesday. Picking a game that ended on a walk-off hit-by-pitch is a 2,286-to-1 shot.
With the Mets' tally now standing at two, we thought it would be timely to look at other obscurities that have happened exactly once in Mets history. With the help of Baseball-Reference.com, here are our favorite three.
The 3-triple game
In the Mets' 50-season history, only once has a player hit three triples in a game, and it wasn't the most logical choice -- Jose Reyes. It was actually second baseman Doug Flynn, whose trifecta of three-baggers came on Aug. 5, 1980 against the Expos in Montreal. Amazingly, the Mets lost that game, 11-5, with Flynn telling reporters afterwards that his best-hit ball was a game-ending lineout to shortstop.
But how rare is it? Eleven players, including Flynn, have had a three-triple game since the Mets began play in 1962, most recently Twins outfielder Denard Span last season. Picking a random game and drawing a three-triple game is a 9,352-to-1 proposition.
The five-inning save
Among pitching accomplishments, our original intent was to look for pitchers with high strikeout totals, but remember, the Mets have had a pair of pitchers strike out at least 19 batters in a game -- David Cone and Tom Seaver.
Other One-Of-A-Kinds
Mets History
That's a common occurrence compared to the five-inning save, which seems almost unfathomable in this era of reliever specialization. Several Mets have earned lengthy relief wins, but durable Doug Sisk registered the only five-inning close-out in Mets history, against the Cardinals on June 23, 1983. It was a day on which Sisk's sinker (one of the best a Mets pitcher has ever had) was at its best. His last nine outs were groundouts.
But how rare is it? There have been 11 five-inning saves since the save rule became official in 1969. And there were four other games that would have featured five-inning saves, had the rule existed from 1962 to 1968. So picking one of those 15 games from our pool of over 102,000 is a 6,858-to-1 chance.
Ex-Met Blas Minor recorded the last one by a National League pitcher, against the Mets while with the Pittsburgh Pirates on June 19, 1993. The last one by any pitcher came on Sept. 3, 2002 by Texas Rangers reliever Joaquin Benoit against the Baltimore Orioles.
The walk-off steal of home
Mets center fielder Tommie Agee is best known for his tremendous catches in Game 3 of the 1969 World Series -- plays that made him a fan favorite and eventually a Mets Hall of Fame inductee. But Agee did something else that made him unique in Mets history.
On July 24, 1970 the Mets and Dodgers were tied, 1-1 in the 10th inning, when Agee reached on an error, stole second, and went to third on a wild pitch. A pair of walks would load the bases for Cleon Jones. Agee, known for his bold baseball nature, decided to do something both daring and unprecedented, at least in Mets history. He sprinted for the plate. He beat the pitch from pitcher Jim Brewer and the tag from catcher Tom Haller to score the winning run.
"It was close, but he made it," Mets radio announcer Bob Murphy told his listeners that night. "There was no doubt about it."
It was a one-of-a-kind play from a one-of-a-kind player.
But how rare is it? There have been seven regular season walk-off steals of home since 1962 (we aren't counting a play from the 1997 postseason, in which Marquis Grissom was credited with a game-ending steal on a botched squeeze attempt), so the chances of landing one of those games via random selection are 14,696-to-1.
The last game-ending steal of home in a regular season game was by Glenn Brummer, a backup catcher for the Cardinals, against the San Francisco Giants on Aug. 22, 1982. Maybe we'll see one of those next.