PORT ST. LUCIE, Fla. – Jordany Valdespin homered and reached base in all three of his plate appearances and Jonathon Niese allowed only a solo homer to Chris Johnson in five innings, but the Mets were three-hit by Julio Teheran and three relievers in a 2-1 loss to the Atlanta Braves on Sunday at Tradition Field.
Game tidbits:
NIESELY DONE: Terry Collins is not ready to formally name Niese the Opening Day starter out of respect for Johan Santana. But Santana now has not been on a mound in 11 days. And it's clear he is opening the season on the DL, with Niese facing the San Diego Padres on April 1.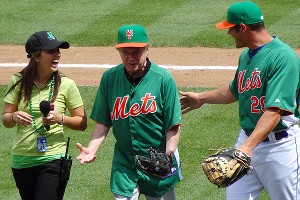 Adam Rubin
Regis Philbin is escorted off the field after throwing out the ceremonial first pitch.
"There's a strong possibility that's going to happen," Collins allowed.
Said Niese: "I guess it's leaning toward I am getting Opening Day. I haven't been told officially yet."
On Sunday, Niese did require 82 pitches (59 strikes) to navigate five innings, but he allowed only three baserunners -- two hits by Johnson and a second-inning walk to Ramiro Pena.
"They made me throw a lot of pitches. They fouled a lot off," Niese said. "I've just got to work on put-away pitches. Overall, it felt good."
Johnson is 2-for-6 with a double and RBI lifetime against Niese in the regular season.
"[Catcher] Landon [Powell] and I said we wouldn't have done that during the regular season," Niese said about Johnson's two-out homer in the fourth. "I got two quick outs. I should have been pounding the zone there. I was kind of nibbling with my changeup, trying to work on it. And then I fell behind obviously. He has a history of hitting me well. He's a guy that I can't fall behind or else he'll make me pay for a mistake."
O NO: Other than Valdespin's homer and single, the Mets mustered only one other hit against Teheran -- on a first-inning double by Ike Davis. Relievers Luis Avilan, Dusty Hughes and Anthony Varvaro combined to toss three no-hit innings. Varvaro, who made 12 relief appearances for the Braves last season, hails from Staten Island and is a St. John's product.
CLOSE CALL: After Robert Carson allowed consecutive one-out singles in the ninth, in his second inning of work, Bobby Parnell entered. Parnell immediately got Evan Gattis to ground into an inning-ending double play.
LEFT OUT? The Braves took the decisive 2-1 lead in the sixth against left-hander Scott Rice. Jordan Schafer had a leadoff bunt single and stole second. He scored when lefty-hitting Freddie Freeman singled to right field.
The Mets will weigh carrying Carson or Rice as a second left-hander alongside Josh Edgin if Pedro Feliciano does not make the club. But a team insider suggested it may be more likely the Mets just carry Edgin if Feliciano doesn't make it and use righty pitchers to get lefties out. That way, Jeurys Familia and submariner Greg Burke -- both 40-man roster members -- would fit in the bullpen, too.
Feliciano entered in the seventh inning and surrendered a single to lefty-hitting Juan Francisco on an 82 mph fastball before retiring the lefty-hitting Schafer on a groundout on a pitch that registered 84 mph.
REGIS AND TERRY: Entertainer Regis Philbin, 81, threw out the ceremonial first pitch and sat in the dugout alongside Collins.
"He's funny. I know that," Collins said. "The first inning, when we got all those hits, he says [it was] because Regis is here. I said, 'That's probably it. I'll have a uniform ready on Opening Day.'"