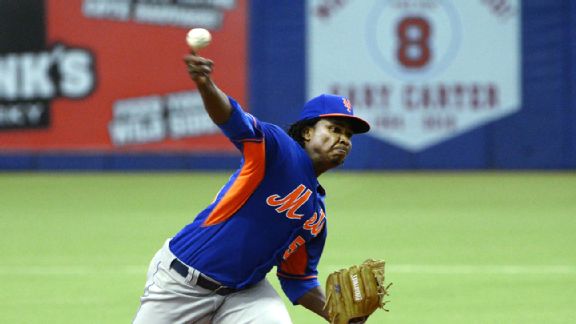 Eric Bolte/USA TODAY Sports
Jenrry Mejia was forced from Friday's game after getting struck with a line drive in the right forearm.MONTREAL -- Jenrry Mejia's final bid for a rotation spot ended with a knockout Friday night at Olympic Stadium.
Toronto Blue Jays second baseman Ryan Goins' liner struck Mejia in the right forearm to open the bottom of the fifth inning. After a visit from Terry Collins and trainer Ray Ramirez, Mejia slowly walked off the mound.
Mejia departed for a local hospital as the game ended to get X-rays.
The forearm issue raises questions about whether Mejia will be available to take a potential start next Friday against the Cincinnati Reds at Citi Field.
"I'll tell you one thing: When I walked out there, I don't think I've seen a lump on a guy's arm come up so fast," Collins said. "He got it pretty good."
Collins appeared to suggest pregame Friday that Mejia was headed for the Game 4 start against the Reds, with Daisuke Matsuzaka being held back for a potential start two days later as a hedge against Jonathon Niese not being ready to return from a season-opening DL trip.
Now, if Mejia is unavailable, Matsuzaka likely would start Game 4 and John Lannan would be the hedge against Niese being unavailable.
"One thing we're very, very lucky to have right now is some depth," Collins said. "We've got Lannan stretched out if we need a guy, obviously Dice-K tomorrow. The best thing is Jon Niese felt great today. He threw 45 ... from 90 feet -- no discomfort -- after pitching yesterday. So it looks like he's going to make that [minor-league] start on the 1st [of April] and get to 90 pitches or so."
Mejia had been forced from his previous start after five innings because of discomfort with a bunion on the outside of his right big toe.
Until Mejia was forced to depart his final 2014 exhibition appearance, he had limited the Blue Jays to a fourth-inning solo homer by Jose Bautista.
Combining this performance with his Grapefruit League showing, Mejia produced a 2.70 ERA in 13 1/3 innings.
The Mets ultimately lost Friday's game, 5-4, on a walk-off single by Ricardo Nanita against Bobby Parnell.
Chris Young contributed a two-run double against left-hander Mark Buehrle in the top of the fourth to open the game's scoring. Daniel Murphy had a run-scoring double an inning later that staked the Mets to a 3-1 lead.
In the seventh, Travis d'Arnaud staked the Mets to a 4-2 lead with a solo homer against Long Island native Marcus Stroman. D'Arnaud had been acquired from the Blue Jays with Noah Syndergaard for R.A. Dickey.
Gonzalez Germen surrendered a game-tying two-run single to Edwin Encarnacion a half-inning later.
On his struggling relievers, Collins said: "At this particular time I think you'd probably wish the bullpen would come in and pound the strike zone. But one of the things we certainly know is that there are good arms down there. Bobby threw the ball hard tonight, which was good, but the command was not where he's used to throwing it. We've got two days. We've got to get them in there and get them some work and get ready for Monday."
The game drew an announced crowd of 46,121. That marked the largest crowd at Olympic Stadium for MLB since Opening Day in 2000, when 51,249 came to watch the Expos face the Los Angeles Dodgers.
"I've been here when the crowds are like that. I know what it's like. I was here in '94," Collins said. "… I thought it was great for the city of Montreal. I thought it was great for baseball. I really did. Both teams really responded to it. In a game like this, usually guys this late in spring training are looking for ways to get out of a lineup. And tonight they wanted to stay in the lineup because of the fans."
What's next: The Mets play their final 2014 exhibition game at 1:10 p.m. Saturday, also against the Jays at Olympic Stadium. Matsuzaka opposes right-hander Brandon Morrow.