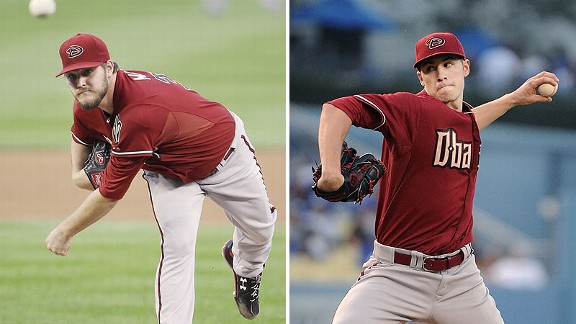 Associated Press/Getty Images
The Mets face two southpaws to open a four-game series vs. Arizona: Wade Miley and Patrick Corbin.METS (33-45, fourth place/NL East) vs. ARIZONA DIAMONDBACKS (42-39, first place/NL West)
Monday: RHP Shaun Marcum (1-9, 5.08) vs. LHP Wade Miley (4-7, 4.55), 7:10 p.m. ET
Tuesday: RHP Jeremy Hefner (2-6, 3.72) vs. LHP Patrick Corbin (9-0, 2.22), 7:10 p.m. ET
Wednesday: RHP Matt Harvey (7-1, 2.00) vs. RHP Randall Delgado (0-2, 4.05), 7:10 p.m. ET
Thursday: RHP Dillon Gee (6-7, 4.60) vs. RHP Ian Kennedy (3-4, 5.36), 1:10 p.m. ET
Diamondbacks short hops
• Closer J.J. Putz was activated from the disabled list Saturday. The ex-Met had been sidelined since May 7 with a right elbow strain, which had caused tingling in his fingers. Fellow-ex Met Heath Bell handled the closing duties for seven weeks minus Putz. Although Bell has flirted with danger, he has converted 10 of his last 11 save opportunities.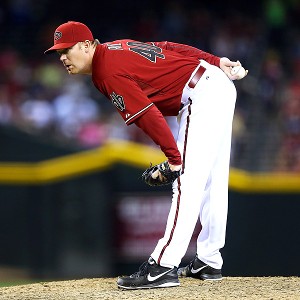 Christian Petersen/Getty Images
J.J. Putz returned from the disabled list Saturday.
• First baseman Paul Goldschmidt leads the NL with 67 RBIs, four ahead of runner-up Allen Craig of St. Louis. Goldschmidt's 4.2 WAR rating ranks third in the NL, trailing only Milwaukee Brewers center fielder Carlos Gomez (5.0) and David Wright (4.5).
• Outfielder Gerardo Parra had been 1-for-20 on the road trip before producing two hits Sunday. Atlanta nonetheless completed a weekend sweep, dropping Arizona to 1-5 on its NL East tour. Parra (.301, 7 homers, 26 RBIs) has been caught stealing nine times in 15 attempts.
• Patrick Corbin, while unbeaten, is bidding for his 10th win for his sixth straight start. He last earned a win June 2. In his string of five straight no-decisions, Corbin has a 2.55 ERA and .197 opponent batting average.
Arizona starters actually are winless in 22 straight games. That is the longest streak in the majors since San Diego Padres starters went winless in 25 straight games in April/May 2009, according to STATS. The streak is the second-longest in Diamondbacks history -- trailing only a 24-game winless streak by their starting pitchers in 1998.
• Right-hander Randall Delgado, who starts Wednesday, arrived with Martin Prado as well as Brandon Drury, Nick Ahmed and Zeke Spruill in the Jan. 24 trade that sent Justin Upton and Chris Johnson to the Braves. After 13 starts for Triple-A Reno, Delgado made his Diamondbacks debut June 3, coinciding with Brandon McCarthy landing on the disabled list with right shoulder inflammation.
Delgado twice has faced the Mets' Triple-A affiliate this season. He surrendered a homer to Andrew Brown while getting charged with five runs in 3 1/3 innings on May 1. Delgado rebounded to limit Las Vegas to one run, albeit on nine hits and two walks, in 5 1/3 innings in a no-decision on May 28.
McCarthy has advanced in his rehab to throwing bullpen sessions.
• Third baseman Eric Chavez (oblique) returned from the disabled list Friday. Eric Hinske, who had started only three games this season and was hitting .173, was designated for assignment to clear the roster spot for Chavez's return.
• Outfielder Cody Ross is hitting .389 against left-handed pitching and .187 against right-handed pitching this season. He signed a three-year, $26 million contract as a free agent in December.
• Catcher Miguel Montero signed a five-year, $60 million extension last season that locks him up through 2017. It was the largest contract in Diamondbacks history. The workhorse Montero (.226, 5 HR, 27 RBIs) has started 70 of the Diamondbacks' 81 games behind the plate, including 21 straight before Wil Nieves handled the duty Sunday.