Catcher Rob Johnson had never pitched as a pro, but he had warmed up to enter a game against Cincinnati last season while with San Diego.
So when Terry Collins needed an arm to avoid further taxing his bullpen, he called on Johnson to pitch the eighth inning Friday night in Toronto. Johnson retired the Blue Jays 1-2-3, requiring only 10 pitches for the Mets' lone perfect frame during a lopsided, 14-5 loss. He struck out Eric Thames with an 87 mph fastball, while resisting the temptation to rear back and throw even harder after receiving cautionary words from Daniel Murphy.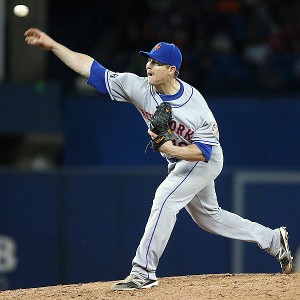 Tom Szczerbowski/Getty Images
Catcher Rob Johnson ended up on the mound for the eighth inning Friday at Rogers Centre.
Johnson became the first position player to pitch for the Mets since Todd Zeile at Montreal in 2004. He actually shook off catcher Mike Nickeas once and threw three different types of pitches -- fastball, cutter and curveball.
"Actually a very similar game like this -- they hit some home runs," Johnson said, recalling warming up to face the Reds but not getting in last season. "So I went down in the tunnel and played catch. But previously to that, I had thrown some sides and some bullpens."
Johnson, who attended the University of Houston, said he pitched one inning in college. He had not been a bona fide pitcher since high school.
• Jon Niese was at a loss after surrendering a career-high four homers while getting charged with eight runs in three innings. Two of the long balls were produced by J.P. Arencibia, including a three-run shot in the first inning after Niese had struck out the dangerous Jose Bautista and Edwin Encarnacion.
"Oh, man, it's just a rough one," Niese said. "I made a 2-0 cutter right down the middle to Arencibia there. It seemed like every pitch I threw that they hit, they just barreled it up and got it up and it just flew out."
Nineteen of the 23 earned runs allowed by Niese this season have now come in the first three innings.
"A guy with his kind of stuff, to have as many problems as he's shown lately in the early innings, I don't know why," Collins said. "Obviously there's way too much plate. There's balls in the hitting zones. They're just squaring him up way too easily."
• Robert Carson's first stint with the Mets never resulted in an appearance. So Carson needed to wait until turn two to make his big league debut. It came in the seventh inning of Friday's loss. He began the outing by retiring 45-year-old Omar Vizquel on a flyout to center and tossed a scoreless frame with one walk, to Colby Rasmus.
"I'm not going to lie, I was a little nervous at first," Carson said. "But Daniel Murphy came to me before I warmed up and told me, 'Hey, Carsy, just stay focused and try to execute all of your pitches.' So that's what I did."
Said Collins: "You saw the good arm that he's got. Now it's a matter of the command and getting comfortable and having some confidence that he can throw his other pitches for strikes."
• Minor league strikeout machine Jack Leathersich has been promoted from low-A Savannah to high-A St. Lucie. The southpaw had a 0.75 ERA and had struck out 37 in 24 innings with the Sand Gnats. Leathersich's promotion coincides with St. Lucie closer Adrian Rosario, who was obtained in last year's Francisco Rodriguez trade with the Brewers, moving to Double-A Binghamton.