PORT ST. LUCIE, Fla.
FIRST PITCH: The Mets put their undefeated record on the line on Day 2 of the Grapefruit League season with a pair of games Sunday.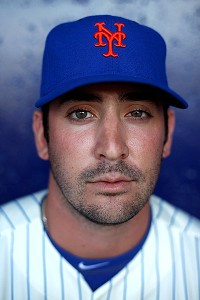 Chris Trotman/Getty Images
A day after Zack Wheeler's appearance, it's Matt Harvey's turn today.
Terry Collins takes Matt Harvey and a split squad to Kissimmee to face the now-AL West-member Houston Astros. (See full travel roster here.)
Meanwhile, back at Tradition Field, devout Ohio State fan Jonathon Niese as well as Dillon Gee pitch against Fred Wilpon's alma mater, the University of Michigan. The Wolverines won two of three games from Fordham this weekend at the Mets' complex.
Gee will pitch in his first game since undergoing emergency surgery during last year's All-Star break to repair a damaged artery in his pitching shoulder. He already was throwing off the mound in September at Citi Field before shutting things down for the offseason, so Gee said he has zero concerns about this start.
"I feel great," Gee said. "I feel normal. I'm not worried about it at all."
Sunday's news reports:
• Pedro Feliciano returned to camp Saturday after an examination at the Hospital for Special Surgery in Manhattan. Feliciano said he has an irregular heartbeat and small "hole" in the exterior of the heart. Feliciano will wear a heart monitor and is not yet cleared to resume baseball activities. Collins said the issue potentially is serious. Sandy Alderson plans to address the issue further with media this morning. Read more in the Star-Ledger, Newsday, Daily News, Post, Record and MLB.com.
• Outfielder Jamie Hoffmann also returned to camp after his initial physical required a follow-up exam in New York. Hoffmann said he was diagnosed with a non-alarming heart condition 10 years ago that routinely gets flagged when he switches teams.
• Zack Wheeler wowed in his Grapefruit League debut, limiting the Washington Nationals to one hit and one walk while striking out two in two scoreless innings. Collins nonetheless reiterated that Wheeler is ticketed for the minors to open the season, regardless of Johan Santana's situation.
"He's very similar to Doc," Wally Backman told columnist Kevin Kernan in the Post, referring to Dwight Gooden. "I think Doc's breaking ball was a little bit bigger, but this kid has got, to me, real high expectations."
Said Joe McIlvaine, a scout for the Mariners who once drafted Dwight Gooden: "Easy gas. Wheeler is very similar to [Stephen] Strasburg. He threw about as hard. He's the same type of breaking ball. The same type of elongated body. Strasburg is a little bit stronger, but he's a little bit older. The only differential I would say at this point is that [Wheeler's] control is not as good as Strasburg's. That's the biggest difference, and that's why he is still in the minor leagues."
Steve Serby in the Post has a Q&A with man-of-few-words Wheeler. The exchange includes:
Q: Tell me about the day you were traded to the Mets.
A: I rolled out of bed, saw it on Twitter. I went downstairs, it was on ESPN.
Read more on Wheeler's Grapefruit League debut in the Star-Ledger, Times, Post, Newsday, Daily News and MLB.com.
• Also in the 5-2 win against the Nats, Ruben Tejada belted a two-run homer against Strasburg, Shaun Marcum surrendered three runs in two innings and Collin Cowgill delivered a game-deciding RBI double. Read more in Newsday.
• David Wright will get three more Grapefruit League starts before departing Saturday for the World Baseball Classic, Collins said. Read more in Newsday.
• The Mets signed 29-year-old first baseman Rhyne Hughes to a minor league deal. Justin Turner played with Hughes in the Baltimore Orioles organization and said the lefty hitter has power to all fields when on his game. Hughes' career got sidetracked when the Orioles tried to expose him to right field and made him a part-time player, according to Turner.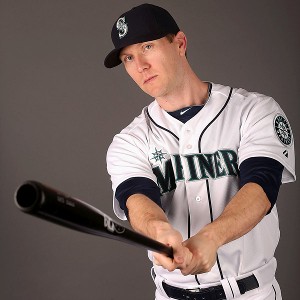 Christian Petersen/Getty Images
Jason Bay homered in his first plate appearance as a Mariner.
• Jason Bay belted a two-run homer in his first at-bat as member of the Seattle Mariners. Bay is competing with Casper Wells for the final outfield slot. Read more in The Seattle Times and Newsday.
• Andrew Keh in the Times looks at the tradition of baseball players having offseason jobs. Collin McHugh works during the winter with a company that does fundraising for schools.
• Columnist John Harper in the Daily News contrasts John Buck with predecessor Josh Thole. "Josh just didn't have a feel for calling a game," a Mets person told Harper. "We needed somebody that was going to help make our young pitchers better."
Jorge Castillo in the Star-Ledger has a Q&A with Buck about his Glove Guardian company.
• Should the Mets instruct Travis d'Arnaud to do swipe tags instead of blocking the plate in order to protect the young catcher? Mark Hale asks Paul DePodesta in the Post. "I'd say it's to be determined," DePodesta said.
• Columnist Bill Madden in the Daily News is critical of Wright's agents over other clients being tied to a South Florida clinic.
• Minor league field coordinator Dicky Scott notes in the Star-Ledger that the plan is to keep prospect Wilmer Flores in the infield. "A lot of guys go to the outfield because they can really run – they're great defenders -- and with other guys it's because they don't like fielding groundballs," Scott told the newspaper. "We have a guy who has good hands, who can play multiple positions. I think we're going to stick with that."
• Mike Kerwick in the Record profiles pitching coach Dan Warthen, including his influence on a young Erik Hanson.
• From the bloggers ... With 1986 nearly three decades in the past, Shannon from Mets Police wonders when the Mets become one of those teams that never wins. … Mets Merized looks at center-field prospect Matt den Dekker.
BIRTHDAYS: Hall of Famer Eddie Murray turns 57.
TWEET OF THE DAY:
Mets fans winning that one. RT @anthonydicomo: Wondering if @gregjohnsmlb received more Tweets from Mariners or Mets fans today. #Bay"

— Greg Johns (@GregJohnsMLB) February 24, 2013
YOU'RE UP: What record and ERA will Matt Harvey produce in 2013?
Please use the comments section to weigh in