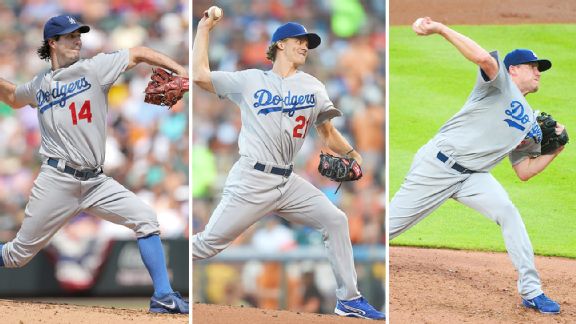 Getty Images
The Mets face Dan Haren, Zack Greinke and Kevin Correia this weekend at Dodger Stadium.METS (60-68, fourth place/NL East) vs. LOS ANGELES DODGERS (71-57*, first place/NL West)
Friday: LHP Jonathon Niese (7-8, 3.50) vs. RHP Dan Haren (10-10, 4.59), 10:10 p.m. ET
Saturday: RHP Jacob deGrom (6-5, 2.87) vs. RHP Zack Greinke (12-8, 2.75), 9:10 p.m. ET
Sunday: RHP Bartolo Colon (11-10, 3.85) vs. RHP Kevin Correia (2-0, 4.09), 4:10 p.m. ET
* L.A. plays Thursday vs. Padres
Dodgers short hops
• Zack Greinke, originally scheduled to start Thursday against the San Diego Padres, instead faces the Mets on Saturday with two extra days of rest. Greinke's elbow has been cranky. He does not expect to be 100 percent for the remainder of the season. If Greinke gets through the season without the issue worsening and Hyun-Jin Ryu (right hip strain) returns from the DL without ill effects, L.A. is well-positioned for the postseason with a rotation that also includes Clayton Kershaw. Kershaw originally was due to face the Mets on Friday, but moved up a day in place of Greinke.
• Left fielder Carl Crawford is hitting .485 (16-for-33) with one homer and six RBIs in 10 games (eight starts) since Aug. 10. Crawford's surge has buried Andre Ethier on the bench. Ethier has started four games since July 22.
Richard Mackson
Yasiel Puig moved to center field in late July.
• Yasiel Puig shifted from right field to center field in late July. Matt Kemp began the season in center field, but the Dodgers were underwhelmed by his defense. Ethier and Scott Van Slyke subsequently lacked range there.
• Ex-Met Justin Turner (.309, 3 HR, 27 RBIs) has started four straight games at third base with Juan Uribe sidelined after reinjuring his right hamstring. Turner is hitting .341 (15-for-44) with four RBIs in 16 games (11 starts) in August. For the season, Turner has a 2.7 WAR. Only Puig's 4.1 WAR is better among Dodgers position players.
• Free-agent-to-be Hanley Ramirez landed on the disabled list Aug. 9 with a right oblique strain. Miguel Rojas originally filled in for Ramirez at shortstop, but is 2-for-his-last-17. Cuban-born rookie Erisbel Arruebarrena, who is projected to succeed Ramirez next season, has started the past two games at shortstop.
Arruebarrena recently served a five-game suspension while with Triple-A Albuquerque for inciting a massive bench-clearing brawl against Reno, the top affiliate of the Arizona Diamondbacks. He had a slow trot around the bases after a homer, then jawed with Reno's catcher the following day.
Arruebarrena signed with the Dodgers in February for five years, $25 million.
• Leadoff hitter/second baseman Dee Gordon is hitless in his last 12 at-bats. He nonetheless has an NL-leading 57 steals, 11 ahead of runner-up Billy Hamilton of the Cincinnati Reds. The steal total ranks seventh for a single season in Dodgers history, trailing Maury Wills (104 in 1962 and 94 in 1965), Davey Lopes (77 in 1975, 63 in 1976 and 59 in 1974) and Juan Pierre (64 in 2007).
• First baseman Adrian Gonzalez's 83 RBIs rank second in the NL, trailing only Miami's Giancarlo Stanton (89).
• The Dodgers lead the San Francisco Giants (66-58) by three games for the NL West lead.