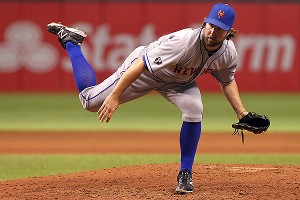 Kim Klement/US Presswire
Whether R.A. Dickey has the second no-hitter in franchise history is now in MLB's hands.ST. PETERSBURG, Fla. -- Terry Collins said Thursday morning that while assistant GM John Ricco formally has asked for a reversal of the scoring decision on B.J. Upton's infield single, there is only a minimal chance -- at best -- the play will be changed to an error on David Wright.
Collins expects to receive the verdict from MLB on Friday. Joe Torre can rule unilaterally or refer the play to a committee.
Collins is not expecting to have reason to start uncorking champagne bottles at the second no-hitter in franchise history -- and of the month. R.A. Dickey tossed a complete game, with Upton's trickler that Wright was unable to barehand serving as the lone hit.
Asked if a 5 percent chance existed that the play was changed to an error on Wright, Collins said the odds would be less than that.
"You've got a guy who can really run and an outstanding third baseman," Collins said. "The only way he can make the play is to barehand it. And he knows that. And he can't make it. ... David Wright knows what he's doing. If he thinks he's got to use his hand, then he's got to barehand it. We're just taking a shot. We're just taking a stab. What the hell? What have we got to lose? Nothing. We won the game. R.A. pitched a great game. You owe it to yourself. If he catches it with the bare hand, if he makes the play, I don't know if he's out or not. But I know one thing -- he's really good at doing it."
According to the Society of American Baseball Research, the lone no-hitter created after the fact was thrown by Ernie Koob of the St. Louis Browns against the Chicago White Sox on May 5, 1917.
For more on the story, click here.